In a strange twist of timing, I found myself reading Ron Chernow's superb new biography of George Washington at the same time that I just happened to be reading Jan Swafford's Charles Ives: A Life with Music, published in 1996. Time and again, I found myself comparing these two great American pioneers; one the father of our country, the other an American original who became one of the country's first composers to achieve international renown. One struggled during America's inception to define what the country's political life would be like; the other struggled, as that same country mounted the world stage to define what American music would sound like and what it would mean. At a time when neither political party is offering any kind of overarching version for what American life should aspire to, reading these two books infused me with civic pride and a none-too-small dose of hope that the country indebted to both men might still have a bright future.
As personality types, both men convey so many of those attributes we think of as American: they were highly self-motivated, fiercely determined, by turns practical and idealistic, and guided by a sense of profound personal destiny. And yet in so many ways, they were markedly different. With a keen feeling for how others perceived him, George Washington (1732-1799) - the epitome of the Virginia gentleman -- exerted total command over his impulses and emotions. Throughout his life, as he selflessly served his fledgling country, he diplomatically hid his intense ambition so that he would never appear to be self-serving. Charles Ives (1874-1954), on the other hand, was irascible and opinionated -- the embodiment of the eccentric Connecticut Yankee -- and those qualities found their way into music that remains quirky and hugely individual to this day. Ives railed -- sometimes quite unattractively -- against the "sissies" and "old ladies" who had "emasculated" concert music with their insistence on music being pretty and accessible. He sought to reinvigorate it with more daring rhythms and harmonies, outright dissonance and various experimental techniques. For Ives, the out-of-tune chorister in a local church was doing more for the service of real music than the most refined salon recitalist; in a distinct kinship with the spirit of Beethoven, Ives believed music to be a mystical voice of a democratic people.
As with men of every stripe, their relationship to each of their own fathers is illuminating. Washington's father Augustine died when George was just eleven, an event that cast a long shadow over the son's life. His half-brother Lawrence was among a few other male adults who provided a role model for George, but he also died relatively young, which put George -- after he inherited a family farm -- in an early leadership role in the family. That role included a cool and sometimes outwardly hostile relationship with his long-aggrieved mother. With these losses in mind, Washington considered it a very real possibility that he would also die young, a prospect he feared might cut short his own date with destiny.
Ives counted his father, George, as the greatest influence in his life. "If I have done anything good in music, it was, first, because of my father," he explained, at a time that his own music was finally beginning to gain traction with the public. That father, a bandleader for the Union Army, had filled his son with a love of experimentation; most famously, he had his son experience the impact of hearing several bands, including his own, play different music simultaneously on opposite sides of the town square. He also helped Charles understand the crucial idea that music was an essential component in the life of community. George's death when Charles was just 20 was a tremendous blow to the young Ives, but he paid tribute to his father by dedicating his own life to music, first as a church organist, then as a composer. Remarkably, Ives composed much of that music after hours: his day job was that of an extremely successful and influential insurance industry executive.
Keeping his "day job" cut both ways for Ives: financial freedom meant that he could pursue his art without bowing to commercial pressure, but the stress of his dual career no doubt compounded his health problems (heart troubles and diabetes were factors that led Ives to stop composing for the last two decades of his life).
Marriage was good to both Washington and Ives. Washington's marriage to the wealthy widow Martha Dandridge Custisplaced him at the front rank of the Virginia aristocracy, and provided a partner in life who was willing to make great sacrifices to help her husband bear the burden of his military and political responsibilities. Charles called his wife, Harmony Twitchell -- the daughter of Reverend Joseph Twitchell and a family friend of Mark Twain -- the second biggest musical influence in his life. He was always grateful to her for never asking him to make artistic compromises of any kind. She was also his indefatigable helpmate, caring him when his nerves were frayed and his often-fragile health faltered. Neither couple had children of their own, but George and Martha's home teemed with the children of friends and family, and Charles and Harmony, who hosted children at their farmhouse through the Fresh Air Fund, eventually adopted a young girl.
Washington was lionized in his own time, and continues to be mythologized in ours; he is universally recognized for his singular and invaluable contribution as commander in chief of the victorious continental army and the first president of the new United States. The legacy of Charles Ives is harder to assess and continues to evolve. In some circles, Ives is the de facto father of American classical music, the first to take the inheritance of the great European masters and give it a distinctly American character (it should also be added here that through his generous financial assistance, Ives was also a great advocate for championing new music by many other important American composers). For others, though, Ives remains something of an outlier; a composer who blazed a new path but never quite reached his destination. Perhaps these different views of Ives are not mutually exclusive.
Like the great Austrian composer Gustav Mahler, with whom he shared a philosophical bent (for Ives the Transcendentalists were an important inspiration), Ives drew from all sources around him -- nature, hymns, the music of marching bands, popular and traditional songs -- and reconfigured them into teeming, multi-layered soundscapes. And like Mahler, Ives believed music plumbed spiritual territory that no other language could approach. Both were unafraid to mix the profound with the banal, the beautiful with the ugly, the silly with the utterly serious.
But Mahler has emerged into full-blown acceptance, his symphonies a mainstay of orchestral programs worldwide. By comparison, Ives's music has gone in and out of fashion, and remains more of a curiosity than a "meat and potatoes" staple. Leonard Bernstein's championship of the music of both Mahler and Ives was enormously important, and much the same can be said of Bernstein's protégé, Michael Tilson Thomas. That some of today's prominent younger artists -- violinist Hilary Hahn and pianist Jeremy Denk (a client of my company) among them -- are championing Ives's music is a most hopeful sign (here I must give a shout-out to another client, Alan Gilbert, whose conducting of Ives's Fourth Symphony -- an indisputable and profoundly stirring masterpiece -- with the New York Philharmonic, and later with the Boston Symphony, was a true revelation for me).
With America suffering dreadfully from the destructive political partisanship that George Washington prophetically warned against, anyone who truly cares about the country would be wise to read Chernow's new book. In that same spirit, I encourage patriotic Americans to explore the music of Charles Ives. We need to hear it, for in no other music does the sometimes maddening, often cacophonous plurality of the American experience resound with such an optimistic, though admittedly unruly, voice.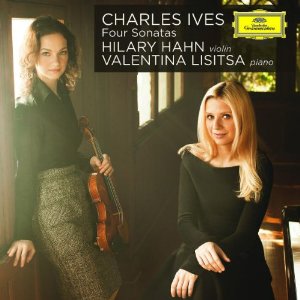 Hilary Hahn's new Ives recording debuted at number on the Billboard classical chart
A few recommended recordings:
Bernstein conducts Ives Symphony No. 2 and Other Works (Deutsche Grammophon): One of the great recordings of some of Ives's most colorful orchestral music, this album features vivid performances by the New York Philharmonic.
Hilary Hahn and Valentina Lisitsa: Four Sonatas for Violin and Piano (Deutsche Grammophon): Could Charles Ives ever have imagined that a major classical music label would have ever made this recently released recording, and that it would quickly become a number one bestseller? These are winning performances of intimate music that is by turns daring and nostalgic, startling and transcendent.
Jeremy Denk Plays Ives (Think Denk Media): This recording, which includes one of Ives's most famous works, the knotty, thrilling "Concord Sonata," made several critics' "best of the year" lists. As Denk himself puts it, "Ives wants to recreate the raw experience of music-making, something unfiltered, and beyond all your piano lessons... While driving me crazy, he reminds me why I play the piano at all."
David Zinman conducts Ives (Decca): This collection of orchestral music features strong performances by the Baltimore Symphony of two of Ives's best works: the evocative "Three Places in New England," and the much under-appreciated "Holidays" symphony. Start by listening to the first movement of the latter, which is -- you guessed it -- "Washington's Birthday."
SUBSCRIBE TO & FOLLOW CULTURE SHIFT
Level up. Read THIS and be the most interesting person at your dinner party. Learn more