I sometimes wonder if everyone has a piece of music -- or a composer or a musician -- that he/she feels has literally changed his/her life. My post today is about the composer whom I would place in the top slot of my "life-changing" category: Gustav Mahler.
You'll be hearing a lot about Mahler in the coming weeks and months. July 7, 2010 marks the 150th anniversary of his birth in Kaliste, a small town in Bohemia -- now in the Czech Republic. And 2011 marks the centenary of his death, so the celebrations and commemorations will go on throughout the entire 2010-11 concert season. One of the artists my company represents, the great American baritone Thomas Hampson, has performed and studied his music for more than two decades and will give 57 Mahler concerts and recitals next year -- including a recital from Kaliste on the big day this July 7! Another client, EMI Classics, releases a complete set of recordings of all of his works this month (complete in a 16-CD boxed set) along with a brand new recording of his "Resurrection" Symphony, led by conductor Paavo Jarvi (can't wait to give it a spin this weekend!).
The list of Mahler activities planned by musicians and arts organizations goes on and on, and deservedly so as far as many music-lovers are concerned. Overexposure isn't the best thing for a composer's music, but I can't begrudge Mahler the attention. In his own time, he became a much in-demand opera and orchestral conductor (at one point he was music director of our very own New York Philharmonic), but his own works were never fully appreciated then. He himself predicted it would take 50 years before the audience caught up with him, and he was right (he is now one of the most frequently programmed composers).
Mahler is the composer who speaks more deeply to me than any other. He famously told fellow composer Jean Sibelius that a symphony must be "like the world -- it should embrace everything." For Mahler that meant drawing upon the widest inspirations and musical materials -- among them, military marches that he heard as a child, folk songs, works of literature, philosophy (both Eastern and Western), spirituality, nature -- and weaving them together into seamless, cinematic, often sprawling musical tapestries that sought to express nothing less than the totality of the human condition. By turns high and low, crass and sublime, intimate and impossibly grand, Mahler's music makes a kaleidoscopic harmony out of the seeming chaos of human experience. As the horrors of 20th Century World Wars and genocides unfolded, Mahler's visionary music seemed to provide both solace and a warning.
When I first discovered Mahler's music I was a student at Stanford University just learning of my own interest in classical music, mostly by stumbling on recordings purchased at a local Tower Records. I never saw Mahler's music on the programs of the nearby San Francisco Symphony at that time. And when I asked around, none of the teachers or students who talked about music around me had any idea who Mahler was. The deeper I was drawn in, the more I felt like I had a secret friend in Mahler. Spending time with his music made me feel alive and turned on -- and tuned in to the mysterious resonances of the cosmos. What Mahler had sought seemed to have been true: his symphonies were about everything, and that's what I wanted to experience in life -- everything!
My Mahler obsession reached fever pitch in my twenties, when I returned to live in New York City. Repeating a ritual I started during my college years, I began to host an annual first day of summer party that would climax in listening with friends to a recording of his Third Symphony (probably the musical work I love beyond all others). I read several books about his life, and little by little I began to see his music on concert programs. Lightning then struck twice for me, both bolts hurled by Leonard Bernstein, the conductor who can probably take the most credit for raising Mahler's music to the popular status it has with concertgoers today. My first live Mahler performance was the great Lenny himself conducting the Israel Philharmonic in the Ninth Symphony, the achingly deep and soul-baring work where Mahler tries to say goodbye to life and love itself. I left Carnegie Hall shattered.
Lenny hurled the second bolt a few seasons later, in the form of a performance (and recording) of Mahler's Second Symphony, the "Resurrection," with the New York Philharmonic. It remains, to my memory, the most exciting musical event I have ever attended. My concert mate that night was my then and current best friend, Glenn Petry (also one of my current business partners). I've told the story often, but I'll mention again that we were both so moved by the performance that we sat together silently together for at least an hour afterwards, sipping glasses of vodka at our favorite local dive bar and wondering when the power of speech would return. It was that performance that convinced me to scrap a career in publishing to pursue a career in the music industry.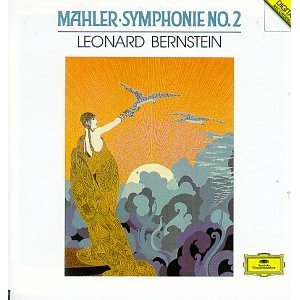 Caption: Bernstein's Mahler 2 recording with the New York Philharmonic: a life-changer

I'd like to finish this post with an invitation to those of you who don't' know Mahler's music yet to use the upcoming commemorations as an entry point. One of the great things about Mahler's music is that it's easy to know where to begin: at the beginning! Mahler's nine completed symphonies are like an epic autobiography that you can follow from beginning to end. Here's a brief synopsis:
The hushed strings that open his First Symphony raise the curtain on an epic adventure. Here you meet an innocent, sensitive narrator in the springtime of his life, who steps out into resonant nature and headlong into a turbulent first love.
Already by the Second Symphony this young soul is wrestling with the great questions of life and faith. It begins with a sometimes-terrifying funeral march and ends with a huge, soaring choral hymn celebrating the final rebirth of the spirit.
In his massive Third Symphony, Mahler explores nothing less than the entire evolution of life, from the composer's depiction of rough, inanimate nature, which opens the work, to the luminous glory of God's love in the sixth and final movement.
After lingering in youthful innocence -- and reaching heaven -- with his radiant Fourth Symphony, Mahler's Fifth and Sixth Symphonies are very much adult affairs: full of neurotic energy and often-anguished expression. The Fifth, which contains his blissful "Adagietto," probably his most famous piece, moves from angst-ridden darkness to gloriously affirmative light; the tragic Sixth, with its famous hammer blows of fate, ends in utter despair.
Like someone leafing through an old photo album, Mahler revisits the world of youthful fantasy and adventure in his mysterious Seventh Symphony, but the shadows have deepened and the sounds of the night are more ominous. It's a strange and unwieldy piece, but the dizzyingly bright sunlight of the final movement warms the night-weary soul.
Mahler employs huge orchestral and vocal forces in his Eighth Symphony (its nickname is "Symphony of a Thousand"). "These are no longer human voices," Mahler said, describing the wave of sound produced by the massed choirs, "but planets and suns revolving." From most other composers such words would sound delusional, but most listeners will immediately understand his point. For all its vast architecture and massive climaxes, not to mention its heady literary inspirations -- including the final scene of Goethe's Faust -- Mahler's Eighth is at heart a simple but utterly rousing celebration of the power of love and man's creative spirit.
I mentioned the Ninth Symphony above and will leave it to the listener to decide whether Mahler comes to terms with mortality as the final movement fades to silence. I never feel the same way after hearing this piece, and I suggest that you avoid heavy drinking before listening to it!
Drop me a note if you'd like a recorded recommendation for any of the above or have your own Mahler story that you'd like to share. And if you live in a town with an orchestra check their schedule: with any luck Mahler will be coming to a theatre near you sometime in the not too distant future.
Happy Birthday Gustav -- we're forever in your debt!
SUBSCRIBE TO & FOLLOW THE MORNING EMAIL
Start your workday the right way with the news that matters most. Learn more