THE BLOG
My First Time Seeing Sondheim's A Little Night Music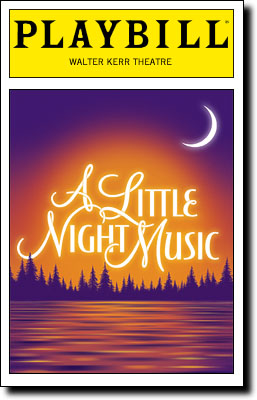 Last night, a writer friend of mine gave me an unexpected and extremely moving gift: he took me to my first performance of Stephen Sondheim's A Little Night Music. But it wasn't just any performance, beginning with the fact that it was the first night for two new key cast-members: Bernadette Peters and Elaine Stritch. The entire evening was a revelation.
Sometimes when I'm sitting in a classical music concert I try to put myself into the shoes of an audience member who is hearing a Beethoven or Mahler symphony for the first time. Like the other night, at Tanglewood, when Michael Tilson Thomas opened the esteemed summer music festival's new season with Mahler's "Resurrection" Symphony. I've heard a dozen live performances of this epic work by many other great conductors over the past two decades, not to mention numerous recordings, so memories of those performances invariably colored my experience hearing MTT's authoritative Mahler. If only you could get to know a great work of art intimately without losing any of that sense of surprise and wonderment that comes along with a first performance!
But last night at the Walter Kerr Theater, I didn't need to imagine such a scenario. I don't go to much musical theater, and besides knowing the song "Send in the Clowns" from so many renditions by jazz and pop singers, I knew absolutely nothing about A Little Night Music when I settled into my second-row seat. And what a night it was!
I'll leave it to the music theater critics to give a suitably informed and detailed account of the production and performances, but allow me some space to share a few observations. First off, for this music lover I would compare the overall experience of seeing this show to that of watching a Mozart opera or a Shakespeare play: it's beautiful and deep and full of feeling -- sometimes painfully so -- but it's also enormously funny and suffused with wisdom. Here were deliciously flawed and human characters, perplexed by love and desire, and trying, as Bernadette Peters's character, the actress Desiree Armfeldt, puts it at one point, "to seek a coherent life" to take the place of the "muddle" that confuses and torments them.
The respective arrivals of Elaine Stritch and Ms. Peters on the stage set off enormously thunderous applause that any performer in any genre of the arts or entertainment would envy. Stritch makes her entrance, and gives most of her performance, from a wheelchair. She is Madame Armfeldt: the world-wise, "seen it all" mother of the actress, a former courtesan who counted royalty among her many former lovers. As expected, Stritch delivered the character's juicy and plentiful one-liners with peerless bite and panache (although she had a few memory lapses that caused moments of confusion). To paraphrase one that she shares with her beloved granddaughter, "Losing a husband or two is something you can live with, but losing your dentures is a catastrophe." In one key scene, when Stritch's character was supposed to give the champagne toast, Stritch faltered for a moment, seeming to forget her next line. Ms. Peters jumped right in to help her colleague, raising her own glass and offering the scripted toast on behalf of Stritch's character. "To Life," Desiree says, to which Ms. Stritch responded to Ms. Peters - smiling winningly at her - with her own unscripted words, "You're adorable."
During intermission I noted to my friend that the entire story, setting and tone of the piece reminded me of a Bergman film, to which he replied that the show was, in fact, inspired by Bergman's Smiles of a Summer Night. Looks as if I know what I'll be Netflixing this weekend.
The second half of the show takes place at the country home of Madame Armfeldt, where all the romantic couples come together for a breathless evening of secret kisses, half-baked plotting and overheard conversations. Along with some supremely comic moments are some profoundly stirring ones, none more so than Ms. Peters's performance of "Send in the Clowns." Heard in its rightful place in the show -- when the actress realizes that she has come close to that coherence she has sought, only to lose the elusive prize -- and sung with such stillness and simplicity by Ms. Peters, it was one of the most moving moments of music-making I have ever experienced.
There are too many great songs in this show to mention the highlights -- although I'll single out "Every Day a Little Death," which encapsulates that push-pull of love and hate in human relationships with piercing honesty. The superb cast does the audience -- and Sondheim -- a service in making each and every delectable word audible and comprehensible. Holding the stage with Stritch and Peters is Alexander Hanson's performance as Fredrik Egerman, the lawyer whose midlife crisis drives so much of the show's action. His winning presence and irresistible joie de vivre -- at times he reminded me of the young Kenneth Branagh -- were a thing of wonder. Even at moments that his character is facing defeat, the force of his spirit is indomitable.
Immediately after the show, my friend and I spoke briefly in front of the theater with James Levine, the music director of the Metropolitan Opera and the Boston Symphony Orchestra. He was recovering from recent back surgery, and was using a cane, but he was upbeat and smiling from ear to ear. We all were.