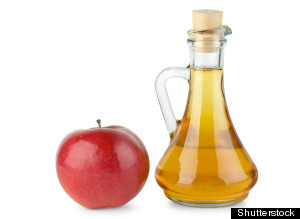 Hola mis amigos de HuffPost Voces. Hoy les quiero hablar un poco sobre los beneficios del vinagre de sidra de manzana. Este increíble producto natural ha sido utilizado por muchísimos años como un remedio casero para diferentes males. Estudios recientes muestran que el vinagre de sidra de manzana tiene propiedades únicas que te pueden ayudar a bajar de peso.
Es un gran depurativo intestinal, ayudando a combatir el estreñimiento y matando las bacterias que ocasionan los gases. Las personas que sufren de hinchazón abdominal experimentan una mejoría al perder volumen con el vinagre de sidra.
Los nutrientes, enzimas y ácidos orgánicos en el vinagre de sidra de manzana actúan como un inhibidor de apetito al acelerar tu metabolismo. Esto quiere decir que quemas más calorías, te da menos hambre y te reduce ese sentimiento de ansiedad que a veces sientes entre las comidas. El vinagre de sidra de manzana también reduce la retención de agua, el colesterol y mejora tu circulación.
Además, tiene un buen efecto diurético ya que es rico en potasio y ayuda a estabilizar tu PH sanguíneo. Es recomendable que busques suplementos de calidad que incluyan vinagre de sidra de manzana como el Yes You Can! ™ Diet Plan Fat Burner para disfrutar de los magníficos beneficios de esta maravilla natural.
10 súper alimentos para adelgazar
SUBSCRIBE AND FOLLOW
Get top stories and blog posts emailed to me each day. Newsletters may offer personalized content or advertisements.
Learn more