THE BLOG
And the Party Goes On

Last week was a cacophony of holiday parties, full of spiked egg nog, fancy people and Christmas cheer, goodwill and intoxication - stir, sip, fun. Three to four parties a night made my liver a touch upset. Once again I find myself moving from loft party to East Village dive bar. January detox. Here I come.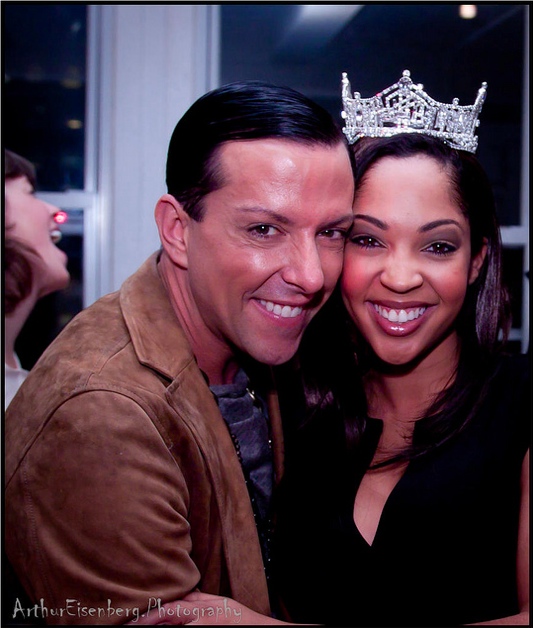 Starting with Derek Warburton and Miss America Caressa Cameron, they both got together with LookBooks.com to support the Bottomless Closet an organization that helps women succeed in the workforce by dressing better. Everyone needs a great interview suit and the Bottomless Closet helps women who can't get one. Style bloggers created a variety of looks for some of their well deserving clients. Who had smiling faces and were filled with Holiday spirit and free flowing Champaign. I had a few moments with the reigning queen, who was excited by the competition and was attending her duties. She's gorgeous, but so much shorter then I ever thought.
The King Collective holiday party was at Juliet Supper Club, Mia Morgan and Richie Rich were hosting. I have to say, Keri Ingvarsson might just make the King Collective work by shear force of will alone. We need more hootspa in fashion.
The next day I had the best egg nog ever as Thom.Dolan officially launched his relationship with Saturdays Surf. An adorable coffee shop in SoHo that always makes me feel like I should be watching hot boys surf the Nantucket waves (is there such a thing). Interesting enough. I've watched this store grow and have had quite a few cups of joe inside. I even stumbled onto their recent lookbook shoot.
Henrick Gin was sponsoring an enchanted forest of curiosities, full of gnomes, trolls and hipsters. With trees that shimmered and a speaker each night. I popped in as a features editor at the Onion was entertaining the crowd, I have to say the gin has grown on me; it's the smoothest I've ever had. Adam Aleksander built the space over a week of intense work on the Bowery.
Tim Ferris is launching a new book and the pre-launch party was at Mia Morgan's stunning townhouse. He wants to tackle working out and giving women a 15 minute orgasm. He spoke to an audience glued to his charming wit and personal stories. His last book topped every best selling chart for weeks on end and more importantly was one of the first books to use the online world to create a real phenomenon in mainstream media outlets. He championed the use of technology to make oneself more productive.
Finally I end the week with a Christmas brunch with the famobulous interior designer Bachman Brown Clem and tried FourLoko and Champaign. Wait, isn't that supposed to be illegal or something.
This Blogger's Books and Other Items from...