This week from March 17th to the 18th, Mark Badgley and James Mischka will hit the 70 acre HSN campus for a 24 hour marathon of an on-air trunk show to unveil their new line for the shopping network. American Glamour is the reworking of their top hits from current and recent collections. You'll see an amazing "Bel Air" dress for $79 and some great fashion costume jewelry. The bags are divine.
They'll be doing one to two hour stints, sleeping in the green room and being ferried around in golf carts. Being cautious of the Red Bull intake at the end of their on-air marathon.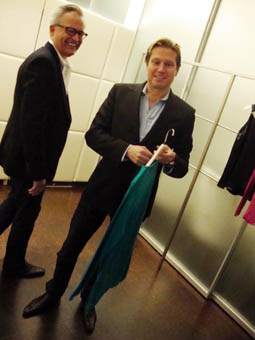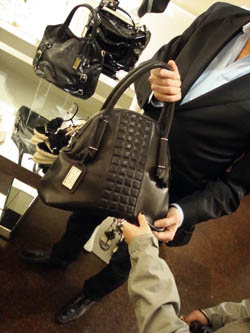 November was a bit of a teaser and they came back to the network for another shopping event. The duo take to the airwaves with the American Glamour collection six times a year.
When asked why they picked HSN over a licensing deal with Target, they cited concerns about brand integrity. With HSN they can bring their own suppliers to the table and control the supply chain. The handbags are designed in their factory to their own exacting specifications. Everything in the collection is under $500.
Handbags have a corresponding wallet and are all made out of quality leather. If you think that watches with removable straps make great gifts, you might want to tune in.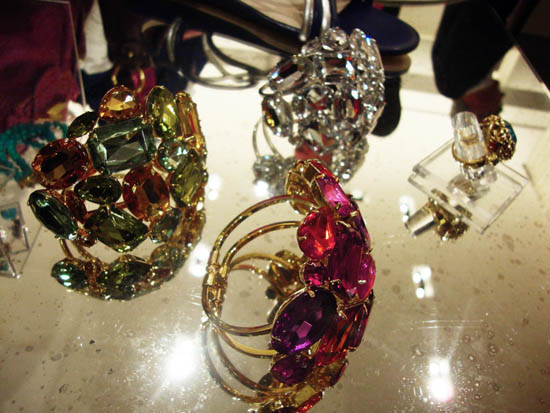 One bag is reputed to have 500 brass studs; they're actually planning on counting them before airtime just to make sure. The dresses, I just wasn't enamored with. Something got lost in the translation and I'm not quite sure if they're as successful as I'd like from a designer collection, but for under $100 what can one expect? The time that it takes to make something exquisite is clearly absent.
Ultimately there's a lot of value here and I really loved the faux jewelry that can get you noticed at any cocktail party. Thanks for the cheese and water -- it was awesome. Yay for food returning to press events.