Diesel just got a fresh and youthful designer in the guise of Sophia Kokosalaki, and turns to young rebellion for their current ad campaign. Following in the footsteps of Levi brand jeans and leaving behind its boy meets furry phase. Diesel Black Gold sent an awesome care package to bloggers. The prefect after-party cure.
We're clearly entering a new phase of fashion, maybe touching a Clockwork Orange milieu. Where girls are now boys and stalwart houses produce feminine chic. While the youthful ateliers have turned to architecture to inspire their creations, instead of the crazy "A La Minute" society whirling around, as noted, by the undeniable Cathy Horyn.
What's next, glam punk milk bars? Am I being meta (again)? Does anyone know the book? Do you still read, please tell me you read. At least watch the movie.
Spikes might be in, but the youthful vengeance I keep hoping for, seems confined to ad pages and my own obsession. A quote from John Cameron Mitchell's Shortbus comes to mind. "It's just like the 60's but with less hope". Ryan McGinley shot the Levi campaign, and on TV, we were greeted by Walt Whitman's "Pioneers! O Pioneers!" asking us to rush forth and conquer.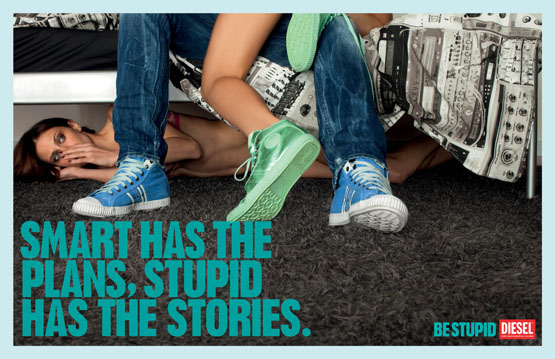 In an almost perfect bookend to that campaign, Diesel asks us to "Be Stupid". Why not! After all, smarts only go so far, while perfect hair is forever.
The brand reinforces their demo's whimsy (new favorite word). And maybe our collective desire to throw up our hands in mock frustration and drink - "smart may have the brains, stupid has the balls", "smart may have the plans, but stupid has the stories", and "being stupid means listening to your heart". Yes, I've had stupid and fab nights, oh the memories - now, if only I had more cash for them.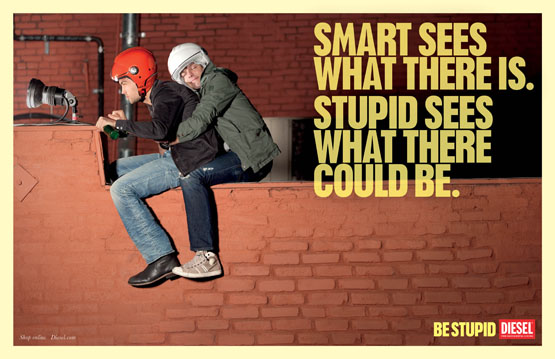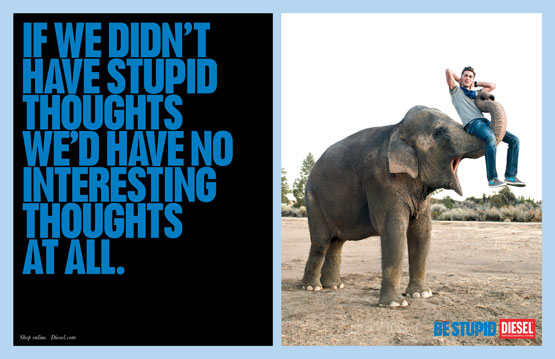 Lastly "smart may have the authority, but stupid has one hell of a hangover" oddly, I feel better about my drinking now. Thanks advertising! I also feel better about dating a certain actor, dancer, model. Yes, I've been stupid. And the blogger care package alleviates just that.
The press release tries to give the term "Be Stupid" a deeper meaning. I think it'll be lost in translation. To cure my hangover (how did they ever know), they sent the following.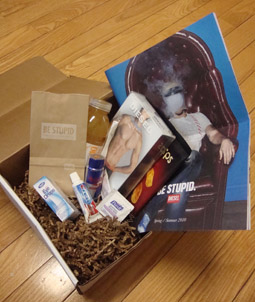 A Pamphlet: full of witty "Be Stupid" quotes.
Underwear - totally comfy Diesel brand undies.
Chips - salt is good the next day.
Vitamin Water - orange flavor, mixes perfectly with vodka.
Red Bull - instead of coffee.
Be Stupid Barf Bag - thank goodness it wasn't used.
Toothpaste - brushing is good.
Eye-drops - red eye is bad. A fashion faux pas.
Toothbrush - thanks, I lost mine last night.
Sanitizing Wipe - for that sticky spot you didn't know you had. Ewe.
So thanks Diesel, for a touch of humor. But what? No condoms?
Note on Swag: swag does not effect my review of a fashion line or product, if it's cool, it's cool. And most of the stuff I get is not usable, as ladies lipstick and mascara does nothing for me. I wrote about this becuase it made me laugh.
SUBSCRIBE TO & FOLLOW LIFESTYLE
HuffPost Lifestyle is a daily newsletter that will make you happier and healthier — one email at a time. Learn more