I've always loved watching things being built, the inner workings of systems. The many people that contribute their time and energy to making this city run and who shape the worlds perception of New York. For Fashion Week, in all it's iconic glory, before the drinking and the parties, the tents need to be built. By workmen who seem slightly weary of the attention this event garners.
Outside there's an iron sign, which will probably, shortly be removed. Matty informs Meg, "I love you." This is a side of fashion one rarely sees. Below is the stony Bryant Park fountain: last year it overflowed with shoes, this year it's supposed to bring awareness to heart disease. Now there is a crane.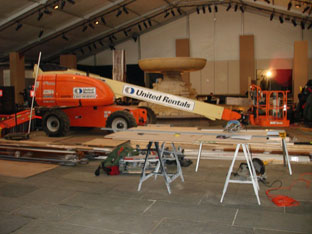 Plans are strewn about, so is garbage. Everything will be refined; the company that has been building the tents has been doing it for years with an army of men. They can make it happen quickly.
Lonely tools wait for their handlers and the lights seem stoic as the scaffolding shakes and people climb to secure it. For each 10 minute show, it takes focused people to pull it off, from the designers and engineers from the disciplined team. Creating something seamless, takes months of planning, dedication and management. The momentary visceral reaction we all have to these models and threads that walk the runway is clearly a well orchestrated happening.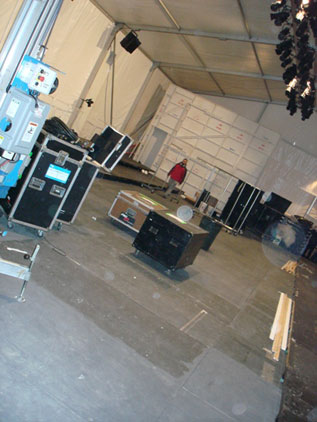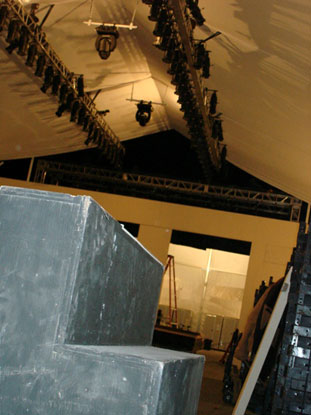 Soon beautiful people, journalists, buyers and influencers will converge, to decide what is timely, edgy and a must. The temporary structure has a certain unspoiled quality to it, as the corners of the fold are being tucked into the skeleton, as security guards watch carefully. Next week the world of fashion will churn out another season, but the tents, ever so slightly, seemed resigned to stay the same.
My blog can be found at, alexgeana.com