As Spring Fashion Week comes into sight, it's kicked off by a global block party. The list of participating retailers and how they'll be celebrating, has been released. Soho will be awash with designers, Phillip Lim will be in his shop and Club Monaco will be offering cupcakes.
Many will be offering treats and bubbly, we'll be partying like it's 2008. Retailers hope, the tiddy nibbles will lead to consumers opening their slammed shut wallets.
I'm hoping the party to kick off the night of shopping and fun will be in the Tents. I was in Costume National poking about, getting a Soho refresher on Fall Fashion and trying to get snap shots of hot boys. I stumbled on the shirt above and immediately started interrogating the clerk helping me. It's $30 and the store received 100 of them. Proceeds go to the 9/11 Memorial Fund.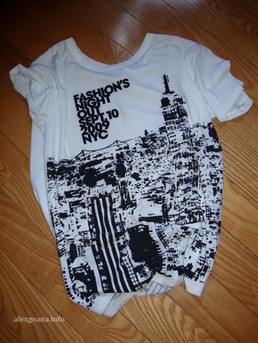 The initiative is the brain child of Anna Wintour and Diane Von Furstenberg in her capacity as President of the CFDA. According to the Wall Street Journal and the Frisky sales are going to be strongly discouraged. Replaced by glitz, manicures and a cabaret act by Isaac Mizrahi. Costume National is planing an art exhibit by a Brooklyn based artist. Vena Cava is having a Williamsburg block party. CALLING ALL HIPSTERS.
Although a Public Service announcement featuring the global event has been produced. I haven't seen it run. Or noticed many media impressions beyond the blogs. Yet, a blitz is being promised by the WSJ. With a little less then a month before the event. People with short attention spans and shopping fatigue might not be reached in time. I'm hoping they are.
The seventy to ninety present mark-downs cut into the cost of innovation and production. Not to mention the jobs and support jobs through out any industry.
A year ago, before the world stood still, part of the fever spending was fueled by credit cards. Now rates are on a steady increase despite an unprecedented fed rate at an all time low. The question is, are shoppers going to be prudent? Pondering their choices. Much more careful. Considering they now have a better understanding of debt. Is it cheaper for the retailer to mark down rather then provide champagne and cupcakes? In any case. It's going to be a great PR event.
Fashion has been deeply hurt by this downturn. Fashion Night Out hopes to turn it around quickly by asking everyone to remember what style is about. The connection to image and feel. The desire to show off individuality. And a free manicure won't hurt in the process. Now we'll have to see if the weary shopper is willing to part with their cash. Or maybe, horribly, they have none to part with.
SUBSCRIBE TO & FOLLOW LIFESTYLE
HuffPost Lifestyle is a daily newsletter that will make you happier and healthier — one email at a time. Learn more