I almost found Nirvana with Bibhu Mohapatra. He's come a long way since his J. Mendel days. Coincidentally, the brand was showing right next door. But everyone's eyes were on the young designer as media and friends lined up at the Box in Lincoln Center. Bibhu focuses on accessible luxury, for a confident woman. My test for fashion is simple. I ask myself, would I want to talk to someone wearing that dress? With Bibhu, the resounding answer is: Yes. He has an obsession with green feathers and peacock. One of his first dresses had fabric made out of the plumbs of the majestic birds. This time he uses crow. He's fascinated by smoke. And with a massive smile he greets everyone personally. Mohapatra takes eveningwear seriously. But the less formal patent leather jackets with rivets stand out. Everyone's rethinking coats this season -- his version is stunning. Mozart's requiem played, I walked out still mesmerized and had to call the designer up and ask him a few questions about the presentation.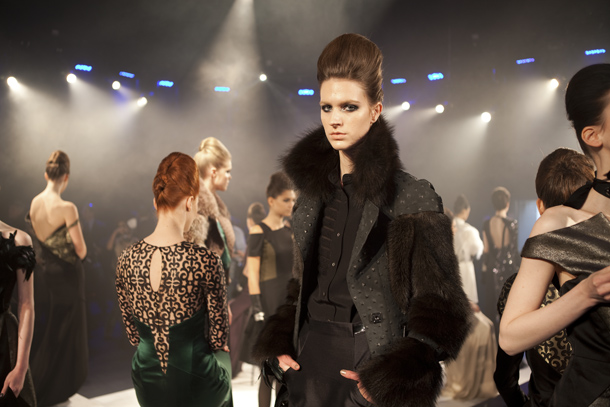 Alex: What do you have for breakfast?
Bibhu: I have yogurt and I have a yogurt every day. If I have a big day, it's coffee. On the weekends it's eggs benedict.
Alex: What's your fascination with feathers?
Bibhu: Birds themselves are so interesting and intelligent, and they give so many cues without being verbal, so they say such great things. Feathers are superior to fur even. They're so beautiful and nature uses such amazing colors.
Alex: And smoke?
Bibhu: This one really calls for it. I don't know if you noticed, but they're standing on a cross. I wanted to recreate the ruins of a church; you can see the light and mystery. A dark sensual environment that's intimate, and you have a one-on-one connection with the clothes. Last season was air, so this time it's about smoke and wings. It had that translucent quality and drama.
Alex: What music do you like?
Bibhu: It's a broad range -- I love Bollywood.
Now I'm off to his party. So excited for him.
SUBSCRIBE TO & FOLLOW LIFESTYLE
We're basically your best friend… with better taste. Learn more