Anthony Keegan enjoys bringing chocolates and coffee to his seamstresses, and takes samples to photo-shots so he can meet the photographer and stylist. These are some of the many things that make Commonwealth Utilities a personal brand. His current collection features "Officers and Gentlemen" neatly embroidered into luxury casual wear. It's become so popular he's struggling to keep up with demand. Most of his time is spent securing financing and putting out fires.
I'm interested in learning what it's like to run an emerging new label.
Anthony started out in Canada admiring fashion and building birdcages for an avant-garde high school fashion show. "Everything was glue gunned and stapled," he insists. He discovered menswear by sitting in the wrong class at the London College of Fashion, and learned the craft from Savile Row tailors. Finally, he graduated from Central Saint Martins to enter the creative think tank of Fabrica. "It's like Menudo for the arts," he says, "they kick you out when you turn 25".
Working for Armani jeans as part of a two man crew responsible for designing the division, he started learning about the commercial side of the business. Two years after Gianni Versace's passed he found himself at the label, watching Donatella take charge and working "extremely hard." He hints at the drug and sex infused culture of the house, part of their image.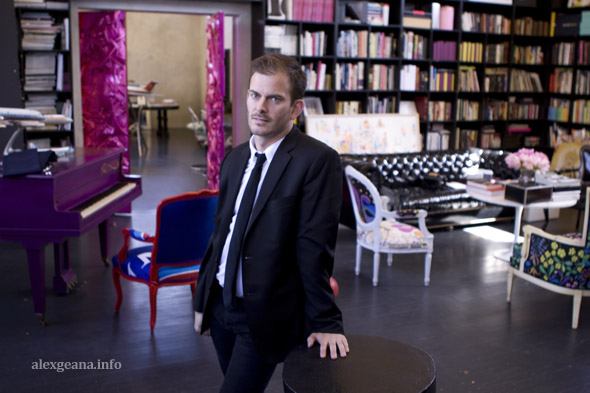 At Kenneth Cole he learned that clothing could become secondary to charitable contributions and making the world a better place. He then jumped to men's shirts at Donna Karan.
We're chatting in the most amazing room, a Willy Wonka refuge for the creative - lining the walls are bookshelves filled with everything from fancy art books to Harlequin novels and even The Big Penis Book.
Richard Christiansen is the founder of Chandelier Creative, where we're sitting. The two have known each other for a very long time and he's the main backer for the budding fashion line. They even lived together at one point, but now Anthony is in Brooklyn and Richard stays in the Bowery Hotel - an assistant accidentally rented his apartment out for a year, not the week she was supposed to. Keegan is thankful "books and booze are never questioned" on an expense report.
The current collection is inspired by a Wall Street moment; Anthony was watching men in suits pass sailors during fleet week and had a stunned moment. For Spring of next year he's exploring unique pattern choices and concocting a National Treasure vibe with unique prints. Blazers are really important to the brand.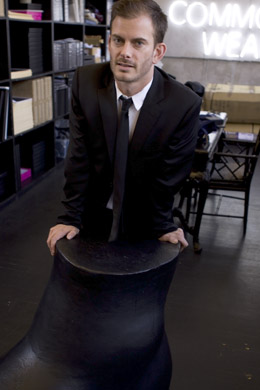 We talked about body shape and culture. It's all changing. Having a bonding moment over trying to identify the most important cultural moments of the last ten years, both shaking our heads about cute cats on YouTube, we veer to Apple. Jobs' company, which has made strong inroads into our future. Anthony describes a moment where he's riding the subway and someone pulls out an iPad -- it's almost a religious experience.
Shopping has also changed, with gay men buying on mark-down and choosing not to take part in brands that have no meaning for them. While straight men have continued to become more manicured - understanding, now more then ever the importance of a good suit in a job interview.
He's excited about the future of his brand and the new possibilities of reaching people. Relishing in the rare moment when he's discovered a new form and can enjoy working with fabric and clothes. While not a fan of raw food, he loves Mexican and Italian food, often frequenting the Corner Bistro and NoHo Star.
We were set to take some great pictures for this post, but an assistant came in, reminding him that he had to be in midtown "five minutes ago." Commonwealth is in a good place right now and Keegan is set on working with fashion's many challenges while growing his fresh brand steadily.
This Blogger's Books and Other Items from...
SUBSCRIBE AND FOLLOW
Get top stories and blog posts emailed to me each day. Newsletters may offer personalized content or advertisements.
Learn more