Largely due to winter and my own melancholy. I've only seen a few shows. Oscar de la Renta is, of course, one of my consistent favorites and going to Reem Acra's showroom makes me warm and fuzzy.
Her recent glitz-glam collection is striking and spot on, for her well-heeled customer. I also solved the mystery of the remerging caftan (known as the MuMu), I've seen it in almost every collection. Chic ladies in Los Angles, and other fancy places are entertaining at home and want something comfortable to swirl around their guests. She drew from the sixties for her inspiration. Beaded gowns are her mainstay and it's always nice to see a perfectly crafted garment up close.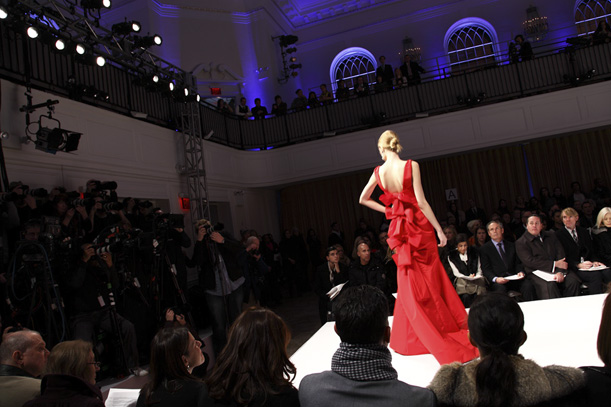 Oscar de la Renta is above photo by Alex Geana. Reem Acra is below, both looks Pre-Fall 2011
I made myself a bowl of popcorn and turned on HBO to watch Fran Lebowitz toss barbs. What struck me the most, her comment -- reflecting on the loss of the audience during the AIDS epidemic in the seventies. From ballet to style, a massive amount of people passed away, and in some ways we have yet to recover.
This is important to fashion, because the audience is the buying public and we're quickly losing them. Or the buying public who wants to take time to learn and figure things out, wants to support work, they seem to have lost the time and energy to actually figure out what's new, fresh or important.
By turning to Gilt Group and the online clearinghouses for their fashion fix, they've slowly eaten away from the department stores ability to curate for their customers. By getting their fashion news from a blogger who has a massive piggy bank and an outlet habit, they gloss over some very important new designers.
This was apparent. On a recent shopping trip with an affluent friend, some sales associates blatantly stated, "the buyers didn't buy that size, because of the economy." They also called the Row (the Olsen twin line) cutting edge. So if the affluent who normally support high-fashion, are now turning to designers themselves. For custom looks. This pushes fashion even deeper into the dark corners of creativity and only makes the industry accessible to a handful of people. Yet at the same time, fast fashion is quicker darker and edgier, as we grow in this new decade, the gap between mass and "true fashion" is even wider.
I have to say, that a dress by any other name, still looks the same. But if you see something different or if you see someone trying to be different, there is a great joy of discovery. Now finding creativity is like finding an ivory needle in a haystack.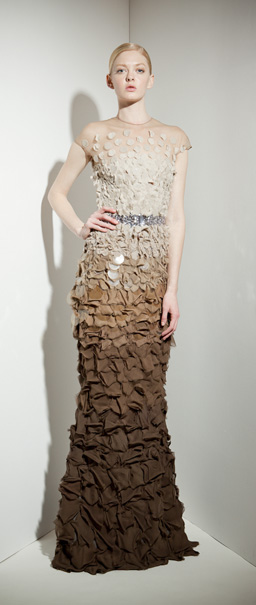 Pre-fall and resort are actually the most important seasons in fashion, because the clothes stay in stores longer. So that means that more units are produced. Fall and Spring tend to be for the megaphone of the press. Under the IMG big top and in the spotlight of every blogger who wants to be anyone, yet these interim seasons are crucial to the business of fashion and largely play into how much funding will be available to spend on the fashionable megaphone.
One of the most important components of culture is, in fact, the viewer. Now when everyone's a blogger, and everyone is a photographer and tweets are taking the place of the next great American novel. What happens when everyone's writing the same story, new ideas get lost in a sea of reverb. It's the same with the way we look. I've long ago given up the battle of getting people to link and source my work properly. If the audience is too busy to read an article or even vet the source of what their reading. Then how do we break out of this echo chamber?
Steve Madden has shouted from the rooftops, that he now owns Betsy Johnston. I sat down with the new fashion director for the company and she was excited by the focus on online retail, that they're steering the ship into accessories and expanding, growing up with the core Betsy consumer and providing them choice. They've dug up vintage Betsy prints for the current shoe collection (it looks great).
She needed to sell, largely because, unlike the eighties, fewer seem to be able to dig their way out from under a mountain of debt, which fashion and the arts, often encourage one to assume. We're quickly losing designers that create good clothes, the small guy is being gobbled by a faster chain. Sometimes there's innovation. Often it's left behind. We'll see how this turns out. So far Madden is making some good decisions with his new brand.
Because I haven't pounded fashions pavement -- This doesn't mean that I haven't been obsessively pondering every LookBook that comes my way and surfing Vogue.com. As most designers are focusing on the uber-commerical, this has lent itself to a sense of homogeneity. All of a sudden I can't tell the difference between DVF and Jill Sanders or Thakoon. Do you want some color blocking with your afternoon tea?
I do believe we have adjusted to the new normal and are trying to figure it out. But I feel like we're losing some of our spark, shimmer and piazza in the process. Although I hated the fact that a few years ago, we were spending sixty or some dollars on a Swarovski encrusted bottle of water, I have to say, can't there be a happy medium.
What does this all have to do with pre-fall.
This interim season is about the buyer and the consumer, more so then any other. So if the designers are caving in to the pressure of commercial design, and few are striking out to explore innovation. Then what of the industry and how will hipsters in Brooklyn be finally convinced that they shouldn't spend thousands of dollars on a laser cut t-shirt that makes them look homeless. In many ways Reem Acra is an outlier and I'm hoping to find more like her. The hunt is on and I'm obsessively searching.
SUBSCRIBE TO & FOLLOW LIFESTYLE
HuffPost Lifestyle is a daily newsletter that will make you happier and healthier — one email at a time. Learn more