Note: From the 25th to the 27th, the first 1,000 people to go to the Tommy Hilfiger Fifth Avenue store and mention the Whitney Biennial get free admission to the Museum. Now go!
The Review: Now that fashion week has ended. The art world quickly beckons (I've always wanted to write this line) with the Whitney Biennial. It's simply titled 2010. My first response to the work presented was deeply personal. I normally rush home quickly, write my post, and go to the party. This time I had to ponder the presentation and do a ton of research.
I was put off by the collection at first, because the Whitney was too on point. If the Biennial is supposed to have its thumb on the pulse, that is American culture, they have succeeded. I didn't like what I saw, either. After a forlorn showing in Bryant Park, where I was confronted with "serious fashion," now I see the art world's version of a somber reflection.
Cindy Sherman looks as perplexed and disillusioned as I feel. The Mapplethorpe foundation sponsored a massive photograph of paper houses in an idyllic construction. I expected Mary-Louise Parker from Weeds to take up residence. Oh how I longed for the Masters naked men. The state of American photography is equally grim, with scenes of mangled women in Afghanistan and the grotesque lining many a gallery.
Do we need more people screaming at us though? Don't I deal with freelance rejection on my very own, more now then ever before? Do I need to feel the enclosed celluloid inkblots and spinning head of JFK in the immersive and mesmerizing work of Edgar Cleijine and Ellen Gallagher's? I sit in a room and feel poked.
On the fifth floor we see "Collecting Biennials." Mark Rothko, Andy Warhol, and Jackson Pollock somehow reminded me what art used to be. And how integral New York used to be to the art world. When Jackson was discovered he worked in the East Village, then he went on to East Hampton to produce his work. Unlike artists now, who seem to just stumble through NYC, and finally move to Berlin to produce their creations. Because we've made this place such an inhospitable place to actually incubate art. On this floor there is the somehow obligatory inflated toilet, large brown paper bag and framed ply-board.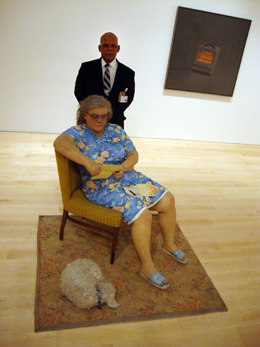 In an almost visceral response to the plaintive show, the guards have taken to standing still and melding into Duane Hanson's "Women & Dog." Asking us to ponder is the statuesque guardian, living or inanimate. He finally moved. I quizzed him if he was part of the installation. He smirked. I finally felt that spark of discovery I enjoy so immensely. Finally some lighthearted fun. Everything is too serious here.
In the same vein, do I need to be exposed to another installation saying, "fuck you," "fuck me" somehow emasculating, when I feel so wounded by the current world as it stands? Do I need to stare in yet another looking glass? Can't we do something new? Where are my 3-D glasses? Now I understand more then ever why the world tunes into the Kardashians in droves (Did I just write this? Am I using too many rhetorical question marks?). To escape. I was hoping the Whitney would give us a virtual Elysian Field, or a tree of hot naked people (I know both pieces are out there). Some levity in the retrospective of Americana, maybe a break from the all too harsh cultural evaluations portrayed.
Lee Bontecou's iron maw somehow takes on new meaning in this collection. I watch Aki Sasamoto ponder circles and squeeze herself into a tube. It's truly riveting.
Finally we are met with our cultural hearse -- right next to prints of Michael Jackson. On the same funerary vehicle used in the Ghostbusters movie, on a cracked windshield, we watch the many moments that have dissolved the once idealist perception of the American Hero. All short films, compiled using You Tube clips.
There are so many uniquely beautiful and stunning works in 2010, but when all's said and done. I need to be lifted up, given creative CPR. Instead of once again reflecting on the many challenges we are cycling through.
SUBSCRIBE TO & FOLLOW THE MORNING EMAIL
The Morning Email helps you start your workday with everything you need to know: breaking news, entertainment and a dash of fun. Learn more