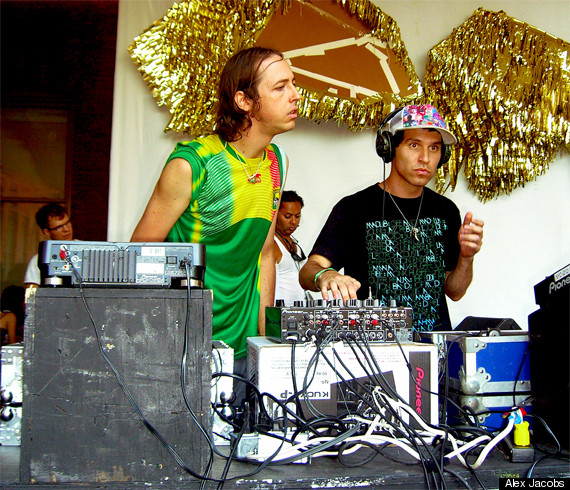 In the 5th installment of PS1's Warm Up concert series, Animal Collective's Deakin and Avey Tare played a ninety-minute DJ set to more than a thousand eager fans. For the most part, they stuck to the vaguely atmospheric electronica that influenced the texture of their 2009 tour de force, Merriweather Post Pavilion. Merriweather blended the band's signature experimental pop with elements of modern techno to make their most danceable album to date. Singles like "My Girls" and "Summertime Clothes" are routinely played alongside house and electro bangers on club dance floors without a wink.
In their DJ set, the pair spun a sort of bibliography, citing the sonic sources that inspired their most recent work. Sure, they dropped a few obscure rap songs and Hall and Oates' "Maneater", but the bulk of their set was made up of different flavors of ambient dance music. Some of the numbers played like club remixes of Boards of Canada compositions, complete with the glitchy blips and bleeps that have become ubiquitous in the world of "intelligent" techno. Other tracks sounded closer to contemporary dubstep stripped of the obligatory wobbly bassline. Some just sounded like instrumental B-sides from Merriweather itself.
Because the band didn't beat-match or mash-up their selections, I expected their set to sound segmented and scattered. They did run through a dizzying array of rhythms and tempos, but some common sounds pervaded, lending a cohesive air to the set. Almost every song they played featured some sort of synth pad and a loud, punchy electronic kick drum. The prevalent low end ensured that the crowd kept dancing, while the consistency of sound made their choices seem thought out and deliberate, like tracks on a well-sequenced album.
Though the duo played the kinds of tracks that helped craft their sound, they never actually put the needle to an Animal Collective record. Honestly, I'm not sure that the majority of the dancing crowd knew who or what they were dancing to. In fact, their set blended into Blondes' live show without so much as a break for applause. The crowd just didn't seem to care much who was on stage. They were satisfied, as one mustachioed dancer remarked, "as long as there's a beat." Others, however, found the consistency of the day's music to be monotonous. One employee lamented, "Nothing really stood out all day. It all just sounded the same." I had to agree. Blondes' not-so-unique brand of indie trance sounded like a replay of Animal Collective's set with the addition of a four-on-the-floor kick drum pattern.
There may have been a few detractors, but the rather uniform sound went over well with the audience. Nobody stood in awe at Animal Collective's skills on the decks or the genius of their selections, but the audience was dancing for a good four hours, in the afternoon I might add. It may not have been life changing but there are worse ways to spend a Saturday.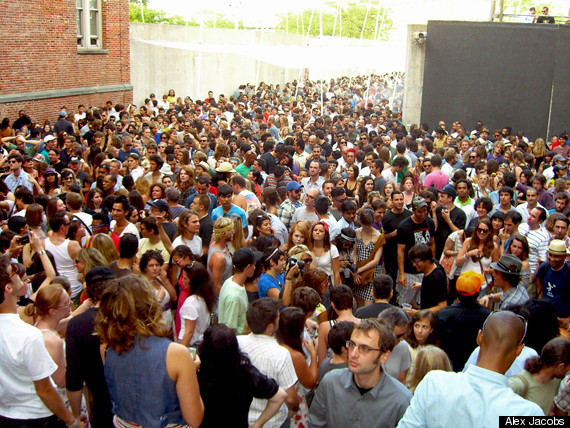 SUBSCRIBE TO & FOLLOW THE MORNING EMAIL
The Morning Email helps you start your workday with everything you need to know: breaking news, entertainment and a dash of fun. Learn more