'Boardwalk Empire' Recap And Gangster Rankings: 'Ging Gang Goolie'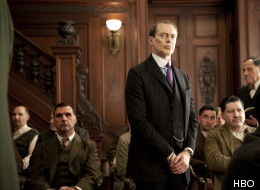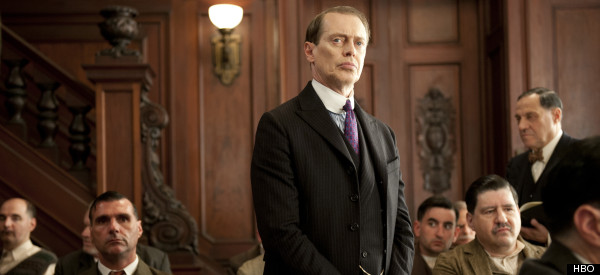 Spoiler alert: Do not read on if you haven't seen Season 3, Episode 6 of "Boardwalk Empire," titled "Ging Gang Goolie."
One week after an action-packed episode of "Boardwalk Empire" that we declared the best of the season, "Ging Gang Goolie" followed it up with a slow, ponderous episode that pivoted away from Nucky Thompson's looming war with Gyp Rosetti to focus on Nucky's marital and political problems.
The problem is that with the show's signature brand of mobster violence put on pause, "Boardwalk" is kind of meandering right now. So most of what we were left with in this episode was watching the predictable, sad disintegration of Nucky and Margaret's marriage. At least "Boardwalk's" writers had the good sense to throw in a few weird sex scenes -- Owen and Margaret finally did it again, and Gillian seduced a Jimmy lookalike -- to keep things lively.
"The Sopranos," for which "Boardwalk" creator Terrence Winter served as a writer, sometimes followed this frustrating pattern too. After a violent climactic crescendo, the next episode would often re-focus on Tony's home life. Still, it would've been nice to at least get a glimpse of how Rosetti and Van Alden were reacting to the craziness of "You'd Be Surprised."
Then again, the fire in the garage -- and in Margaret's pants -- wasn't all this episode was about. With his protection from Attorney General Harry Daugherty drying up, Nucky hatched another grand political plan to get himself out of a possible federal indictment. Nucky's at his best when he's wheeling and dealing in the political arena, and he hasn't had much opportunity to flex those muscles since he stepped down as Atlantic City treasurer.
To keep track of the deals, deception and death, check out a politically-focused edition of HuffPost TV's "Boardwalk Empire" gangster rankings in the slideshow below:
'Boardwalk Empire' Gangster Rankings: Season 3, Week 6
Nucky Thompson traveled to Washington, D.C. to deal with his big-picture political problems, and although he was briefly arrested and hauled into night court, he managed to hatch a plan that could save him from a federal indictment. Political wheeling and dealing is an arena that Nucky excels in, maybe moreso than as the manager of his bootlegging business. So with a Senate investigation looking into corruption at the Justice Department, he realized that the bribes he'd been paying his former ally, Attorney General Harry Daugherty, weren't going to be enough to save him from being made an example of and indicted under the Volstead Act. So Nucky made an overture to Daugherty's disgruntled underlings -- Esther Randolph and Gaston Means -- and pitched them on a plan to take down George Remis to save himself. After he miraculously wiggled out of hte election-fixing charges against him last season, it's a smart bet that Nucky will do it again.

Harry Daugherty's Justice Department has offered bootleggers like Nucky and Remis protection from prosecution in exchange for $40,000 per month in bribes. Daugherty owed Nucky for delivering New Jersey to President Harding in the last election, but with a Senate investigation looking into the widespread corruption, he's now contemplating setting up Nucky as the patsy. Daugherty sent two cops to arrest Nucky on a small-time possession charge in the train station, but the $5 fine Nucky walked away with proved that nobody really has the stomach for Prohibition prosecutions.

Gaston Means is a special investigator for the Justice Department, played with elliptical-talking hilarity by Stephen Root (the Stapler Guy from "Office Space"), who's boldly taken on the role of the most corrupt man in the operation. He's personally collected the bribery money (in a fishbowl!) and doesn't want that faucet of cash turned off. When he got word of Nucky's sit-down with Esther Randolph, he called Nucky at Billie Kent's place to let him know he was interested in getting in on the scheme. For a hefty personal fee, he's willing and able to turn on his boss Daugherty and his ally George Remis.

Owen is one of the most capable men in Nucky's bootlegging operation, and he's served him well as a driver and bodyguard -- minus the whole sleeping with his wife thing. But his time has been running out ever since he entered the Furio zone last season. This week's greenhouse rendezvous brought his inevitable falling out with Nucky even closer. Owen's behavior raised some questions in this episode: Did he accidentally start the first garage fire while secretly keeping an eye on Margaret and the kids? Was there really a vagrant in the neighborhood, or did he make that up to get Teddy off the hook? Was it all a rouse to get Margaret to meet up with him in the garage? Who knows? And more importantly, who cares?

Feeling vulnerable, lonesome and angry at Nucky for shoving his affair in her face, Margaret put the moves on Owen Sleater, and they got down in the garage. Before that happened, she told Nucky they needed to have a conversation about their sham of a marriage, and Owen better hope she keeps his secret whenever they do finally have it out.

Andrew W. Mellon, who earlier in the season testified before a Senate committee investigating the Justice Department's failure to enforce pretty much any Prohibition laws, is one of the major forces pushing Daugherty to move against Nucky. One of the wealthiest men in the country at the time, Mellon had no use for bribes, and pushed for the Treasury Department to form its own Prohibition Unit, which would later become the Bureau of Alcohol, Tobacco And Firearms.

Luciano tried to recruit one of Gillian's girls to sell heroin in the whorehouse, which may be the one place where Joe Masseria can't take a cut of his action. But Gillian squashed his efforts before he could get the small-time effort off the ground. We'll have to wait until next week to see how the unsuccessful hit on Gyp Rosetti blows back against Luciano, Lansky, Siegel and Rothstein in New York.

Harrow has played a peripheral role in the "Boardwalk" story since he took out Manny Horvitz and had his sit-down with Nucky earlier in the season, but at least he may have found a nice girl in this episode. After watching an old veteran get his ass kicked at an American Legion fight club, he seemed to befriend his daughter when he returned the man's coat. Wouldn't it be nice if Harrow got a family of his own? Then again, it would be more heart-warming if he killed Gyp Rosetti.

Poor, sad Gillian seemed to be finally coming to terms with her son Jimmy's death when she put away the pictures of him that apparently adorned every room of her brothel. But then she went and picked up a Jimmy-lookalike with a slicked-back haircut on the boardwalk, had sex with him and started calling him James. Apparently she's still got some healing left to do. Hopefully she doesn't get into that bag of heroin that she stuck in her garder belt after confiscating it from Luciano and one of her girls. We know Jimmy had a taste for the stuff, after all.
Follow Alex Moaba on Twitter: www.twitter.com/alexmoaba