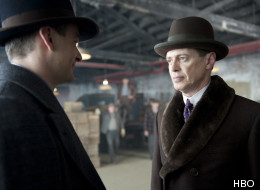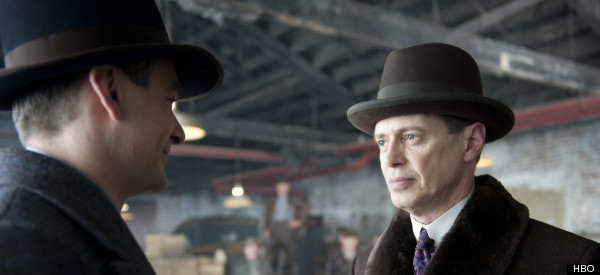 Note: Don't read on if you haven't seen Season 3, Episode 4 of "Boardwalk Empire," titled "Blue Bell Boy."

Is Nucky Thompson slipping? The latest episode of "Boardwalk Empire" climaxed with a violent ambush from Gyp Rosetti that represented the culmination of months of bad decision-making from Atlantic City's bootlegger-in-chief.
Nucky's been all over the map lately, alternating between micro-managing murder and being way too hands-off about his booze business. Caught in-between taking a step back and doing everybody else's job, he's showing signs of losing control of his operation. His mistakes unfolded like clockwork in this episode. First he barked at his underlings to make a shipment to New York by any means necessary, refusing to hear that the back roads were iced over and that the trucks had no choice but to drive through Tabor Heights. He declined to empower his brother Eli to deal with the Rosetti problem when he had the chance, instead choosing to rely on the dim-witted Mickey Doyle to make a crucial decision while he went off to indulge his newfound blood lust for thieves, and ended up stuck in a basement, nearly arrested, or worse, by federal prohibition agents loyal to his rival Waxy Gordon.
Whether it's because Nucky's grown complacent or simply hasn't rebuilt his crew adequately in the wake of the last season's mass betrayals, it's now clear that he has to make some changes to his organization, and fast. Paging Chalky White and Richard Harrow.
So it was more because of Nucky's slacking than anything else that Gyp Rosetti took the top spot in HuffPost TV's "Boardwalk Empire" gangster rankings this week. Rosetti has become a polarizing character on "Boardwalk" whose schtick is wearing thin on some viewers, but now that he's officially declared war on Nucky, we soon will find out how tough he really is.
To keep track of the deals, deception and death, HuffPost TV presents our weekly "Boardwalk Empire" gangster rankings, a guide to who's up and who's down among HBO's organized criminals. Check out the slideshow below to find out how your favorite liquor-slinging criminal fared this week.
'Boardwalk Empire' Gangster Rankings, Week 4
Gyp Rosetti finally made his move on Nucky Thompson, ambushing a shipment of booze headed for New York and killing several of his men. While Rosetti has at times veered close to self-parody this season, give the character some credit for guile in this episode. He successfully bought off the police in Tabor Heights after he burned their former Sheriff alive, using their protection to officially declare his war on Nucky. He's also making plans to use boats to import his own booze shipments in Atlantic City, but it seems doubtful his scheme will get that far.

Nucky fell from the top spot in the gangster rankings for the first time this season because of a series of impulsive mistakes that put his booze business, and personal safety, in danger. He let his newfound thirst for killing thieves get him in trouble when he insisted on joining Owen Sleater on a trip to track down Roland Smith, a young man who had robbed one of his warehouses. But while they were staking out his house, federal prohibition agents on Waxy Gordon's payroll stormed the place, and fearing arrest or worse, they were forced to hide out in the cellar overnight. Before that, he blindly ordered his drivers to make their next shipment on time, despite the fact that the iced-over back roads weren't a viable option, a move that led them directly into Rosetti's ambush. And his refusal to forgive his brother Eli, easily one of the most competent men in his operation, prevented him from getting a handle on the Rosetti situation before it spiraled out of control.

Despite Nucky's best efforts to punish him for his betrayal, Eli is emerging as one of the few competent members of his crew. After Atlantic City's former police chief offered Nucky his services as a enforcer only to be shot down by Nucky's typical callousness, Eli went above and beyond anyway, scouting out the Tabor Heights gas station, where he discovered that the local cops were working with Rosetti. Eli tried to warn Doyle not to send the shipments, then literally stood on the road yelling, "It's an ambush!" as the trucks drove past him. Nucky will have no choice but to "let him earn" soon.

We saw a slightly softer side of Young Capone this week, as he tried to teach his deaf son to defend himself when he was getting bullied at school. When that didn't quite work out, he took his rage out on Joe Miller, an O'Banion ally who earlier beat up Capone's chubby, stinky associate with a beer mug. Capone went back to the bar and beat the man to death with his bare hands and a chair. "You wanna pick on people who can't defend themselves?" he yelled. This is the closest "Boardwalk Empire" is likely to get to an anti-bullying episode, and it brought Chicago one step closer to a South Side vs. North side turf war.

It was a rough episode for Owen Sleater, who doesn't seem to have his boss' full trust. Fortunately for him, Nucky hasn't yet put his finger on the real reason he should be skeptical of Owen (he slept with Margaret). Still, something seems amiss between the two: Early in the episode, Nucky coldly asked Owen, "Do I have to do your job too?" and then after they hid out in that basement overnight, wondered what he'd done to earn the Irishman's trust. On the plus side, Sleater is still sleeping with Nucky's house servant, who calls his penis Mr. Poofles.

Luciano was summoned to a meeting with Joe Masseria, an old-school Italian boss who wants a cut of his and Lansky's heroin profits, just like he takes from their card games and booze. Luciano offered him three percent, while Masseria countered with 30, an absurd counter meant to test Luciano's mettle. Playing the Italian solidarity card, Masseria tried to chip away at Luciano's alliance with Lansky and Rothstein, trying to convince him his Jewish partners will eventually betray him. But don't expect Luciano to bail on his friends anytime soon.

Rothstein has been Nucky's closest ally, but he's beginning to get irritated with his partner in crime. Rothstein was the first to pick up on the fact that Nucky is not exactly on top of the details of his operation lately, and won't be happy to hear his shipment was stolen ... or that his underlings Luciano and Lansky are nearing a turf war with Joe Masseria.

Margaret met with a nun to go over their pre-natal care curriculum, and got a glimpse of the orthodoxy she's up against. The nun forbid her use of the words "vagina," "pregnant," or "menstruation," and was aghast at the site of a sanitary napkin. Margaret tried to hand out fliers on the boardwalk, but she ran into more resistance from the community. It's hard out there for a forward-thinking philanthropist, but props to her for fighting the good fight.

The gangster rankings will not rest until this character is killed off or exiled from Nucky's inner circle, and his incompetence is inching him ever closer to that fate. After complaining about the new booze shipment plan in front of Nucky, he got a harsh reminder that dissent is not welcome in his operation. Later, Doyle ignored Eli's advice to hold off on the shipment until they could consult Nucky again, and they paid a heavy price, losing a shipment and their drivers' lives in the ambush. Maybe Eli will be the one who puts this character out of his misery.
Follow Alex Moaba on Twitter: www.twitter.com/alexmoaba