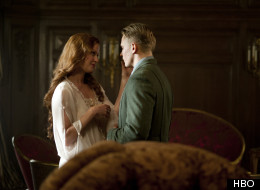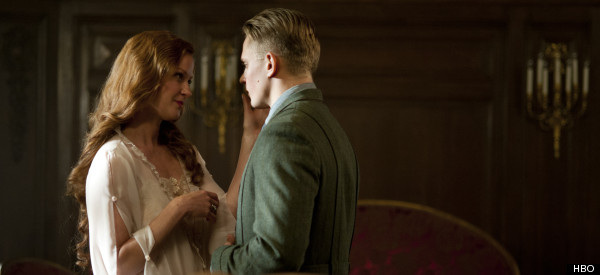 Spoiler alert: Do not read on if you haven't seen Season 3, Episode 7 of "Boardwalk Empire," titled "Sunday Best."

We're all hoping that "Boardwalk Empire's" third season is building up to a climactic and hopefully awesome war between Nucky Thompson and Gyp Rosetti, but it's sure taking its sweet time to get there. "Sunday Best" was the second slow episode of "Boardwalk" in a row, but it wasn't without a few significant -- and in Gillian Darmody's case, totally bizarre -- developments.
The Thompson brothers finally reconciled at a family Easter celebration, as Nucky promoted Eli to manager of his liquor warehouse. After Eli betrayed him last season, it was nice to see Nucky welcome his brother back -- albeit reluctantly -- into his inner circle.
Bobby Cannavale gave a strong performance in this episode that brought some much-needed depth to his Gyp Rosetti character. For a half a season we've watched him mercilessly beat people, crack bad jokes and asphyxiate himself during sex, but as Rosetti pleaded with both God and Joe Masseria, we finally learned what's driving this guy: He's actually a small-time criminal who lives with his Mom and is scared of being left behind in an underground economy that's on the verge of passing him by. Rosetti's brazen attempt to take on Nucky and carve out a space for himself in the bootlegging trade is really driven by desperation, and learning that makes the character a lot more interesting.
In a truly twisted development, Gillian finally came to terms with her son Jimmy's death ... by drugging and drowning his lookalike in a bathtub. It was a move that proved both cathartic and cunning, as she used his death to assert her legal claim to the Commodore's mansion that she's set up her "Artemis Club" inside.
In other less consequential happenings, Richard Harrow continued to woo his lady friend Julia Sagorsky, and Margaret told her sister-in-law -- who she was meeting for the first time -- that Nucky is a cheating criminal who's sucking the life out of her. Happy "Boardwalk" Easter, everybody.
For more analysis of these developments, and to keep track of all the deals, deaths and deceptions, check out the slideshow below for HuffPost TV's "Boardwalk Empire" Gangster Rankings.
'Boardwalk Empire' Gangster Rankings, 'Sunday Best'
Well, that was messed up. Last week we thought that Gillian picked up her Jimmy lookalike on the boardwalk for an Oedipus-in-reverse-type thrill, but it was really an elaborate scheme to get Jimmy's death officially declared and the Commodore's mansion and fortune legally transfered to her. She kicked all the ladies out of her whorehouse and invited her young lover over alone, so she could do him on the Easter table, draw him a nice hot bath, stick him in the neck with a heroin needle and drown him. As a finishing touch, she put Jimmy's dog tags around his neck and convinced the coroner that it was him, once again proving that Gillian is as cunning and cut-throat as any of "Boardwalk's" male gangsters.

As it turns out, Gyp Rosetti lost a lot of his New York turf and money, as he's been making his move in New Jersey. With his crew delivering light envelopes, he was summoned to a sit-down with Joe Masseria to explain himself. But before he could get there, he stopped by a church to yell at God and beat up a priest. For a moment, it looked like Masseria had grown tired of Rosetti's game. After telling him that he couldn't trust him anymore, he got up from the table and his goons closed in, ready to take him out. But Rosetti saved his life with an impassioned speech that played on Masseria's old-world sensibilities. "They're building something that we're not gonna be a part of," he pleaded. He promised that if Masseria gave him the manpower reinforcements to go to war, he could take out Rothstein, Nucky and Luciano, and make Masseria "King." Masseria liked the sound of it. Game on.

Nucky finally accepted his brother Eli back into his inner circle, but not after giving him a major guilt trip. "You sit down with my enemies; you make choices you can never take back; and still you call yourself my brother," he told him. But it's a good thing he softened his stance, because he's going to need all the competent men he can get to face off against Rosetti. Other than that fraternal fence-mending, there wasn't much Nucky news in this episode. He had some solid quips, like, "I had to [go to church] -- I'm a knight now." Eli took out a gun and demanded that Nucky shoot him. "Cause I know you will, sooner or later," he took the bullets out and asked, "Why does it always need to be such a melodrama with you?" Later, Uncle Nuck broke out his juggling and storytelling act for Eli's 87 kids. Back in the '20s, this is what people had to watch instead of high-quality cable dramas.

The Thompson brothers are back! Eli invited his brother over for Easter so he could again appeal to him for more opportunity to earn. The $30 a day he was making as a warehouse laborer isn't enough to feed his gigantic family, and he detests being Mickey Doyle's underling. After a lot of back-and-forth, Nucky called with news of a promotion. "I'll be making a change … you're running the warehouse with me starting tomorrow." Betrayal schmetrayal. Nucky will need Eli's killing and detective skills when push comes to shove with Rosetti.

Harrow brought flowers to his new friend lady Julia's house for Easter with Tommy by his side. While they've bonded over both being caretakers, the old drunk expressed his displeasure that they were there, and ranted about Jesus and Harrow's face. When Tommy wandered upstairs and started playing with some army figurines, the angry drunk grabbed him and wouldn't let go. So, of course, Harrow threatened to kill him. Clearly Harrow has read "The Game."

Margaret really needs to talk to a therapist, but unfortunately there weren't too many around in the 1920s. Instead, she opened up to her sister-in-law, who she was meeting for the first time, about that state of her sham marriage with Nucky. Margaret revealed that Nucky's cheating on her, is the head of a criminal enterprise and is generally destroying her will to live. Nice to meet you too?
Follow Alex Moaba on Twitter: www.twitter.com/alexmoaba