Just a couple blocks west of Union Square, it was hard not to be curious to see a carnival barker bellowing through a megaphone on Tuesday evening outside of the TheaterLab event space, promising freaks and wonders for all who entered. Those who couldn't pass up such a chance headed through the doors, where for $5 they could experience "Sideshow," a combination festival and art exhibit held to benefit the Art in Odd Places project, held in October.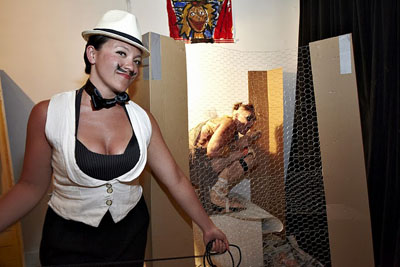 Images by Argenis Apolinario
The sideshow took over three floors (including the rooftop) of TheaterLab, with hand-painted signs throughout, promoting fascinating specimens like "The World's Oldest Intern" and "The World's Largest Pickle" (which suspiciously resembled a watermelon).
Besides these tongue-in-cheek "freaks" there were plenty of truly eye-catching works of performance art. Two people stood in front of one room wearing bodysuits of what looked like uninflated balloons, standing motionless except for one holding his (or her?) outstretched hand, eagerly reciprocating handshakes from passersby. In another room, a pair of artists hidden under costumes of layered white fabric writhed on the floor looking like some kind of strange seacreatures. It was hard not to turn away, but got genuinely creepy when one of them started moving toward you.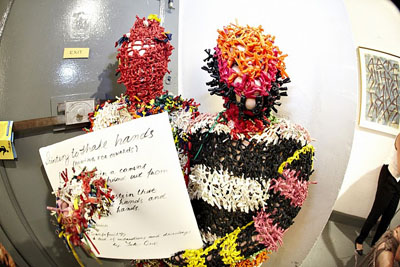 There were also the "forbidden dances" of performers Minnie Tonka and Etta-May Freeway as well as sets by indie pop band Dinosaur Feathers, Turkish musician Egemen Sanli & Friends, and the High Line Park Renegade Cabaret.
In addition to the cover charge, generous visitors could also help out Art in Odd Places by buying raffle tickets (with prizes like a six-pack of beer) or food and wine. They could also plunk down a buck to play one of the carnival games, like Turtle 'N Da Bucket, where participants chucked plastic turtles into KFC buckets (the first carnival game I've ever actually won), or consult the fortune teller, who used her own brand of Tarot cards with pictures of cartoon characters, promising things like "Luck" and "Babies."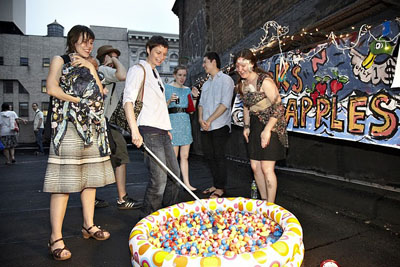 Overseeing the madness was Ed Woodham, founder and director of Art in Odd Places, who said his past experience working at carnivals led him to the idea of this off-kilter version. Decked out in a black shirt and red tutu, Woodham described Art in Odd Places, which will take place between October 1-10 this year all the way across 14th Street, alternately as "a laboratory of sorts" and "a scavenger hunt." "We're always looking to evaluate what space is and how you can communicate through public space."
In years past these works have included crocheted razor wire across sections of 14th Street fences, and projecting images onto windows of an apartment building at First Avenue. They do a call for artists every year as well as by invitation (last year 59 participated). Those interested in this year's festival Art in Odd Places 2010: CHANCE, or making a donation, can visit the group's website at www.artinoddplaces.org.
This Blogger's Books and Other Items from...
FOLLOW HUFFPOST