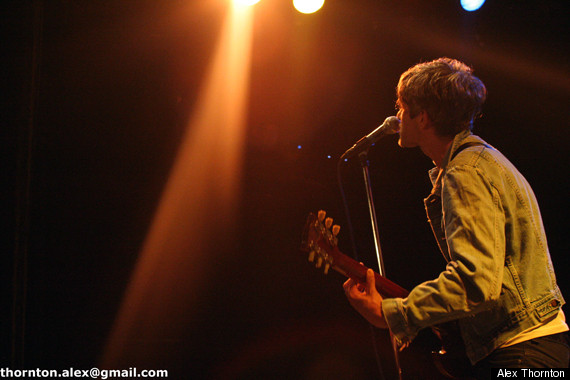 Last night, the Bowery Ballroom was sold-out in anticipation of We Are Scientists return to New York City after an international tour ("The American Barbarian Tour") in promotion of their third studio-album, Barbara, out today. Before the show, the crowd -- largely in their late teens and early twenties -- kept commenting on how they "wouldn't miss this show for the world" and sharing their favorite songs from before the band was signed to major-label Virgin Records.
Brooklyn-based band Rewards took the stage at just after 9PM, welcomed by cheers from the audience. Front-man Aaron Pfenning sings and plays lead guitar for this unsigned band; he is fresh off of tour with his other band Chairlift who rose to fame with 2008's "Bruises," which was nominated for a MTV VMA. He was joined on-stage by bass-playing Lightspeed Champion, a.k.a. Devonté Hynes. Previously of Test Icicles, Hynes is an American-born, British-raised post-punk cult hero who is currently working on a side project called Blood Orange. With a throbbing, intricate bass track laying the foundation for their songs, Rewards used reverb and echo effects to illicit an ethereal quality that meshed with Pfenning's soothing, wide-ranged vocals. Electronica and dance punk riffs were piped in, giving the audience something more to dance to.
The music itself almost sounded like an 80's throwback and would aptly fit in an iPod commercial, a suspicion that only seemed more appropriate when looking at the musicians' garb: retro sneakers, faux snake skin guitar straps, big glasses, and plaid. With some just a touch of fine-tuning, Rewards has the potential to become a popular indie-hipster band. While most made apparent their fondness for the band, one man wearing a shirt stating "With great moustache comes great responsibility," who happened to be one of the eldest people there, heckled that they should "Play live music!" Hynes took offense and jumped into the audience to call him out while the man lost his confidence and the kids jeered. In the end, despite protests, Rewards held their own.
The real intensity came when We Are Scientists finally came on and the crowd never let their cries of delight die down. Promoting Barbara, the ten-year-old band in its current reincarnation is formed by Keith Murray on guitar and vocals and Chris Cain on bass with Andrew Burrows as a guest drummer. They shot to fame after their last album, With Love and Squalor sold an incredible 100,000 copies within its first six months and have had tops hits since then with "After Hours" and "Chick Lit". Originally from Berkeley, California, the duo are now based in Brooklyn where they hone their music and created a series of television shorts entitled "Steve Wants His Money". Their sound is largely alternative and post-punk revivalist with the melodic interweaving of guitar and voice.
Not lacking in stage presence, We Are Scientists played for the fist-pumping crowd of young admirers, song after song of pop-influenced, dance-punk. In between songs, they interjected witty banter and carefully timed stand-up, drawing genuine laughter from the crowd -- something most bands are unable to do, dedicated fan bases or not. Cain took the lead with a lot of the chatter, at one point drawing attention to his shirt reading "BRING BACK BANA", referring to wanting Eric Bana, the guy who played the lead role in the Hulk movies, to be in the upcoming Marvel movie. He then dedicated "Nobody Move, Nobody Get Hurt" and "Rules Don't Stop" to him before Murray suggested he had a one-track mind. Keeping up the energy, with small, pseudo-mosh pits forming in the packed music hall, We Are Scientists gave a show that promises more mainstream media play in their future. Their songs are catchy and combined with a great live show and cult-like following, they are sure to make waves.
We Are Scientists' Set List:
Nice Guys
Scene is Dead
Inaction
I Don't Bite
Impatience
Let's See It
Nobody Move, Nobody Get Hurt
Rules Don't Stop
Chick Lit
Pittsburgh
Ambition
It's a Hit
Dinosaurs
Great Escape
Jack and Ginger
After Hours
Cash Cow (encore)
SUBSCRIBE TO & FOLLOW THE MORNING EMAIL
The Morning Email helps you start your workday with everything you need to know: breaking news, entertainment and a dash of fun. Learn more