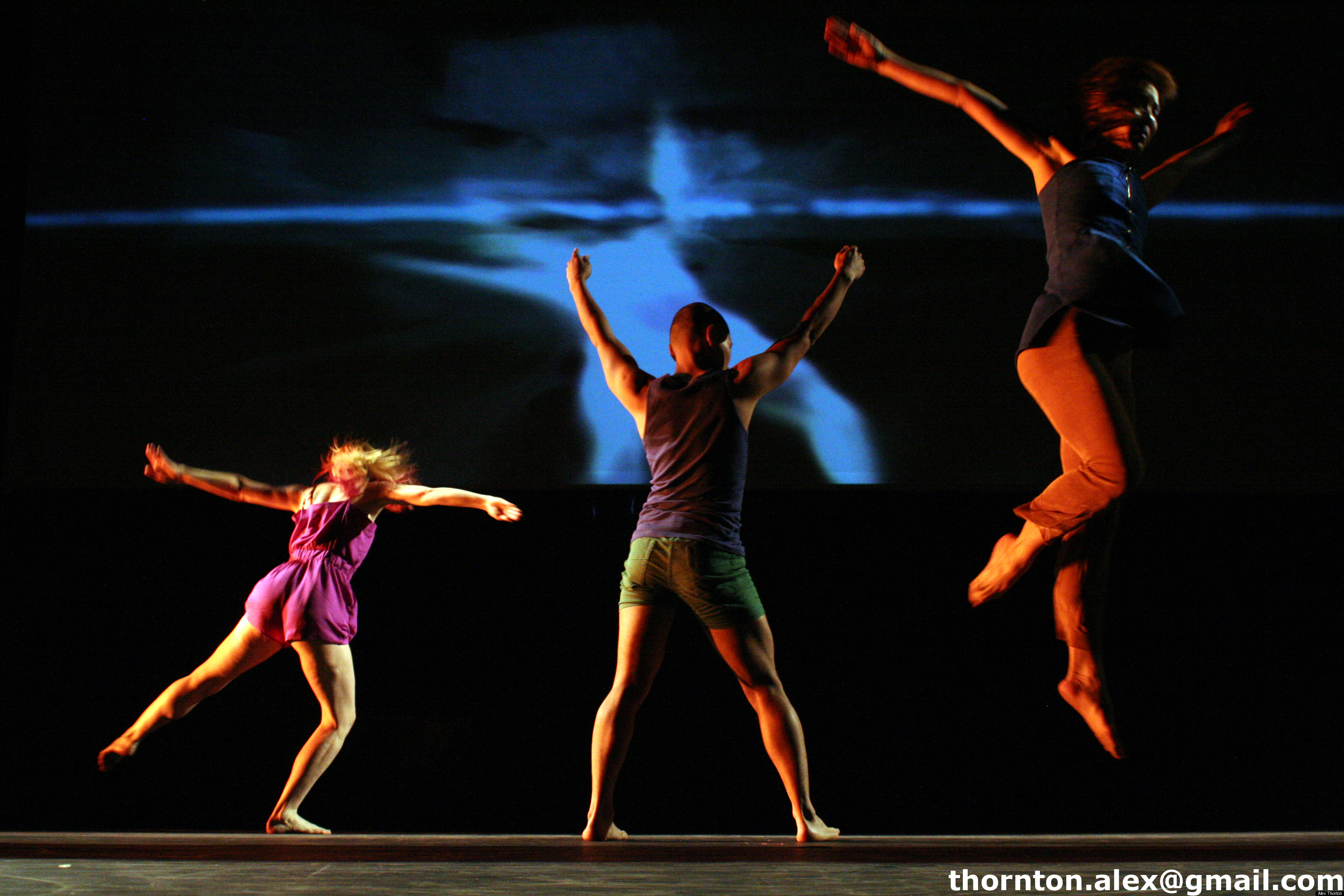 Last night, under a clear sky and warm weather, Prospect Park's Bandshell was filled to near capacity for a night of music and dance kicked off by Son Lux with Lottdance for another installment of the BRIC's "Celebrate Brooklyn!" series of events.
Understandably named 2008's Best New Artist by WNYC's "All Things Considered", Son Lux is formed by new Brooklyn resident Ryan Lott and his ten-piece electro-acoustic band who are currently promoting their EP album Weapons. Lott's highly resonant vocals are backed by an avant-garde blend of hip-hop bass beats, orchestral strings, and electronica riffs. Son Lux joined forces with the talented members of Lottdance who hypnotically whirled across the stage in perfect time. Katie Chastain added her ethereal voice to "Tell" and then back-up vocals for the remainder of the set.
A lone dancer took to the stage at the start of ZviDance's ZOOM with a giant screen behind her telling the audience that her name was Alison and that she needed a new profile picture, so please take her photo and send it to her via the e-mail or phone number listed. As the music faded from that of rain to more upbeat Latin-infused strains, several dancers alternated sharing the spotlight while the screen text changed to fit the persona of the individual; one dancer asked the audience to check out his new haircut while another asked them to make her "look beautiful" in the photos they took.
The dancing was interrupted by a young woman who brought out yet another laptop and had real-time conversations with audience members via text message; some asked for the show's inspiration (Answer: "You!") while others joked with her (Audience: "Help me. I'm being held hostage, 13th row back. My hostage taker says hi." Answer: "Um, can someone take care of that?"). In an interesting twist that exemplified the unscripted nature of the show, the dancers broke out cell phones and called some of the texters to invite them onstage to take close-up photos to the delight of those asked.
Both Son Lux with Lottdance and the ZviDancers, transformed the Bandshell from an outdoor performance space into a fabulous cultural experience via well-versed dancers and their beautifully chosen musical accompaniments. The concertgoers were ethnically diverse and ranged from young families to retired folks, yet they all seemed to enjoy the show as much as the next person.
The Bandshell at Prospect Park is located just inside the park at 9th Street and Prospect Park West. To see the lineup for the rest of the 2010 Celebrate Brooklyn series and sponsor information, visit: http://www.bricartsmedia.org/performing-arts/celebrate-brooklyn/2010-season. For more information on the artists and free downloads, please visit the links provided above or become their fan on Facebook.
SUBSCRIBE TO & FOLLOW THE MORNING EMAIL
Start your workday the right way with the news that matters most. Learn more