"David Smith: Cubes and Anarchy" clearly presented too good an opportunity for the Whitney to pass up. Curated by Carol S. Eliel for LACMA, the exhibition arrives in New York only five years after the Guggenheim's "David Smith: A Centennial" which effectively accounted for much of Smith's multifarious career. However, "Cubes and Anarchy" is still welcomed as a testament to the fact that we can't get enough Smith and there exists ample room for alternate assessments of the work.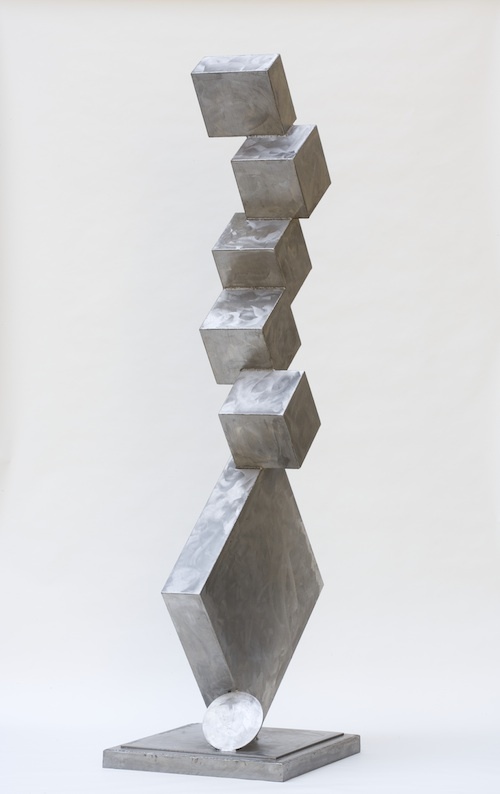 Cubi I, 1963
Stainless steel
124 x 34 ½ x 33 ½ in. including base (attached) (315 x 87.6 x 85.1 cm)
Detroit Institute of Arts, Founders Society Purchase, Special Purchase Fun
Facets of the exhibition one wouldn't suspect, such as the black and white photography taken by Smith, play a powerful role not only evidencing how the artist assembled his sculptures out of the scraps of industrial materials but also how he envisioned the interplay of his own work within a greater ensemble. The room of gelatin silver prints further prove that even when the physical color and the psychological weigh of polish or paint is absent, the wildly imaginative forms of each sculpture retain their luster.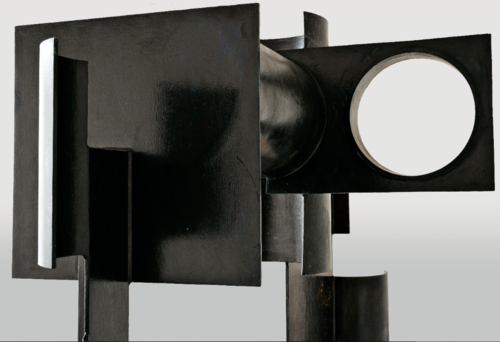 Zig III, 1961
Painted steel
93 x 124 x 61 in. (235.6 x 281.9 x 152.4 cm)
The Estate of David Smith, courtesy Gagosian Gallery
Sculpture-wise, one of the highlights includes "Cubi XXI" (1964) lent from the Lipman family (one of the most crucial and generous donors of Post-War sculpture to the Whitney) and formerly housed on the porch at Gagosian's 980 Madison space. "Unit of Three Forms" (1937), small and lacking the tactile qualities of his later works, perfectly represents the artist's urge to experiment with all elements of his sculptural practice: form, scale, color, and texture. It is interesting as anticipatory of the powerful painted and/ or burnished steel works of the 1950s and early '60s, in particular, his triumphal "Cubi" whose surfaces were transformed into reflective painting with a sander. The variation of paint, patterning, or polish "painted" on these sculptures infuses each work with a quality of unpredictability and violence that never fails to excite.
David Smith: Cubes and Anarchy
Distilling concepts and harvesting materials from various artistic movements as well as commonplace industrial components, Smith must have considered everything he encountered as a possible source from a broken down Ford to leaves fluttering in the wind, the imagery of Tanguy and Matta to Bosch or Bruegel's demonic critters (visible in a gouache "Untitled" (1946)).
Those East coasters who lamented missing the show out West now have the opportunity to see the master at work. While the fundamental importance and consistency of geometric forms in Smith's work seems obvious, it's his technical skill, ability to execute, and the unbridled imagination that the reigns here and make for one hell of a ride.
David Smith: Cubes and Anarchy is on view at the Whitney Museum of American Art (945 Madison Ave. at 75th St. New York, NY 10021 (212) 570-3600) from October 6, 2011-January 8, 2012