Soutine/ Bacon
May 2 -- June 18, 2011
Helly Nahmad Gallery
975 Madison Avenue
Soutine/ Bacon, organized by former LACMA curator Maurice Tuchman and Esti Dunow, at Helly Nahmad Gallery adds to the elite list of museum quality exhibitions visible in New York this spring.
Complementing Gagosian's blockbuster Picasso and Marie-Thérèse L'Amour Fou downtown, Nahmad draws attention away from Chelsea and the realm of contemporary to something quite original within the greater discourse of Modern masters. Soutine and Bacon's subject matter relates quite clearly from an aesthetic perspective, most notably through the prominence of wildly expressive distortions, but only now has this thoughtful analogy been examined in a gallery context. Beyond the admittedly disturbing heightened tones of bloodied remains, fragments of animals, lovers, and the self, the artists' own temperaments suggest startling similarities that become increasingly clear as the exhibition wears on.
Courtesy of Helly Nahmad Gallery
Chaim Soutine (1893-1943), a Belarusian painter of Jewish descent, developed a style that prioritized the role of color and texture over visually accurate representation. Soutine's practice, somewhat difficult to situate historically, seems more modern than his Expressionist peers but preserves the tradition of figuration, never delving into pure abstraction. Paintings of animate carcasses heavily layered with thick, oily paint evoke feelings of pain and desperation at moments while others thrust the viewer into the thick of a swirling tempest or the depths of howling forests. The savagery of life reigns supreme in each of the works selected for exhibition.
Soutine's "Brace of Pheasants" (1926) incorporates two presumably dead fowl, one plucked and bloody, the other dark and largely intact, dangling from a nonexistent strand against a murky yellow backdrop. Juxtaposed with the left panel of a Bacon Triptych from '81, this curatorial arrangement exposes equally dismal outlooks on love and death. Bacon's perspective remains uncomfortably clandestine as the chicken that bears an eerie resemblance to a heart hangs constrained by a glass prism while Soutine's birds appear despondent, especially against the nauseating backdrop. Not disgust, but rather sorrow blindsides the viewer as if neither the artist nor his subject ever really had a chance.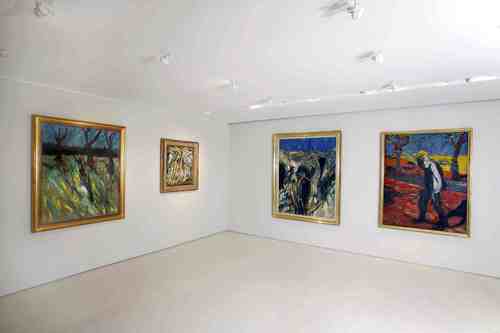 Courtesy of Helly Nahmad Gallery
Bacon (1909-1992), an angsty and temperamental Brit, eschewed lifelike representation in favor of psychological projections, often isolating an individual figure or entity in its most vulnerable state. Like Soutine's flayed animals, Bacon's ravaged figures appear mangled or constrained to a point of physical agony and by implication, psychological disturbance. His whipped, rapid strokes conjure up a sense of speed and immediacy within the images that simulate the inside of a neurotic or deranged mind. Intimate portraits such as "Triptych: Three Studies of George Dyer "(1969) present quintessential Bacon.
In this harrowing series, Bacon outlines the profile of his lover with thin stripes of black paint and utilizes elongated dashes of white to create an almost skeletal feel. Bacon captures the shell of a man two years away from suicide, somehow deteriorating before his eyes. Dyer's sparse, slicked back hair and angular features emphasize the same motion captured with the concurrent brush strokes. The only flaw might be that it's too slick.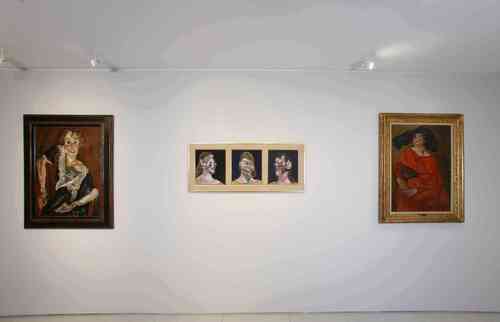 Courtesy of Helly Nahmad Gallery
An arrangement of works hung on the second floor relate to earlier examples by Van Gogh. In "Cagnes, Landscape with Trees" (c. 1923-24), Soutine fixates on a singular tree in the middle of a quaint, dark neighborhood. The dashed, circular strokes are reminiscent of Van Gogh's "Mulberry Tree" painted in Saint-Rémy during October of 1889 while the tonal structure of the painting bears stricter resemblance to some of Munch's darker genre scenes. Bacon's "Study for a Portrait by Van Gogh IV" (1957) harkens back to Millet's original image but relates to Soutine's disfigured portraits of downtrodden souls. This haunting interpretation contains an almost toxic palette of heightened colors surrounding an aching journeyman, crippled over traversing a suburban landscape. The figure, rendered in black, forsakes the path ahead in favor of the crosshatched, reddened earth. The atmospheres conjured in both pictures feel strained and cold. To both artists, the world remains an unforgiving and hostile place.
Despite the lack of critical attention, Nahmad's tremendous clout within the art world and seemingly endless inventory have afforded them the opportunity to secure truly remarkable loans from both museums and important private collections. While the fully illustrated catalogue provides a thoughtful argument and demonstration of Soutine's influence on Bacon specifically, the nature of that relationship remains somewhat indeterminable and open to conjecture. However, the exhibition succeeds in a broader scope by asserting that Soutine's influence on subsequent generations remains too widely underrecognized. The fact that several of the most prominent artists of the 20th century, from De Kooning to Dubuffet, rose to prowess by, in part, prioritizing elements of Soutine's practice is evidence enough.
Bacon postulated that as a student of circumstance, he learned from all sensory experience and that this awareness informed his painted works. Soutine never seemed to make such profound nor general claims, allowing his paintings to speak for themselves. While Bacon typically draws tremendous attention, and rightfully so, for once he is out done by an equally unusual and inventive artist. Even when put in conversation with some of Bacon's premier works, Soutine rises to the occasion and the strength of his hand becomes increasingly clear.

SUBSCRIBE TO & FOLLOW CULTURE SHIFT
Level up. Read THIS and be the most interesting person at your dinner party. Learn more