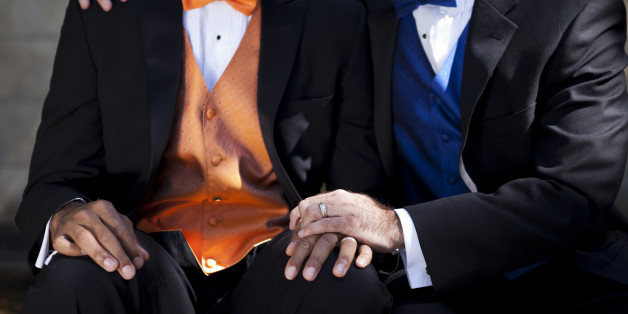 The Department of Defense (DOD) has at last made an announcement about its roll-out of benefits for married same-sex service members. This development follows the June Supreme Court ruling that struck down section three of the Defense of Marriage Act (DOMA). The Court ruling and the DOD announcement mean that gay and lesbian troops who legally marry their partner in a state or jurisdiction in which marriage equality is permitted will now be afforded the same rights and responsibilities that DOD grants to married heterosexual couples.
Following the repeal of the "Don't Ask, Don't Tell" (DADT) law in 2010 and the implementation of repeal in 2011, DOD has taken deliberate steps toward ensuring equal treatment for all service members regardless of sexual orientation. Before the end of his tenure, Secretary Leon Panetta extended a limited number of benefits to the partners and spouses of gay and lesbian troops. Yet, the law (specifically DOMA) prohibited the secretary from extending most additional benefits available to heterosexual troops.
With the Supreme Court ruling that section three of DOMA is unconstitutional, the federal government can formally recognize the legal marriages of gay and lesbian couples and grant the benefits that come with that official recognition. Now, the Pentagon has proactively taken the next step to comply with that ruling.
The full announcement from DOD indicates that certain benefits to which legally married gay and lesbian service members are now entitled will be retroactive to the date of the Supreme Court decision, as long as the service member was married on or before that date. Other benefits will become available beginning on September 3.
Interestingly, DOD also made an effort to point out that gay and lesbian service members are still only legally allowed to wed in a limited number of states, and that this places an added burden on those service members who wish to get married but are not currently stationed in a state or territory that recognizes marriage equality for gay and lesbian Americans. To help remedy this burden, DOD announced that it would not deduct leave days from service members who needed to take off to travel to another state in order to get married. In offering this, DOD said that its aim was to "help level the playing field between opposite-sex and same-sex couples seeking to be married."
This is an historic announcement that will benefit tens of thousands of service members and the military as a whole. No longer will commanders find themselves in a position where they are legally prohibited from looking after the well being of all of their troops and those troops' families.
Iraq and Afghanistan Veterans of America (IAVA) supported the repeal of DOMA so that DOD would not be forced to treat some service members and some military families as second class citizens. In the case through which the Supreme Court struck down section three of DOMA, IAVA joined a coalition of other prominent organizations in signing onto an amicus brief in support of Edith Windsor, the plaintiff in that lawsuit. IAVA also publicly supported the repeal of the DADT law that mandated the automatic discharge of troops discovered to be gay, lesbian, or bisexual.
IAVA is proud to support policies and policy changes that strengthen our armed forces, add to its diversity, and enable it to tap into the broadest pool of talent that our country has to offer. The swift expansion of equal marriage recognition and benefits to all Americans -- especially to all who serve -- was the right thing for our country to do, and the Pentagon is now firmly out front in embracing this change.