Last month we sat down with graphics novel head writer Martin Powell who writes for many publications including Pulp 2.0, Dark Horse Comics, and now OGN-focused imprint, Sequential Pulp Comics. Today, we get personal and 'graphic' with the president of SPC, Michael Hudson.
Alexandra Holzer: How did you get into the graphics novel biz and what were your influences in doing so?


Michael Hudson: I've been involved in the art world for the past 29 years. My first interest was in cartooning, having grown up on a steady diet of comic books and movies, but life has a funny way of throwing curve balls and since I couldn't be either one of my heroes, Wally Wood or Errol Flynn, after art school I ended up somehow as an accomplished landscape and portrait painter. But I've never gotten over my love of comics, pulps and film. In 1997 I started ReelArt Studios, a collectibles company that eventually morphed into a producer of resin and bronze statues of comic book, pulp, pin up and classic illustration characters.
We were fortunate to garner some big licenses with Frank Frazetta and William Stout among numerous others. A business relationship/partnership was formed with Dark Horse Comics and the rest is history. I consider Mike Richardson of Dark Horse my mentor. 

I started Sequential Pulp in 2008 and then the bottom fell out of the comic book industry for the second time in recent history. I gave myself a year to regroup and to set a course in the market as it stands today. During this time I sold off ReelArt Studios to place all of my time and focus towards publishing. We re-announced ourselves earlier this year and our relationship with Dark Horse Comics. Our focus will be graphic novels in both print and digital media.
The Cave Girl Adapted by Martin Powell and illustrated by Hannibal King. Authorized by Edgar Rice Burroughs Inc. Coming your way soon from Sequential Pulp/Dark Horse Comics.
AH: Who are the people behind the new Dark Horse imprint, Sequential Pulp?


MH: The decision makers would be me, Martin Powell and Mark Ellis. We have three main writers, Martin Powell, Mark Ellis and Jim Beard. Our Dark Horse editor and liaison is Patrick Thorpe. Our artists would include: Rick Hoberg, Neil Vokes, Will Meugniot, Steven E. Gordon, Tim Conrad, Greg Espinoza, Jeff Slemons, Pablo Marcos, Jamie Chase, Nik Poliwko, Hannibal King, Lowell Isaac, Tim Burgard, Thomas Boatwright, Tom Floyd, Sergio Cariello, Tom Yeates, Ted Slampyak, Adrian Salmon, David Enebral, Melissa Martin Ellis and Alejandro Torres Montiel. I hope I've included everyone because everyone is important. All of these creative talents are amazing people. I love the way they interact with one another and how they support one another and spur each other to greatness. We are no better than each member of our teams. We are co-workers but it is sort of like being a part of a large family. My philosophy has always been to surround myself with great people. It certainly holds true for Sequential Pulp Comics. 


AH: Why did you decide to mix the classics with your neo pulp? 


MH: We decided to mix classic material with pulp because Sequential Pulp's definition of pulp is more all encompassing than some more traditionally held viewpoints. We do not limit pulp to the type of paper it was printed on. Our definition would be a fast moving tale with a very definitive protagonist, a very definitive antagonist whether character or situational and a heroine or people that need saving. There has been loads of writing that we consider pulp that never saw print in the actual pulp magazines from the first issue of the revamped Argosy Magazine of 1896 through the pulps or the 1950s to the smaller digest magazines that came afterward. Writers like H.G. Wells, Robert Lewis Stevenson, Sir Arthur Conan Doyle, H Rider Haggard, Victor Hugo, Sax Rohmer and Raphael Sabatini were writing material that was the very essence of pulp and could have easily been included in the pulps during their heyday. In fact some of their writing was. But often times these and writers like them had their work go straight to novel format or to the slick magazines.
It does not make the work any different than some of the best writing to be found in the actual pulps. After the demise of the pulps there was the surge of paperbacks. Much of the writing for the paperback craze from the 1040s through the 1960s is considered pulp. In fact one such writer, Harry Whittington, was known as the "King of the Pulp Originals" and to my knowledge his work never saw print in an actual pulp magazine. He was known for being a very prolific author of pulp fiction novels which primarily saw print in paperback from 1956 through 1984. He is known to have written over 150 novels.  So our inclusion of Victor Hugo's The Hunchback of Notre Dame and Sir Arthur Conan Coyle's The Hound of the Baskervilles just seems like a natural fit to us.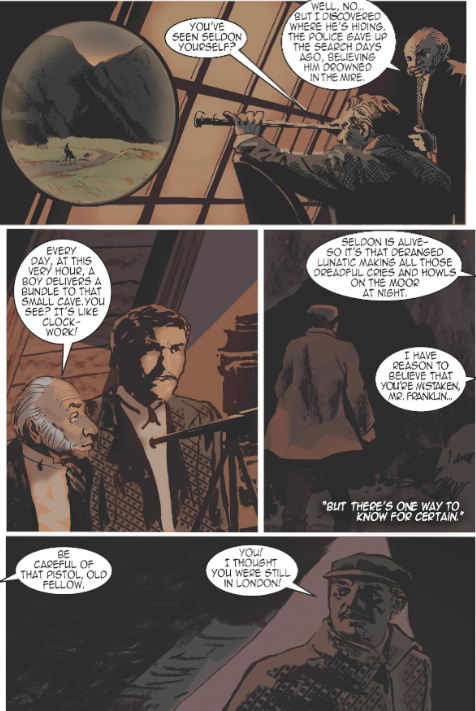 The Hound of the Baskervilles Adapted by Martin Powell and art by Jamie Chase. Based on the novel by Sir Arthur Conan Doyle. Page from the book.


As for neo or new pulp we are certainly open to it when the right stories come our way. As you must be aware there is a resurgence of new pulp coming out in prose form that is getting a lot of attention the past couple of years. I am all for it and hope it continues. Most of these stories deal with period characters and story lines often using characters from the original pulps in new stories and some new characters which pay homage to those of a bygone era. But pulp does not have to be dated or set in the past. Ian Fleming's James Bond novels were essentially pulp writing. Clive Cussler, Douglas Preston and Lincoln Child have been writing neo pulp for years and they are continuously on the top sellers' lists.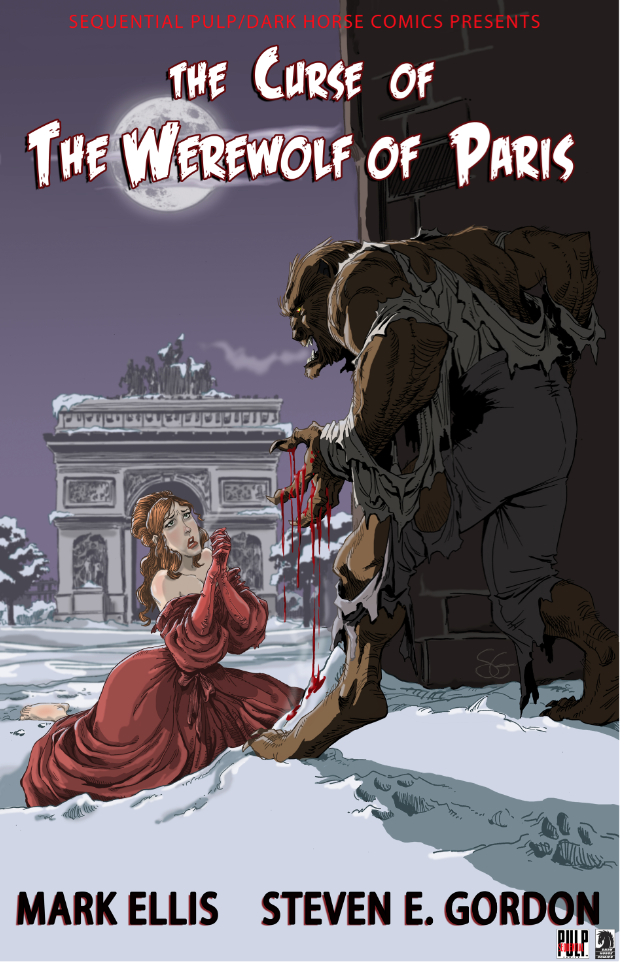 Curse of the Werewolf of Paris writer Mark Ellis art by Steven E. Gordon. Loosely adapted by the novel by Guy Endore.
We currently have one neo pulp title in production and that would be Martin Powell's Halloween Legion. His characters came out in a novel form late last year through the good folks at Wild Cat Books. I immediately saw the potential of developing these amazing characters into sequential storytelling and hopefully one day into animation. Martin Powell and Thomas Boatwright are doing such a fantastic job of bringing an all-ages comic that is a fast paced pulp tale that celebrates the pure mystery and imagination of Powell's favorite holiday, as seen through younger eyes.  
AH: Has the graphics novel industry and model changed in the past few years, how and why?
MH: 

I think there are two factors: Following the Top 300 monthly sales reports of both individual comics and graphic novels over the past three years was inspiration, or a better word would be revelation, that we needed to avoid single-issue comics due to the rapidly increasing downtrend in the marketplace. Graphic novel sales have remained steady. The second determining factor for me was what I am hearing from the public. I am a part of a lot of online groups that focus on comics, pulps and genre books. I've been reading them daily for many years. Specifically what I am hearing is that people want shorter story arcs that do not go on and on forever. They want a beginning, middle and an end to stories. I'm sure you are aware that over the past year or so story arcs, in many cases, have gone from around eight issues down to four per arc. I've also heard so many people state that they are not buying single-issue comics any more. Instead, they are opting for the compilations because they are generally packaged much nicer and they're all in one place. I honestly think there are a lot of factors for this trend.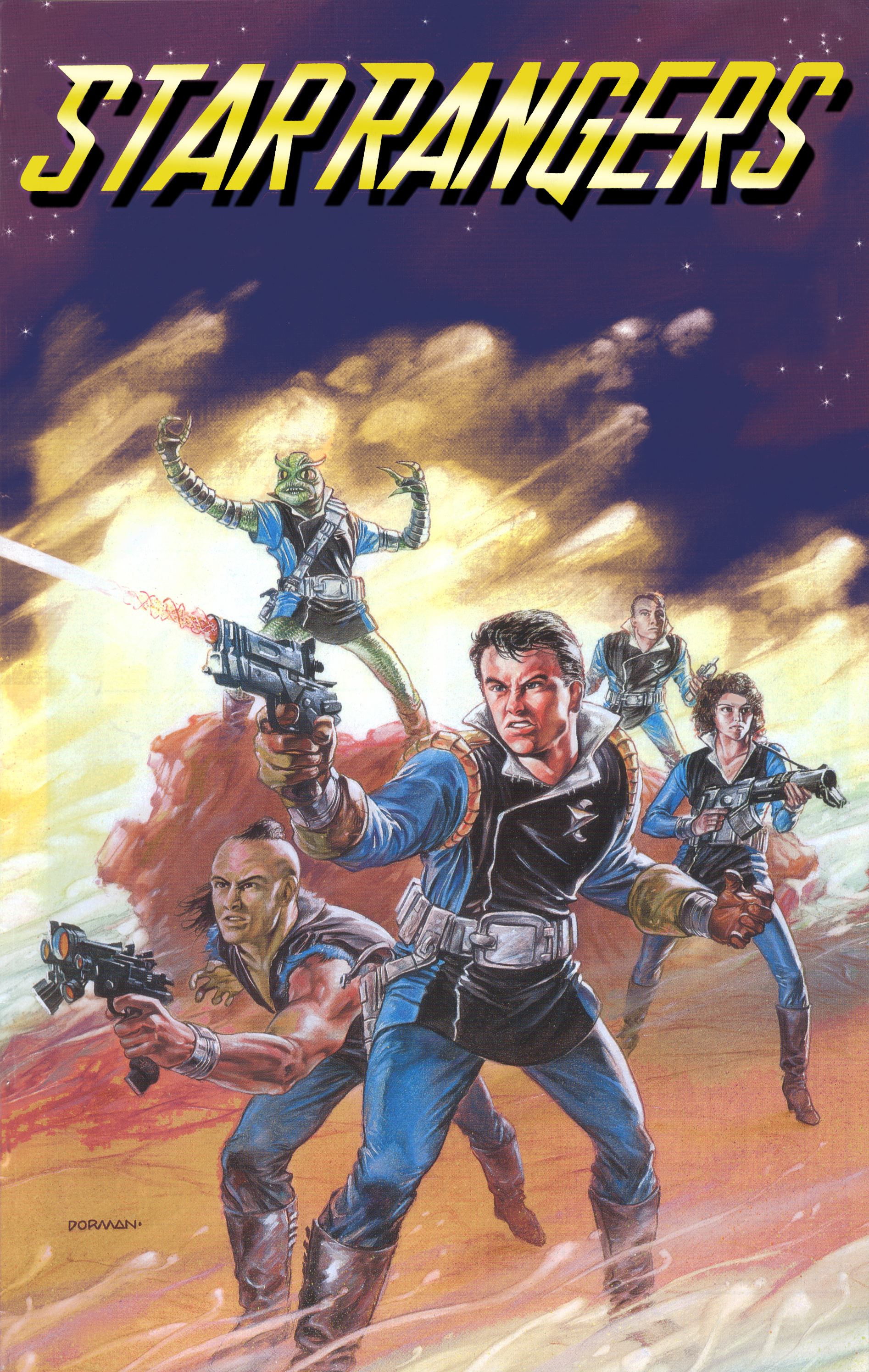 Star Rangers creator and writer Mark Ellis. Art by Jim Mooney. Cover Art by Dave Doorman.

One may be that super hero characters change or evolve so much that continuity kind of becomes a joke. Another factor might be a bi-product of our times. We want what we want now. We don't want to wait. Graphic novels do just that. We are gratified without waiting for the following month or three or four for the next chapter in the story.

 This does not necessarily address any of your questions but I feel it is pertinent to what we are talking about so I'm including it here. A film producer friend told me something rather profound a while back. She said so many films are being made from graphic novels because the producers and directors will not take the time to read a book but will look at words and pictures that can serve as a storyboard springboard for them. They can quickly visualize a film through the reading of a graphic novel.
Our editor at Dark Horse, Patrick Thorpe had this to say. "Serialized 22-page comic books read differently than the graphic novel, obviously. A comic has to be a self-contained story as well as relate to an overall arc. We don't want to force the material that Sequential Pulp is adapting into that format because that changes the nature of the story. A lot of these have subtle storytelling that builds on itself and is more enjoyable to read in a sitting or two. The 22-page model, oftentimes, is open ended. Sequential Pulp wants to tell stories that develop characters, build to exciting crescendos, and end. We've had great success with similar forays into the direct-to-graphic-novel model. The Outlaw Prince springs directly to mind. It's just satisfying to sit down with that beautiful hardcover and be transported to a different place and feel like you've gotten a complete experience."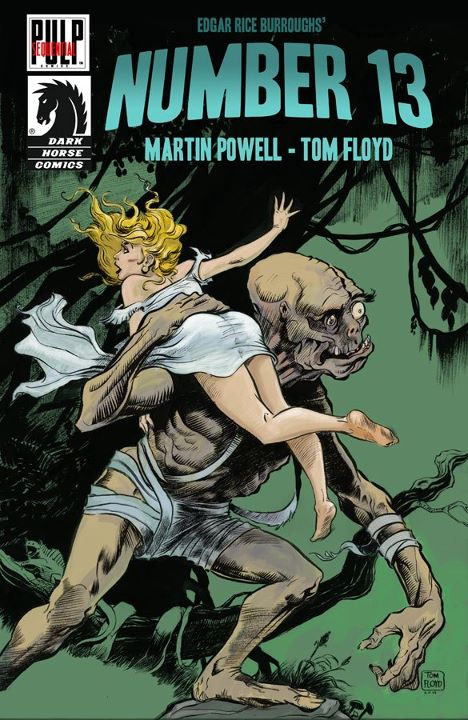 Number 13 (The Monster Men) Adapted by Martin Powell and illustrated by Tom Floyd. Authorized by Edgar Rice Burroughs Inc. Coming your way soon from Sequential Pulp/Dark Horse Comics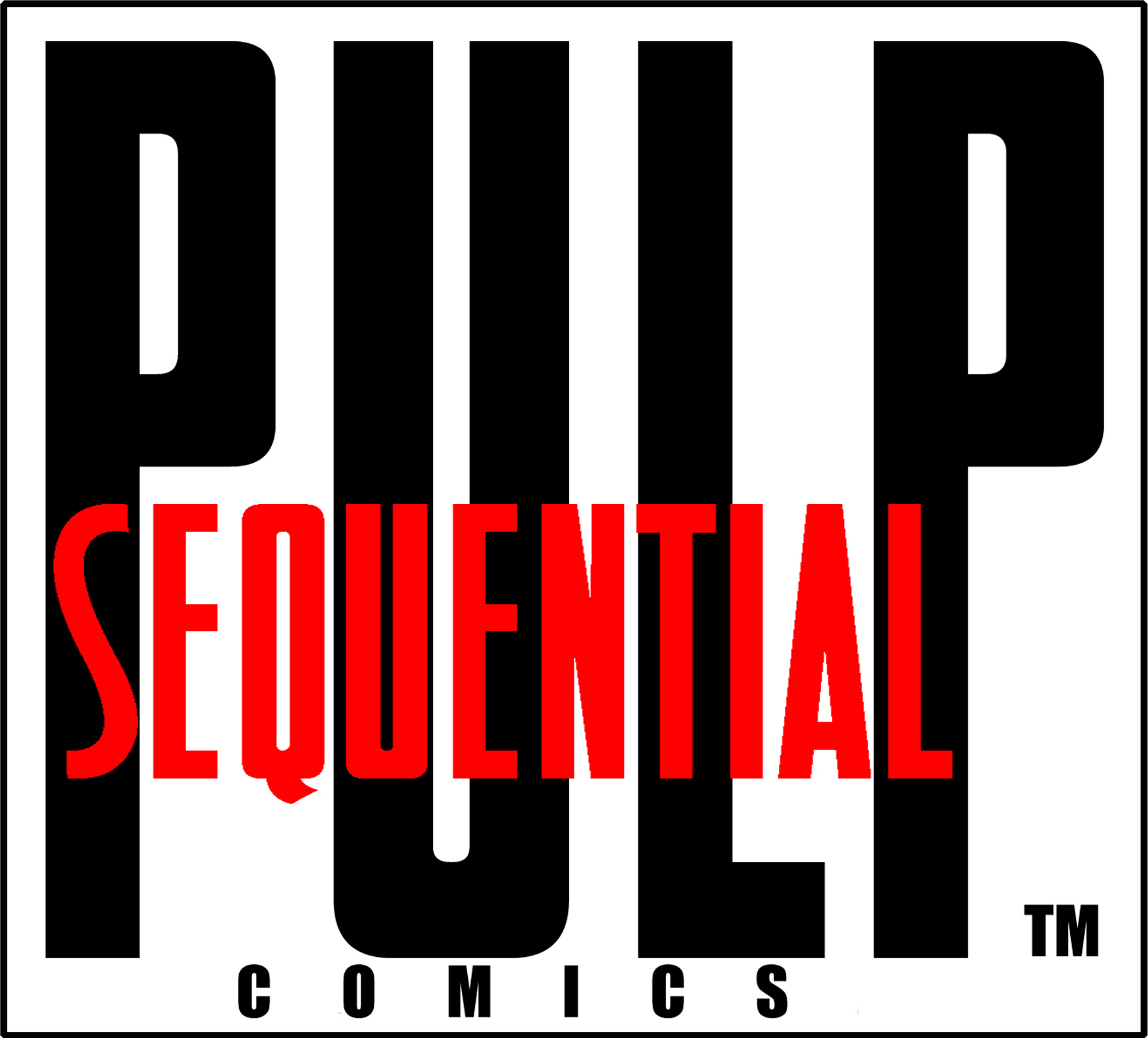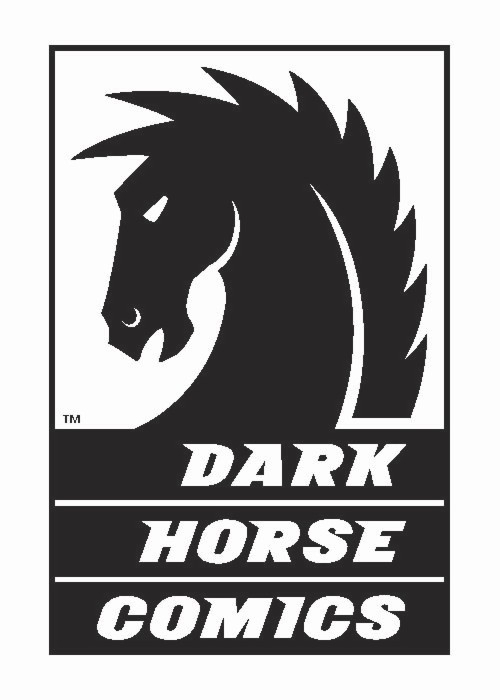 SUBSCRIBE TO & FOLLOW CULTURE SHIFT
Every Friday, HuffPost's Culture Shift newsletter helps you figure out which books you should read, art you should check out, movies you should watch and music should listen to. Learn more