In the first part of my interview with Dean Glass, representing The Whaley House, we left off talking about my father (Dr. Hans Holzer), famed psychic Sybil Leek and television personality Regis Philbin. He recently appeared on Celebrity Ghost Stories with Regis discussing a terrifying night in this notorious haunted house trying to coax its ghosts into sight; can be found here.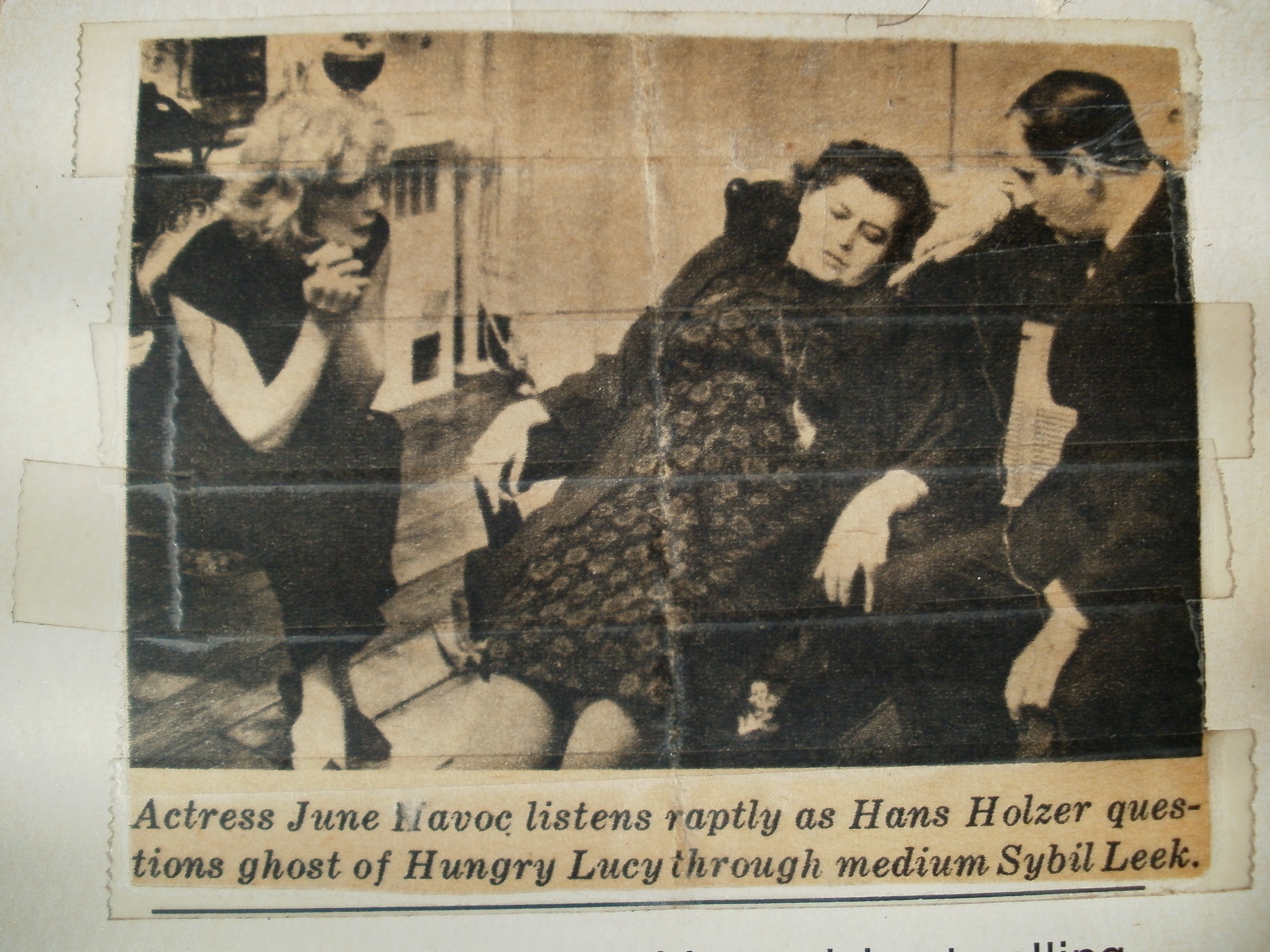 Caption: Hans Holzer and British psychic medium Sybil Leek question the ghost of Hungry Lucy from a case with actress June Havoc. Photo courtesy Alexandra Holzer.
AH: Tell me about the offerings at the house for example, the historic Derby-Pendleton House named for its two best-known residents, humorist George Horatio Derby (better known by his pen names "Squibob" and "John Phoenix".)
DG: The Whaley House is open to the public for self-guided tours six days a week and open for guided evening tours three nights a week. During the summer months we are open daily for both. We offer special tours and events also such as our monthly Ghost Hunting Tour in partnership with The San Diego Ghost Hunters; our Past & Presence walking tour of haunted sites in Old Town; our annual production of "A Christmas Carol" performed throughout the Whaley House by our team of docents; October Scaryoke (karaoke) in the Whaley gardens; an annual preview of Circus Vargas performed on the lawn; history-themed lectures and events at the annual TwainFest event; and Dia de los Muertos activities throughout the property each November 1 and 2. We also offer private after hours tours and group tours.
We've also had much success with our Junior Docent Program. Junior docents are trained alongside the adult docents, where they are treated as peers. All docents are held to the same standards and given the same responsibility of providing the visitor with an enjoyable, fun and hopefully educational experience. Our goal is to grow preservationists, to show young people why historic preservation and a sense of place are so important to their lives and their identity and to develop a sense of pride-of-ownership in their city.
There are four other historic buildings on the Whaley House site. The most significant of these is the Derby-Pendleton House. The prefabricated house was shipped to California "around the horn" from Maine in 1850 and erected in Old Town the following year.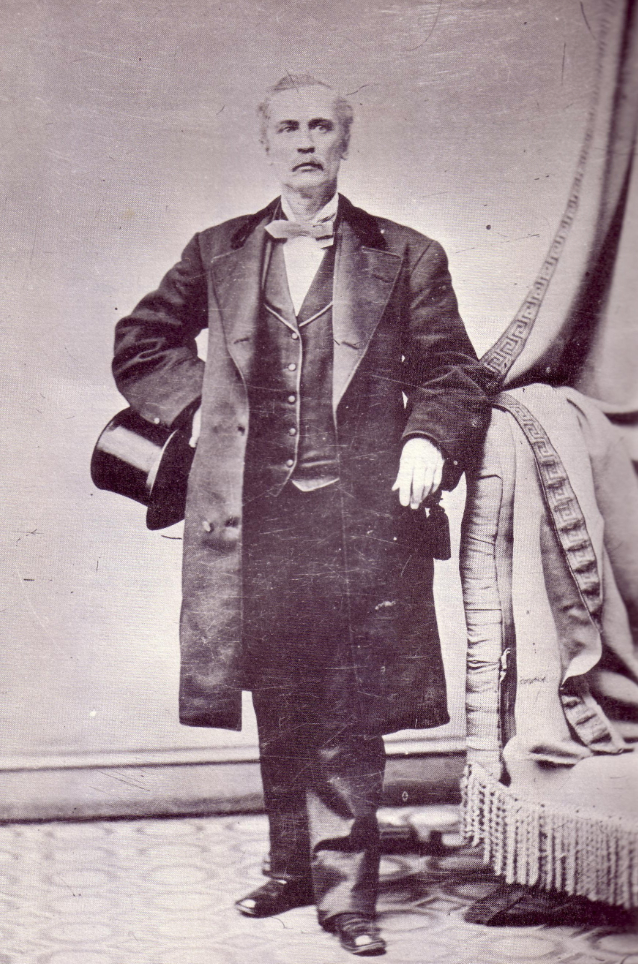 Caption: Thomas Whaley circa 1880s, courtesy of The Whaley Papers Collection.
Don Juan Bandini, a prominent early San Diegan, purchased the structure in 1851 as a gift for his daughter Dolores and her hotel-owner husband, Capt. Charles Johnson. Lt. George Horatio Derby, an engineer in the United States Topographical Corps who surveyed the San Diego River, and his wife Mary Angeline Coons Derby rented the house from Bandini in 1853-1854 during the construction of the Derby Dike. Derby is perhaps best remembered as one of the foremost humorists of the nineteenth century, whose "typically American" style inspired Mark Twain, Artemus Ward and other later authors. Squibob and John Phoenix were two of his pseudonyms and in 1855 he published his best-known work, Phoenixiana.
Around 1855, George Allen Pendleton, a merchant who had arrived in San Diego in 1851, purchased the house from Bandini. Pendleton served as county clerk and recorder, and used the house as his office and for storage of county records. Many of the real estate transactions covering the subdividing and sale of downtown San Diego were recorded here. Pendleton lived in the house until his death in 1871.  It is not open to the public as a museum, it is the home of the SOHO offices now.
Another historic building on the Whaley property is the Verna House, which houses the Whaley House Museum Shop. Moved to this property in 1965 from the Little Italy neighborhood of San Diego, the home originally belonged to Maddalena Daniele Verna. (The San Diego Union stated at the time of her death in 1963 that Mrs. Verna was the sister-in-law of film director Frank Capra, but I have been unable to verify this.) Mrs. Verna was known in her neighborhood for her daily habit of pushing a cart up and down the streets collecting whatever trinkets and junk she could find. At her death, it was discovered that she was actually quite wealthy, owning three adjacent homes (each filled to the rafters with Mrs. Verna's collection of junk). The house, built about 1872, is in the French Mansard style, very rare in San Diego.
Two 1870s false-front store structures are now home to a Creole restaurant. These were moved to the property from downtown San Diego in 1964 to save them from demolition. There are only four known false-front buildings left in San Diego from this period, from what had been hundreds at one time, making these very rare survivors.
AH: What's going on that is new at The House you'd like folks to know about?
DG: Another phase of the master plan for restoration and renovation of the Whaley House Museum Complex County Park has been completed, bringing the property both closer to its historic appearance and more up-to-date for 21st century visitors at the same time. Gone are the circa-1960s brick walkways which were very narrow and had become uneven and difficult to traverse in the past 50 years, replaced with brand new, ADA-compliant brick walkways which make the property much easier to navigate for those in wheelchairs. Two brand new roofs now grace the property, one on the courtroom wing of the Whaley House and the other on the adobe portion of the neighboring Derby-Pendleton House.
Changes were also made behind the courtroom, where the rose garden has stood for the past 50 years. In order to return the area to its 1860s-70s use as the Courthouse Yard, roses that existed in the 19th century were moved in front of the Derby-Pendleton House, while 20th century varieties were deemed inappropriate and removed altogether. A new permanent display inside the museum features photos of and items that belonged to the Whaley family. Items which have not recently been on display include Lillian Whaley's late-19th century handbag and revolver. The revolver was discovered buried in the yard of the house now behind the Whaley property in 1951. Lillian Whaley recalled that the gun was hers -- and that she had carried it for protection while working for the San Diego City Library.
Several new antiques, appropriate for the museum, have also been added to the displays. These include a gout footstool (Mr. Whaley suffered from gout); a lambrequin (decorative drapery) mantelpiece that hangs over the parlor fireplace mantle; and toys, decorative items and art for various bedrooms throughout the house.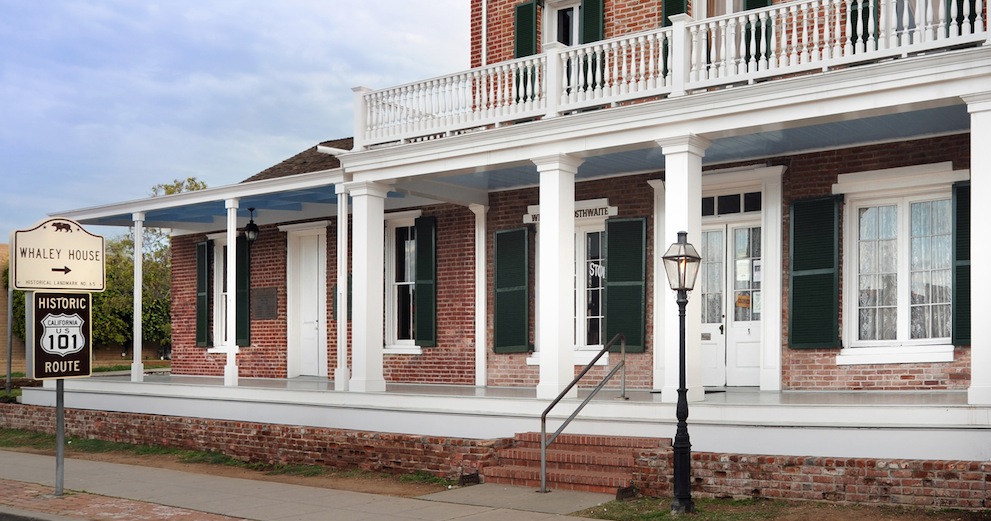 Caption: The modern view of the house. Courtesy of Sande Lollis.
AH: What do you want visitors of all kinds to walk away with when visiting and touring this landmark?  
DG: Many of our visitors come to the Whaley House to see a ghost, although we cannot produce them on demand unfortunately. As a historic museum, we hope that whatever the guests' reasons for coming, they take away a little history with them too -- San Diego history as well as a better knowledge of how a family like the Whaleys lived at that time. Through our restoration and interpretive programming, we strive to make our guests feel as if they've actually experienced a visit to the 1860s -- complete with the spirits of their hosts, the Whaley Family, who might just make an appearance!
SUBSCRIBE AND FOLLOW
Get top stories and blog posts emailed to me each day. Newsletters may offer personalized content or advertisements.
Learn more