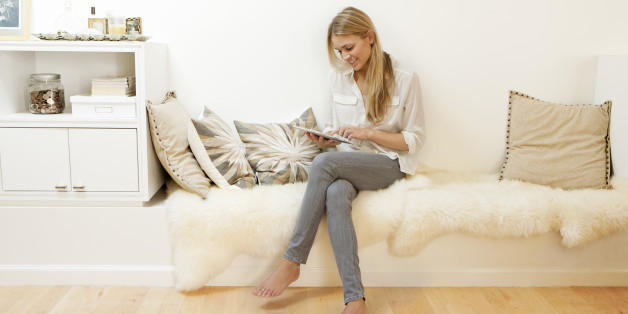 Pinterest's lure is in the hope. We see something we'd love to have or think we'll do someday, so we pin it. It's so easy to pin, and so fun. It's like the window shopping of our teen years. Charming birthday cakes that make us temporarily lose our minds and think I can do that. Dinner recipes that promise to make dinner fun again! Pin that one for sure. Stunning shoes that make us forget our feet have grown two sizes since high school. Pin it! Manicures that look like the ocean at sunset, we pin it, forgetting that the reality is that our fingertips will last two days, tops, with the tasks of a household.
Flowing arrangements of flea market frames, we pin it, even though we'll never find them gracing our staircase. Staring up at the ceiling at night, we wonder, how can we go for a second honeymoon just so we can wear that layered chiffon wedding dress we just pinned, the one that looks like it's made of clouds/
The world of Pinterest, where we forget who we are and tell ourselves we can do things like wisp our own bangs or bling our own jeans. Our eyes say yes yes yes, but time and life make it no no no. Pinterest is like a magazine full of everything that we like, not a glossy one full of occasional seduction. Nope, Pinterest is something we stay up until late at night clicking through and imagining this could be us, in a pretty, perfect, clever life for us and our darling children.
I tried Pinterest a year ago. After a week of being up until 4 a.m., it became quickly obvious that other than the time spent pinning crafts and furniture arrangements that would never work for me, I was also alarmingly leaving a digital trail of peeks into the real me. The world could do something akin to looking into my medicine cabinets and see what I was truly like -- all those quotes of Hang in There! and One Day at a Time! Now I had to unpin all of what I had just pinned. All the posts on 10 Ways To Beat Depression and 15 Ways To Cook Chicken in Twenty Minutes had to come down. Clothes, coats, hairdos, crafty things that will never materialize -- all bared and open for the world. Now everyone would know the results of my Pinsomnia.
My Pinterest phase left me craving bacon-wrapped anything in the middle of the night on one hand, and then thinking I could look good in a breezy summer dress that was cut for someone 5 foot 9 and 127 lbs. on the other. A soft knee-grazing skimmer, really? After a week of 1 a.m. bacon-wrapped meatloaf?
Pinterest is not 100 percent out of my life. I still haunt the site because it is eye candy, but I now enter that Pinterworld with the appropriate mindset -- that of the reality of the Pinterest world, the Pinality of it.
'Pinality '-- the Pinterest reality of our specific, 'pinteresting' ways. Pinality is looking in the mirror and knowing you won't do, wear, buy or make any of the things you've pinned on your board -- things like saving every single paper towel cardboard tube and plastic cups so you can cobble together makeshift iPod docking stations for your kids.
Or spraying brown sugar and water mix in your hair to give yourself temporary caramel highlights.
The 'pinality' of it is, you'll just wake up with ants in your hair and bacon crumbles in the corners of your mouth.