Learning should be fun. In fact, it should be fun to learn. However, stress related to schoolwork or homework is not even included in the Top 10 of the Homes-Rahe Life Stress Inventory.
Could it be that the psychiatrists who developed this definitive stress inventory forgot to interview students at home during the school holidays?
Included in their Top 10 are divorce, marriage, and marriage separation, along with death of a spouse, a jail term, loss of a job, and retirement. Even the Christmas Holiday Season, they note, is stressful.
But mid-terms? Final exams?
Is it possible that the wear and tear of stress endured by college students radiates out into every aspect of their life? Does the stress of college life make them more insecure or more competitive as adults? Could the Holmes-Rahe index of adult years actually represent a continuum from the stress of (non-adult) student years?
At Stanford University, the top ranked university in America, one student on the brink of a nervous breakdown during finals reports that at least 60% of the students at Stanford are taking some kind of stress aid to get them through final exams. No slackers here. Most of these high achieving students, in fact, were probably class valedictorians in high school.
So why are they medicating or over stimulating themselves to overcome the stress of school? Could it be that the very structure of college itself, or its tenure system, breeds insecurity and competition?
Do administrators and faculty know that study stimulants and long hours can create short-term memory, not learning? Do they know that stress causes a breakdown of the body's immune system; or that long-term stress can reduce the size of the brain by up to one-third? Do they know how to reverse this?
Could the competitive pace set at top ranked schools be why Time Magazine's Man of The Year, Mark Zuckerman, decided to drop out of Harvard to create something more fun than schoolwork: the social networking site Facebook?
In a recent study reported by The New York Times, serious mental health needs were on the rise among students at the nation's colleges and universities. Some of the medications the students were reportedly taking included psychotropic drugs such as Wellbutrin for depression, Adderall for attention disorder, and Abilify for bipolar disorder.
What was not included in The New York Times article was stress delivered first hand by the CEO's of the classroom, the educators themselves.
How many teachers believe that learning should be fun? How many think that college classes should not be run like a boot camp where only the strongest survive? Who teaches to student passion? Who acts as a mentor to all of their students?
Who among today's teachers believes that it might be possible for everyone in their class to succeed?
Finally, should teachers be graded on their ability to communicate? Medical doctor and master teacher, Joel Rauch M.D., whose classes had a two-year waiting list, once commented on the plight of a tenured professor at a top university.
Constantly absorbed in research, the professor easily met the "publish or perish" criteria. However, when he was assigned to teach an undergrad class of 364 students, ALL 364 students voted him the worst teacher they had ever had. Brilliant among peers in his field, he was unable to communicate his knowledge to students.
Is there a perfect teacher? Should student minds should be turned on and activated by learning, not stressed out? Should there be a "lingering effect," with good will between teacher and student outlasting the classroom?
In next week's column, in collaboration with Dr Rauch, I'll describe 10 natural ways to help students manage the everyday stress of school. These ideas will also apply to stressed out adults. When you become a fan or add a comment below, I'll make sure you are among the first to read it.
Alexia Parks is founder of a national mentor training program for teachers. She is also author of eight books, including Parkinomics, an Amazon business and motivational bestseller. It offers "8 great ways to thrive in the New Economy", for the individual who wants to lead a life of "meaning, prosperity, and purpose." Parkinomics includes ideas and links to resources.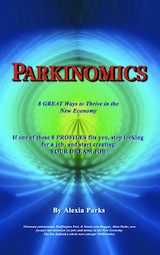 SUBSCRIBE TO & FOLLOW LIFESTYLE
HuffPost Lifestyle is a daily newsletter that will make you happier and healthier — one email at a time. Learn more