As the world grows "flat," as people in developing countries become better educated, as jobs become more competitive worldwide, and...as China becomes the largest English-speaking country in the world, it's time for unemployed Americans to tap into an untapped resource: their inner passion.
Other than fear, what drives them to get up in the morning? What business idea, service, passion, or skill do they have that someone else in their local community needs?
In the right context, phrases like "sustainable innovation," "social entrepreneur, "self-employed," and "your dream job" turn them on. Those who are risk-takers favor jobs that are local, close to home, and involve family and friends. In other words, they favor jobs where the paycheck comes with a pat on the back.
Pay attention, Congress, something important is emerging here.

Currently, the Small Business Administration's (SBA) has set aside a few million for encouraging entrepreneurship under its Program for Investment in Microentrepreneurs (PRIME). This is a step in the right direction. Under this program, selected nonprofit organizations across the country are being funded to deliver business and personal development training programs to the microentrepreneur.
What is missing, in my mind, is the heat of a "grass fire." Media and government support for the microentrepreneur should be sweeping across the land like a grass fire.
Statistics report that only one in five people find a job at a job fair. This means that for every job offered, there are four people left empty handed, who go home jobless and depressed. How many of those who are turned away might qualify for training and funding as a microentrepreneur? To fan the flames, there should be a one-stop-shop for micro entrepreneurs -- like a MAC Shop -- at every job fair.
Let's focus on those who are turned away in overwhelming numbers. Let's mentor those who choose the path of the entrepreneur, and find out what they really want to do with their life. The life of a microentrepreneur is not for the risk-adverse.
Are they ready to try something new? Are they physically and mentally up for the challenge of running their own business? If so, let them "opt in" to this program and "opt out" of the unemployment check. There's the risk.
Enroll them in a training program that provides them with essential business skills, then offer a special reward as a "graduation" present.
What is the special reward? If desired, they should be given the opportunity to "test drive" their new skill, business or service at a booth at a flea market or farmer's market. Funds should be provided to cover the cost of a booth, signage and marketing materials for at least one year for all microentrepreneurs enrolled in this program.
Some flea market vendors clear $400 or more a day. Some top $1,000 in a weekend. Wake up Congress! There's an opportunity waiting to happen here!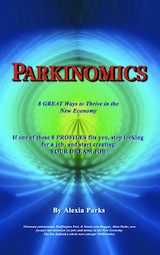 Alexia Parks is author of Parkinomics, an Amazon business and motivational bestseller. It offers 8 great ways to thrive in the New Economy, for the individual who wants to lead a life of "meaning, prosperity, and purpose." Parkinomics includes ideas and links to resources. See: AlexiaParks.com.
SUBSCRIBE TO & FOLLOW MUST READS
The internet's best stories, and interviews with the people who tell them. Learn more