One day after the New York Times reported that the U.S. military was going "green" with a goal of 50% from solar and renewables by 2020, and the Obama Administration announced that it was putting solar panels on the White House, I took a look at the next generation of solar.
It seems that just when key decision-makers, and investors, are finally turning the corner to accept this decades-old technology, the solar industry is poised to take another leap forward.
It's going thin-film. It's going hybrid. It's finding a way to maximize a minimum amount of silicon and concentrate it. And investors are taking notice. In California, in a recent round of funding, one company, Solaria, was able to raise $10 million more than they were asking for.
In Colorado and elsewhere, investors are betting their money on rooftop solar systems. They are pooling their money to fund the upfront equipment and installation costs then financially benefit from the long-term energy savings. In essence, they're "renting" the rooftops to collect and distribute solar energy.
That's innovative thinking. And we could go a whole lot farther. The $600 billion that currently goes to fund the U.S. military could drive the exponential growth of solar and alternative energy. It could fund millions of new jobs, underwrite innovation and accelerate the movement of solar into every sector of the American marketplace.
Take Cool Energy, for example. This small Boulder start-up has taken the concept of the Sterling Engine and applied it to the solar industry, not the automobile. The company's CEO Sam Weaver says that this innovative hybrid solar system can provide up to 80% of the heating, 100% of the hot water needs and 60% of the electricity needs of a home or commercial building.
He adds that it could even be put to use in Afghanistan to cut the demand for fuel deliveries "in the field" by 10-15%. Right now, the cost of fuel in this war zone is far more than the reported $400 a gallon for delivery by helicopter. The cost is in blood and bombed out supply convoys.
Back in the U.S. the U.S military and the White House have opened a window of opportunity with their announcements. However, it could be more than a window. It could become a way of life.
To see what this lifestyle might look like, take a look at the 6,700 activities taking place in 188 countries around the globe this weekend. CNN calls it the "most widespread day of political action in the planet's history."
More than the energy generated by a swarm, a social network, or through crowd-sourcing, this energy is lighting up the world. What author Bill McKibben and the folks at 350.org have tapped into is the passion of millions of people around the globe. On 10/10, they are directing it toward a single goal: the celebration of climate solutions.
To tap into the "free energy" of this unbounded Global Work Party, I intend to spend the day caulking and insulating the windows of my house. How about you? Do you have a plan for 10/10/10 that could help inspire others? If so, I'd love to hear about it.
Alexia Parks is founder and director of Parkinomics, for the New Economy. She is also author of 8 books, including Parkinomics, an Amazon business and motivational bestseller. It offers 8 great ways to thrive in the New Economy, for the individual who wants to lead a life of "meaning, prosperity, and purpose." Parkinomics includes ideas and links to resources.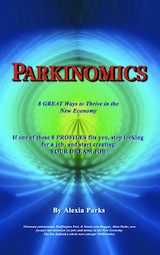 This Blogger's Books and Other Items from...
SUBSCRIBE AND FOLLOW
Get top stories and blog posts emailed to me each day. Newsletters may offer personalized content or advertisements.
Learn more