Ted Turner returned to Colorado the other day to deliver the keynote address at a luncheon for Colorado Conservation Voters in Denver. His public conversations with T. Boone Pickens, a month earlier at the Aspen AREDay festival had created a buzz in the environmental community and it seemed like all the "faithful" had shown up. When I arrived, the ballroom at the Grand Hyatt was packed.
I was there, however, because I wanted to do more than be inspired by Ted Turner. I wanted to deliver a note to him containing one of those "life changing" ideas.
To do this, I ignored my assigned seat, and instead walked to the front of the room. As I approached the table marked "Ted's Montana Grill," I saw that Colorado Governor Bill Ritter and Ted Turner were engaged in a lively conversation. I didn't want to interrupt, however, as I approached, someone arrived a step ahead of me to talk to the Governor. He stood up to greet him. This was my opening. So I step forward.
Ted Turner extended his hand and shook mine. With a few brief words of explanation, I handed him the note. As he began to read it, a voice to his right (and mine) called out in surprise: Alexia!
It was the voice of a beautiful woman with a bouquet of blond curls. It wasn't Jane Fonda. It was my friend Sally Ranney.
It's been years since Sally and I have seen each other, and I was truly surprised. Here she was sitting at the Ted's Montana Grill table, dining with Ted and the Governor, and enjoying a front row seat at his luncheon talk. But there was something more, and to me it was more important - at the moment - than listening to Ted's keynote talk.
So after saying goodbye, I turned and left the luncheon. I headed back home to do a little more research on Sally Ranney.
In the celebrity buzz that follows Ted Turner wherever he goes, she is simply referred to as his "tall, elegant girlfriend." "We're going steady," Ted confirmed. Yes, she is beautiful. Yet she is something more.
Years ago, when asked what he liked to do best, Turner replied, "I like doing good in the world. I like being a do-gooder." When Ted met Sally, he met another "do-gooder."
To follow Sally Ranney's career over the past 40 years is to see what a "do-gooder" does in real life.
Sally first launched her environmental career as a resource policy analyst for the Wilderness Society, then co-founded American Wildlands with the Society's Western Director, Jerry Mallett. She then founded American Wilderness Adventures, which brought more than 120 dignitaries into many of the world's most spectacular wild and threatened areas.
As she herself will say: "I've had a love affair with wild nature since very early childhood."
That love affair with life also brought her together with one of my favorite wilderness writer, Edward Abbey, author of Desert Solitaire, The Monkey Wrench Gang, and other environmental classics. Then she was off to direct an environmental non-profit in San Francisco, before being lured to South America.
Over the past few years, before returning north, Sally lived off grid in Argentina and Patagonia, on the vast estate of the owner of a Yerba Mate tea company. Not the typical lifestyle for an American-style "celebrity," but all the makings of a perfect sidekick for the largest individual landowner in North America, Ted Turner.
Does Turner need an environmental muse? Yes. Does America need one too? Yes. So I plan to keep my eye on his CNN and its 24-hour-a-day news channel to see if I can catch the moment when the "Sally Ranney Effect" kicks in, and CNN reports on America's shift to sustainability.
Alexia Parks is founder and director of Parkinomics, for the New Economy. She is also author of 8 books, including Parkinomics, an Amazon business and motivational bestseller. It offers 8 great ways to thrive in the New Economy, for the individual who wants to lead a life of "meaning, prosperity, and purpose." Parkinomics includes ideas and links to resources.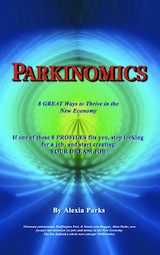 This Blogger's Books and Other Items from...
SUBSCRIBE AND FOLLOW
Get top stories and blog posts emailed to me each day. Newsletters may offer personalized content or advertisements.
Learn more