The cry of an unemployed woman at the end of her financial rope struck a national nerve. "I feel like I'm drowning," she told a reporter who was writing a story about unemployed Americans who have lost everything and have no place to turn.
"Do those opposing the extension of unemployment benefits understand the consequences of their actions?" asks James Adler, a drafter of the Economic Opportunity Act of 1964, in a letter to The New York Times. "Many (of the jobless), after spending any savings they may have had, will find themselves on welfare receiving payments under the Temporary Assistance to Needy Families program." And who pays most of the costs of this welfare? The federal government.
My guess is that those in opposition to the extension of Unemployment Benefits do know this. However, the people who may not know it are those entering the ranks of the long-term jobless. That's why the following story may be helpful.
At age 56, a friend of mine was told by a financial planner that he should expect to live to age 104. Actuarial, he was told, his lifestyle and good health would guarantee him another 49 years.
After all, he was self-employed with a steady income from rental properties, a vegetarian, had practiced yoga daily for 30 years, and took an annual two-week silent retreat. The bottom line: he needed to plan for a long, long retirement.
However, a year later, on a bus ride home from the airport he found himself short of breath and experiencing chest pains. Using his cell phone, he called his nephew -- a medical doctor, who lived 2,000 miles away -- and described the symptoms. "Our family doesn't have a history of coronary disease," his nephew began, "but from what you are telling me, it sounds like you are having a heart attack."
"So this is what I want you to do. In fact, I am ORDERING you to stand up and ask in a loud voice: 'Does anyone have an aspirin or nitro?' Then call out to the bus driver and say: 'Bus driver, I am having a heart attack!' The bus driver will know what to do."
Looking death in the face, my friend followed "doctor's orders." A sweet little old lady on the bus had both aspirin and nitro. The bus driver knew what to do. In three minutes, an ambulance was at the side of the bus. In another five minutes, he was being wheeled into the surgery department at a nearby hospital where he received three stents and was told that one of his veins had been 100 percent blocked. Standing up and ASKING for help saved his life.
Similarly, telling those around you: I NEED HELP may bring you the help you need before you reach the end of your rope.
In other words, the life you save by using these three words, could be your own.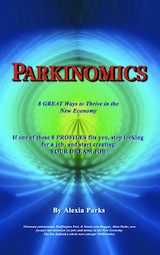 Alexia Parks is author of Parkinomics, an Amazon business and motivational bestseller. It offers 8 great ways to thrive in the New Economy, for the individual who wants to lead a life of "meaning, prosperity, and purpose." Parkinomics includes ideas and links to resources. Parks offers workshops and online tele-seminars for people in transition to jobs in the New Economy. See: AlexiaParks.com. With 61% of people wanting to be their own boss, she shows how to tap into your skills and passion to create your DREAM job.