Check out our blog and see what else we cook: www.aliandecho.com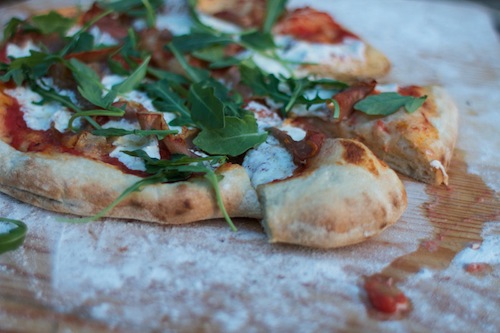 Back in 2007, my dad began a journal to record the recipes of our favorite meals. Dishes that regularly appear around the Schmidt table fill the pages: homemade ice creams, pork 15 ways, the banana bread my grandmother used to make that is so gross-good because it's all sour cream and negligibly banana.



All of these recipes come together as a series of vignettes, little tastes of our family history. We treat the journal not as a place to organize recipes and list ingredients as so many cookbooks do - and do so boringly - but as a place to record memories. The recipes are more narrative than instructional and they remind us of our old selves: how we ate in 2007, how delicious Thanksgiving was that year, what we drank, what we overdrank (read: cognac) and how the meal brought together sometimes friends, sometimes strangers.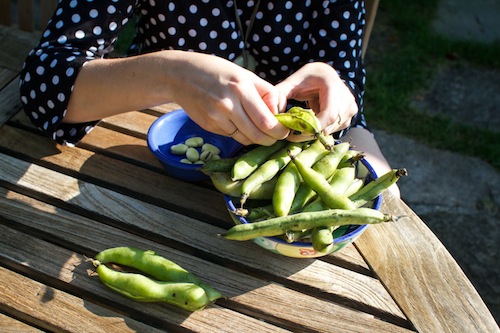 The theme of food and conviviality is one we're familiar with at this point. Meals give us a reason to get together and enable conversation, but it also works the other way - company elevates food. I'm a believer that food tastes better when you eat it with people you like. If I had to eat bull testicles, I'd much rather eat them sitting across from a friend. Wouldn't you?



Pizza, in my opinion, is the number one food that company elevates. Maybe that's why, if you flip through the journal, you'll see that pizza parties dominate the Schmidt scene. If families still had crests, ours would have a fat slice on it with the motto "may we schmooze our friends with pizza," though probably in Latin.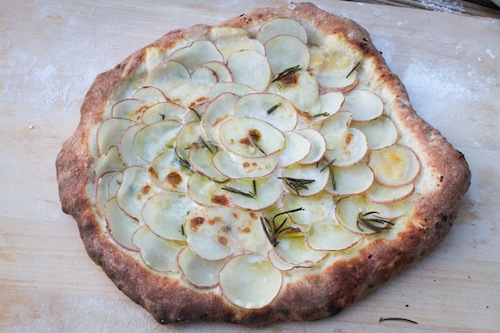 The pizza party is a hard thing not to love. It's pure music playing, wine flowing, dough shaping fun. You're making and eating great food, surrounded by friends, drinking it all in - the elements are so good alone that they're almost too pleasurable when combined. All you need to do is make the dough and provide the ingredients for toppings, and I've given you some ideas of how to do that in the recipes below (though it's also fun to ask your friends to bring surprise toppings).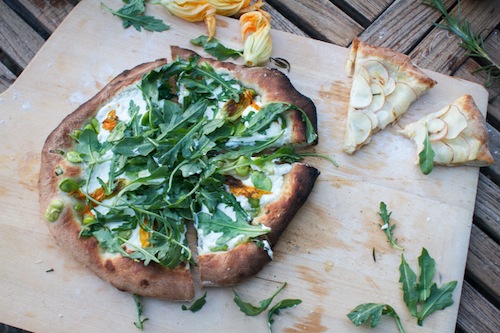 No doubt, part of the reason why we cook and consume so much pizza is because we have a wood-burning oven in our backyard. I may have catered parties where I've churned out 300 pizzas in an hour, but my brother, Tom, is the real master, the oven's gatekeeper. The sibling in me feels competitive, but I'd be silly to deny it. He's a better pizza-maker and I just try to keep up.



Of course, you don't need a wood-burning oven to pull off a successful pizza party. A pizza stone for your home oven is the next best thing and a kitchen tool I recommend investing in. If you put the stone into a hot oven an hour or so before cooking, you'll get that awesome charred flavor so particular to wood-burning. A lot of cookbooks recommend giving your dough 24 hours to mature, but what follows is a recipe that can be done in a day, or even a couple of hours. And, remember, these toppings are just suggestions - so go CRAZY!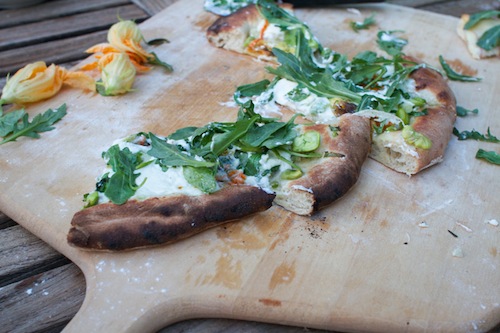 Tom's Basic Pizza Dough
Makes 10-12 Pizzas
1500 grams flour, preferably 00
½ cup whole wheat flour
¼ cup olive oil
1 packet instant "rapid rise" yeast
3 tablespoons salt
2 tablespoons sugar
3 ½ - 4 cups water
Combine all of the dry ingredients except the salt in large bowl. Make a well in the center and pour in the water, then oil. Mix with your hands until the ingredients are combined and you have a shaggy dough. Cover with plastic and let rest for 20 minutes. Transfer into a KitchenAid with the dough hook attachment, add the salt and beat for 2 minutes on a medium speed. Crank up the speed and beat for 3 minutes more, or until the dough feels smooth and elastic. Put the dough in a lightly olive-oiled bowl and let it rise until doubled in volume, about 2-3 hours.
Ease the dough out of the bowl and cut into 10-12 even size pieces and shape into discs. Put the dough on a well-floured tray and cover with plastic wrap. If you'll be cooking them within the hour, you can leave them at room temperature, otherwise put them in the fridge.
Generously flour the back of a baking tray (or a peel, if you have one). It's a really important step since you'll be sliding the pizza from the tray onto your pizza stone. Put the disc onto the tray and press it down with your fingertips then pick it up from the edges, holding your hands 6" apart, and rotate the dough several times, letting its weight naturally stretch it out. Put it back on the tray and construct your pizzas...
Preheat the oven to 400 degrees and put in your pizza stone.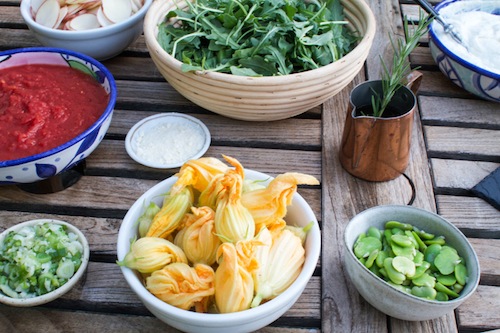 Tomato, Prosciutto and Mozzarella
Makes 3 - 4
14 ounce can whole, peeled San Marzano tomatoes
Salt and pepper
Pinch of sugar
1 cup mozzarella
½ pound prosciutto
Handful of basil
Olive oil
Puree the tomatoes in a cuisinart and season with salt, pepper and a little bit of sugar. Once you've shaped your dough and laid it on your upside-down baking sheet, spread ¼ cup of the tomato sauce on each pizza, leaving an inch or 2 around the edge for crust. Rip the mozzarella with your hands and divide evenly among your pizzas, doing the same with the prosciutto.
Slide the dough from the tray onto the hot pizza stone and cook for about 5 minutes, or until nice and charred. Slide the pizza out, tear over some basil and drizzle with olive oil.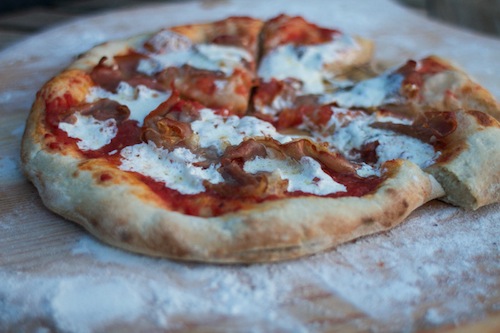 Ricotta, Squash Blossom and Arugula
Makes 3 - 4
1 medium spanish onion, sliced
2 garlic scapes, sliced finely (3 cloves of garlic will do)
1 pound fava beans, still in their pods
1 cup of ricotta
15 squash blossoms
3 handfuls arugula
2 tablespoons lemon
4 tablespoons olive oil
I really love this pizza. It's so green and summer-y. Sautee the onions and garlic scapes in some olive oil until translucent and cooked through. Meanwhile, bring a small pot of water to the boil and pod the fava beans. Have a bowl of ice water at the ready. Once the water boils, blanch the fava beans for just a minute and then immediately dunk in the ice water. They'll turn brown if allowed to cool naturally. Once they're completely cold, pop the beans out of their shells and roughly chop.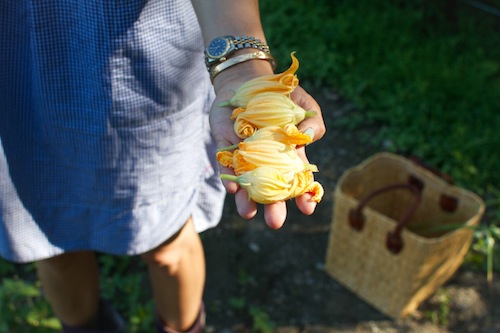 Shape your dough and lay on the floured, upside-down baking sheet. First put down the onions and scapes as your base, then scatter over the fava beans. Dollop each pizza with several teaspoons of ricotta and finally decorate with the squash blossoms. Slide into the hot oven and cook for 5 minutes, or until nicely charred. Dress the arugula with lemon juice and olive oil and scatter over the pizza.
Potato, Pecorino and Rosemary
Makes 3 - 4
4 cloves of garlic, finely chopped
1 cup grated pecorino
3 medium potatoes
1 cup heavy cream
¾ cup olive oil
1 sprig rosemary
Peel your potatoes and slice on a mandoline to ⅛ of an inch. Cover the slices in cold water so that they don't turn black from exposure to the air. Heat your olive oil with the rosemary leaves and let it infuse for at least 10 minutes.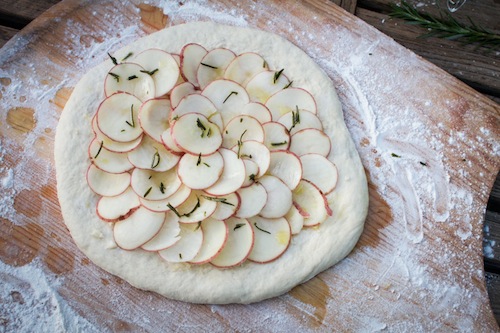 Shape your dough, put on the tray and scatter the garlic and pecorino. Lay the potato slices in circles, leaving an inch around the edge for crust. Pour on the cream (about ¼ cup for each pizza) and drizzle with the rosemary-infused olive oil. Slide into the oven and cook for 5 minutes, or until nicely charred.
Check out our blog to see what else we cook: www.aliandecho.com
Follow me on Instagram @alicschmidt
All photography and food styling by Echo Hopkins. You can follow her on Instagram @echohopkins