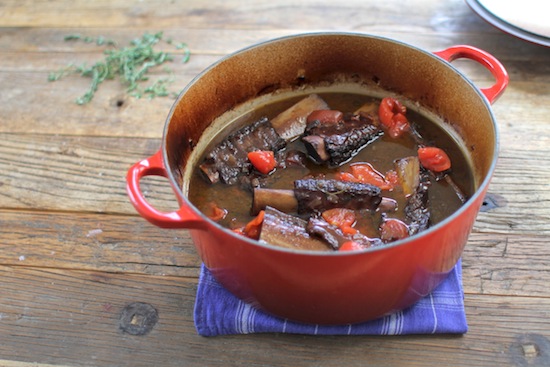 Food is never really just about food. I remember being in high school and coveting my spot at the dinner table. If I could sit next to my brother's wildly attractive college friend - and in hindsight maybe not so wildly - then I could woo him one sultry bite at a time, one illegal sip of wine at a time.
That is to say, food is often the site for a whole range of human experiences and, in this case, a coming of age in sexuality. Now when I invite a guy over, I use the way he interacts in the kitchen as a proxy for how he'll be in other positions. Does he jump right in and massage the seasoning into the raw meat with boyish exuberance or does he complain about salmonella while touching the chicken thighs? How boring.

But, however he fares, I know I'm in control. Cooking makes me feel sexy: my secret weapon is no longer how smoothly I underage drink, but how I can roast a fatty piece of meat into something succulent. And braised short ribs make me feel particular good.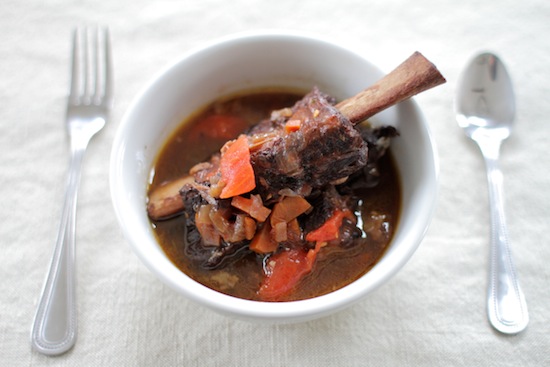 Something about its richness, its tenderness, the way it submits so easily to your fork - that a raw piece of meat can transform into that seems alchemic. But no witchcraft is needed. It is, in fact, the easiest meal to prepare. Once it's in the oven you can virtually forget about it.

I like to serve short ribs with cornmeal popovers because they too are so simple, and yet endowed with a mythical quality. They taste almost custardy and magically rise without any help from agents like baking powder (as always, the magic is in the steam).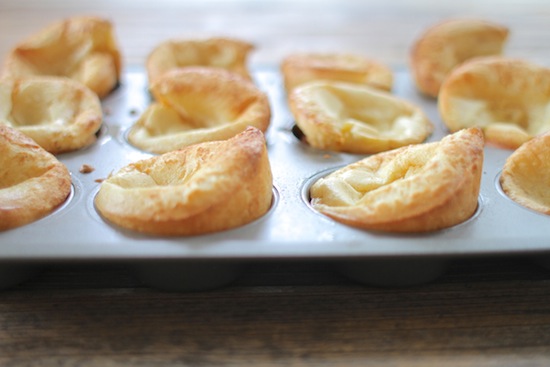 You can mix the batter hours in advance and let it sit at room temperature until you're ready to bake them. A simple green salad with a lemon-shallot dressing rounds out this occult meal.

Oh, a rye or bourbon based cocktail is mandatory: a Manhattan, an Old-fashioned, or, if you're feeling really crazy, a Sazerac.
Short Ribs
Serves 5-6
5 lbs beef short ribs, bone-in
Salt and pepper
2 T olive oil
2 medium onions, roughly chopped
2 carrots, roughly chopped
2 celery ribs, roughly chopped
5 garlic cloves, skin on but smashed is fine
A bunch of thyme
6 T brown sugar
3 T Worcestershire sauce
2 cups red wine
3 to 4 cups chicken broth
1x400g can good quality chopped tomatoes, like San Marzano
Heat the oven to 350 degrees. Season the meat generously with salt and pepper. Heat the oil in a large, heavy-bottom saucepan (I like to use a nice, heavy Creuset pot or something similar). Add the short ribs and brown on all sides - the ribs should sizzle when they hit the pan. Transfer the ribs to a plate and discard excess fat.

Turn the heat down and add the onions, carrots and celery (these can be chopped early in the day - even the night before - if covered and kept in the fridge). Scrape up all the yummy brown bits that the meat left behind.

Once they've softened, add the garlic and thyme and let simmer for 5 minutes. Meanwhile, mix the brown sugar and Worcestershire sauce together to make a paste and rub it all over the meat.

Put the ribs back in the pot, pour the wine and chicken broth all around and put in the oven. You want the ribs to be just barely covered with liquid. Go for a run, do some work, watch some Game of Thrones (what's gonna happen?!) and roast for 4ish hours. About an hour before they're finished, add the canned tomatoes and top off with a little extra chicken broth.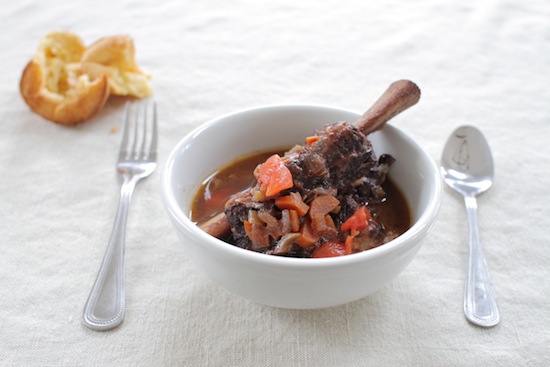 Cornmeal Popovers
Makes 10-12
½ cup flour
½ cup cornmeal
1 cup whole milk
2 large eggs
¼ t paprika, optional but advised
1 T melted butter, plus more for baking
In a big bowl, beat together the eggs, whole milk and melted butter. Be careful that the milk isn't too cold when you add the butter or else it will solidify. If that happens, no worries, just heat it over a low flame until the butter melts.

Whisk together the flour, cornmeal, salt and paprika in a big bowl. Pour the wet ingredients into the dry, whisking until just smooth. Cover and rest for at least 30 minutes, but it can sit out of the fridge for several hours.

Now, here's the trick. Five minutes before you take the meat out - 30 minutes before you want to eat - generously butter your muffin tin and put it in the oven. Crank the temperature to 375 degrees. After 3 minutes, take out the tin and fill each cup ¾ full with batter. Put the tin back in the oven, but take the meat out, allowing it to rest until the popovers are done.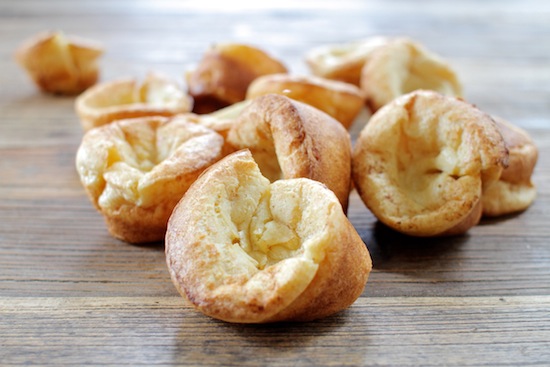 Bake the popovers for 25 minutes or until puffed and golden brown. When the popovers have been baking for about 20 minutes, you should transfer your meat to a serving dish. You want this ready so you can serve immediately when the popovers come out, before they've deflated TOO much. It's all about dramatic effect.
Simple Green Salad
Serves 6
6 handfuls of mixed greens
½ small shallot
2 T freshly squeezed lemon juice
4 T olive oil
Salt and pepper
Dice your shallot very finely. Cover with lemon juice and a big pinch of salt and let macerate for at least 10 minutes. Add the oil, mix around and season with pepper to taste. After you bring out the meat and the popovers, go back and toss the salad to keep it super fresh.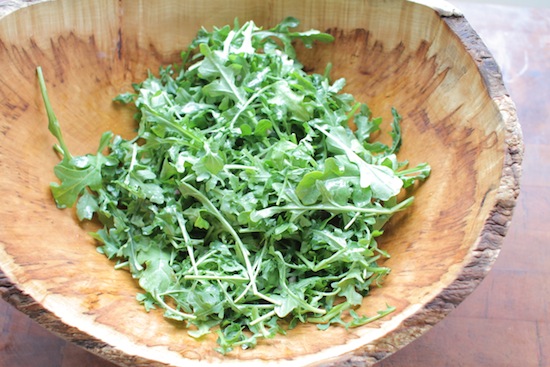 Serve and be done with it!
Follow me on Instagram @alicschmidt!
All food styling and photography done by the glorious Echo Hopkins, my partner in crime. Follow her @echohopkins!