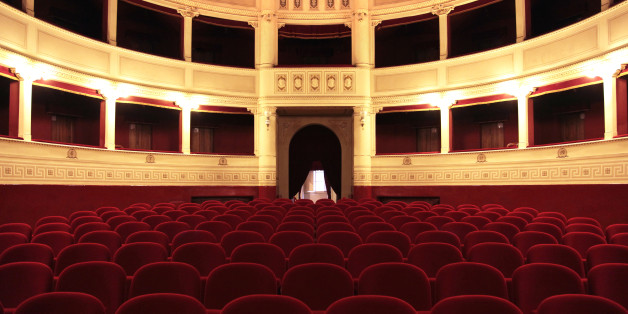 I grew up in the '50s, in the back row of the New York City Center. My mother was producer Jean Dalrymple's maid. And 'Miss D.,' as she was called, was one of City Center's founding members, as well as its chief cook and bottle washer.
Dalrymple lived down the block from the elaborate Mecca Temple that in 1943, through the efforts of Mayor Fiorello La Guardia, became The New York City Center of Music and Drama. Its mission was to house the three muses of art: opera, ballet and drama. Its slogan: "The best entertainment at the lowest possible prices."

Every day after school I'd go to Dalrymple's apartment to help my mother out. And when I had to disappear because someone important was stopping by for tea or cocktails, I was dispatched to City Center where I watched rehearsals from the back row. I saw my first opera ever, New York City Opera's, Amahl and the Night Visitors there.
For an Irish Catholic child sitting in a Shriner Temple was bad enough. But seeing singing Wise Men hovering over Jesus, paired with another Menotti opera, The Old Maid and the Thief, where the thief strutted his stuff with his shirt off, was beyond my threshold of mortal sin. Yet, at City Center my love for opera was born.
In the '60s I defected to the Met. The new building oozed spectacle, glamour and it was in a new section of town. While City Center stayed homey, people dressed up and made a night of it for the Met. Even when City Opera moved across the Plaza to the New York State Theater, it maintained a comfortable casualness where people, not necessarily patrons, gathered.
What a candy box for a neophyte opera fan to fall into! With both houses in full swing, I'd attend both. The Met served to educate me, while City Opera opened my eyes. Where but City Opera would I have seen, Turn of the Screw, A Quiet Place, Harvey Milk or the New York premiere of Dialogues of the Carmelites -- nowhere but City Opera. Having two opera companies cheek by jowl, I completed my opera education: the outré here, the traditional there.
It is a New York tragedy that the fused fission of the Met and City Opera, purely by location, is no more. To be sure, the Met has mounted a beautiful production of Eugene Onegin. But it would never touch Powder Her Face, City Opera's fabulously brave attempt to titillate and entertain an audience by (count 'em) 25 naked men mooning over the divine mezzo-soprano, Allison Cook. Or, Anna Nicole, an unswervingly brave opera I loved and cried at.
The opera begins and ends with Anna saying, "I want to blow you all... a kiss." As I bid farewell to City Opera, I too blow them a kiss for their brave attempt to bring opera to the people and to convert the Catholic girl that I was, to the opera Queen that I am.