The Reading Series: Ben Mirov's 'Ghost Machines'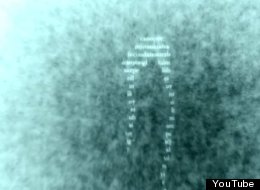 How these were brought into existence is unknown. What we have as proof of their presence is a video of Ben Mirov reading them, letter for letter, sound for sound, while minding the stops given for spaces. These poems use the boundaries surrounding the letters of the page to exist. This is different than Mirov's book Ghost Machine, in which one character's intensely mechanic behavior is portrayed through repetition. These poems, ghost machines, are absent and present, unaware and intentionally aware, singular and plural. They take the shape of whatever letters were dropped into them. In this way they are passive, but their active nature responds by letting the letters remain incoherent. They will not make words with these letters. They will not try to make sense.
Ben Mirov is the author of Hider Roser (Octopus Books, Summer 2012), Ghost Machine (Caketrain, 2010) and the chapbooks Vortexts (SUPERMACHINE, 2011) I is to Vorticism (New Michigan Press, 2010) and Collected Ghost (H_NGM_N, 2010). He grew up in Northern California and lives in Oakland.
Follow Alina Gregorian on Twitter: www.twitter.com/alinagregorian