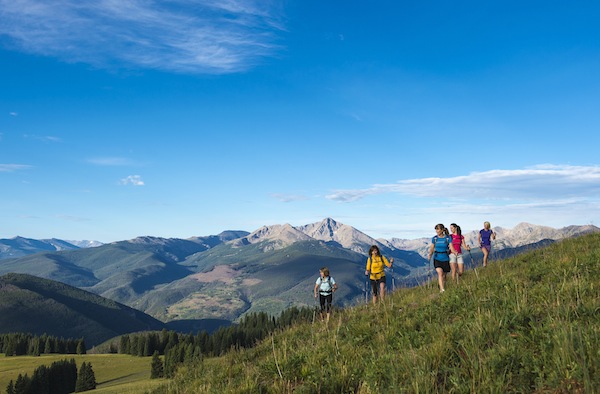 If you're looking for something fun to do this season, start with some of these health-focused fall festivals. The mountains are the perfect place to experience a myriad of outdoor activities, from hiking, biking and walking to trail running and more surrounded by the most amazing scenery in the world. These celebrations offer something to challenge you, teach you how to get healthier, enable you to experience great local food, and showcase new sports you may be interested in. Check out my top six faves in Colorado!
1. Telluride WOW (September 19-22) This debut festival is being called the "Ultimate Health and Wellness Festival." Telluride WOW is a weekend of fresh and exciting fitness activities, bringing together world-class presenters on the latest health, fitness, wellness, nutrition, and medical trends. Festivalgoers can take advantage of group hiking activities, mountain climbing, road and mountain biking, workshops, and seminars in a variety of disciplines. telluride.com
2. Vail Living Well Summit (September 19-21) This inaugural event brings together top level doctors, researchers, and athletes, along with health-conscious individuals and influencers to connect, learn, share, and just generally have fun in the breathtaking beauty of Vail. Topics include fitness, nutrition, cognitive and emotional well-being, heart health, preventive medicine, longevity and stress, sleep health, and cutting-edge breakthroughs in health and well-being. The 2013 keynote speaker is NFL Hall of Famer Joe Montana. vaillivingwell.org
3. Loaf N' Jug Chile & Frijoles Festival (September 20-22) Located in Pueblo, Colorado, this event showcases the town's most loved crop -- green chiles' particularly the Pueblo Chile. Weekend events include cooking competitions, arts and crafts, music and entertainment. pueblochilefestivalinfo.com/
4. Applefest (October 5-6) Driving into the small town of Cedaredge on Colorado's Grand Mesa, you'll pass row after heavenly row of trees bursting with shiny red and green apples beckoning you to sink in your teeth. At Applefest, more than 150 vendors share the area's agricultural wealth with visitors. edaredgechamber.com/applefest.htm
5. Elk Fest (September 28-29) This gathering celebrates the annual elk rut and teaches attendees about the Native American name for elk, Estes Park, which borders Rocky Mountain National Park. In its 15th year, Elk Fest features bugling contests, educational areas, exhibits, the Rocky Mountain Raptor Program, elk seminars, a Mountain Man Rendezvous, Native American music, and dancing. colorado.gov
6. Mountain Harvest Festival (September 26-29) Located in Colorado's Western Slope town of Paonia, this event covers all the bases at their annual celebration of harvest with live concerts, farmers' markets, beer and wine tasting, a chili cook-off, arts and crafts, and farm tours. The bounty from locally owned orchards, ranches and farms brings in revelers from all over surrounding Delta County. mountainharvestfestival.org
This Blogger's Books and Other Items from...
SUBSCRIBE AND FOLLOW
Get top stories and blog posts emailed to me each day. Newsletters may offer personalized content or advertisements.
Learn more