It's finally summer. So what do you do with the ever-longer days and warmer nights? Have a party, of course. SPI went looking for advice on how to do it with style and caught up with Los Angeles-based celebrity event planner/designer Jay Calhoun, who has planned festivities for Barbra Streisand, Oprah Winfrey, Angelina Jolie and Donald Trump. Calhoun graciously shared some of his ideas and even some of his exclusive event photos so that we can show you how to plan your own do-it-yourself version of a big celebrity party--for a fraction of the cost. The Calhoun inspired suggestions below range from last minute additions to week long preparations, so regardless of your level of party enthusiasm you'll find something worth taking on to spice up your event.
1. Create Drama With Drapery

Creating a setting that evokes drama is one of the most common requests from Calhoun's clients. The best way to achieve this is to place focal points above the sight line. "Your money is best spent from the tabletops upward since most guests form their impressions in the first few minutes they're in the space," Calhoun explains. "Everyone peruses the tables, flowers and then they look up to the ceiling or sky, especially if there are chandeliers or fabric hanging," One of his favorite ways to do this is to drape fabric in one or two colors, depending on the theme and color scheme of the party. Sheer fabrics work better than opaque and can be purchased at Online Fabric Store for $3.30 per yard. Fabric should be hung loosely to create a swag effect. Calhoun recommends getting out your ladder and tying the fabric to the tops of trees or corners of a house, working diagonally from point to point. The photos below feature a few examples for you to follow. Most chiffon fabrics are sold 60" wide and should be cut in half to 30" wide to mimic Calhoun's look. Figure you will get two loose drapes that will each cover 10 linear feet for every 4 yards of fabric you purchase.

Lighting is the most important design element for evening events. Calhoun reminds us, "If you can't see the detail that went into designing your party, there is no sense in spending the time doing it." At a recent beach party for Marie Claire magazine, Calhoun strung paper lanterns across the seating area to highlight the tables after dark. We love the splashes of color floating in the sky. Also try stringing up holiday lights for a little extra twinkle. SPI found 12" paper lanterns in lavender for $1.50 each at Asian Lanterns. To make it as simple as possible, Calhoun provided us with a step-by-step pictorial guide for hanging the lanterns. You will need the following supplies: Zip Line for $0.69 a foot, Plug for $1.95 each, Snap on Female Part to plug for $1.95, Light Socket for $2.95, and 25 watt light bulbs in either the clear or colored variety.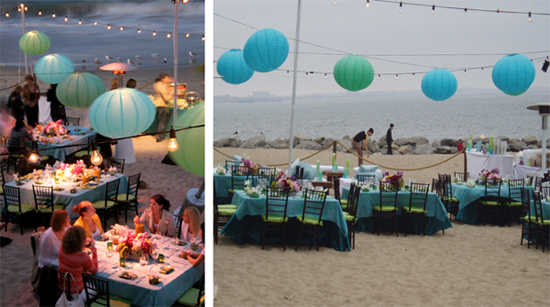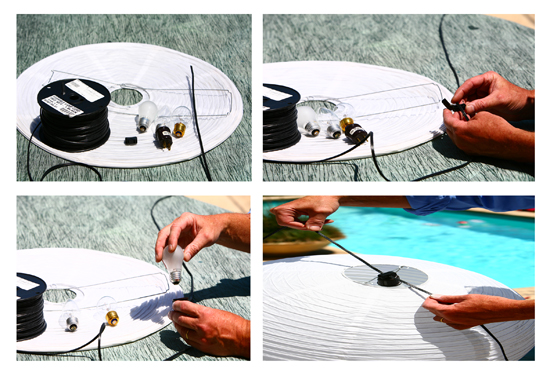 3. At The Center Of It All
Centerpieces can consist of a wide variety of objects that include (but are not limited to) flowers, decorative objects and candles. In the photos below, Calhoun demonstrates two types of centerpieces: one that features a floral arrangement and one that has its focus on a battery-operated hurricane lamp. When arranging flowers for a centerpiece, Calhoun recommends mixing and matching one or two colors. The centerpiece on the left combines purple and green flowers with small glass beads strewn on the table cloth for additional color. The centerpiece on the right is centered around a battery-operated lucite and glass hurricane candle holder for $85.00 that is great for evening entertaining when it might be windy outside. (Shamelessly, we love the hurricane product because we designed it for SPI Line.) Calhoun surrounds the hurricane with white coral, large starfish, cymbidium orchids and tiny sea shells. To avoid spending your entire budget on flowers, locate a Trader Joe's near you. The flower department never disappoints and the prices are affordable. You can usually find well-priced coral, seashells and even starfish at your local aquarium store or online at US Shell. One final tip - remember that none of the items in the center of the table should block the view of the guests and should allow for easy conversation across the table.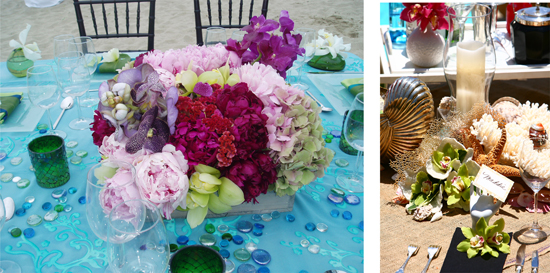 4. Concoct A Specialty Cocktail

At larger gatherings, Calhoun provides both cocktail and bar service. A great way to spice up the party is to add an event-themed drink to the bar menu. SPI asked Calhoun to select three of his favorite summer specialty cocktails based on flavor and flare: The Margarita Popsicle, The Yogurt and Vodka Cassis Pop, and The Mojito Popsicle with Pomegranate Dipping Sugar. He also notes that the specialty cocktail is a great money saver since you can forego having a full bar and simply serve beer and wine alongside your tasty concoction. Don't forget to make a few virgin varieties for the non-drinkers in the crowd.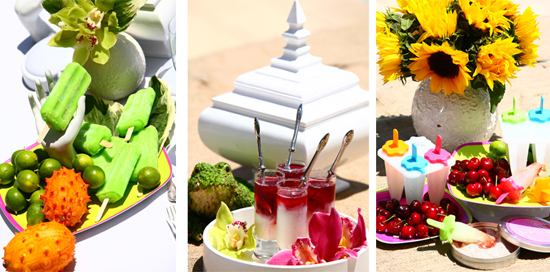 "Guests are drawn to clever uses of common things more than expensive as-is items," remarks Calhoun. In the photo below, Calhoun utilizes large pieces of burlap as the table cloths, with colorful ribbons stitched along the seams. Using everyday materials such as burlap or even astro-turf can save money and also become conversation starters. He recommends going to Home Depot, a local craft store or just searching around your house for interesting materials that can be used to top your tables. Calhoun estimates that guests spend about 70 percent of their time at a party seated at or gathered around their table, so don't underestimate the importance of a fabulous looking tabletop along with a well thought out seating chart.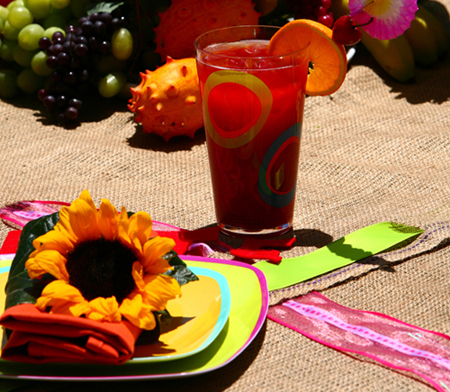 6. Name Cards and Napkins

According to Calhoun, the devil lies in the details of dressing an event table. The smallest details on the table make the largest impact. Calhoun suggests making use of any discarded centerpiece flowers by turning them into a non-traditional napkin ring. To do so, wrap the flower, banana leaf or loose greens around the napkin and fasten with a straight pin. You can also tie a 2" thick piece of satin ribbon around the napkin and pin with a color-coordinated shirt button.
Name cards are often taken home by guests as keepsakes, so make them something your guests will enjoy having in their home. Featured below are a few ideas for name card holders.
Paper fans at a summer wedding can double as both name card holder and a hostess gift.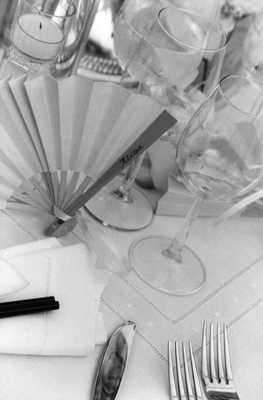 Traditional name cards on heavy cardstock never go out of style. Here name cards are placed on sculptural hands for additional decoration.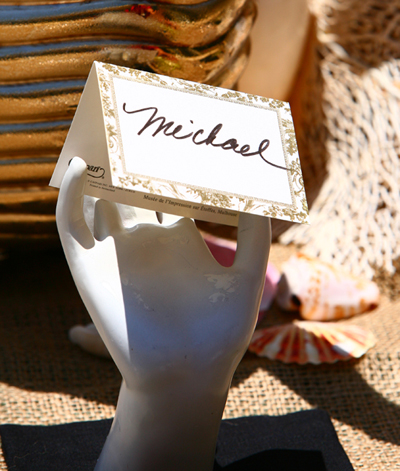 If the event is casual, try cutting out felt or fabric letters and placing directly on the table above each place setting.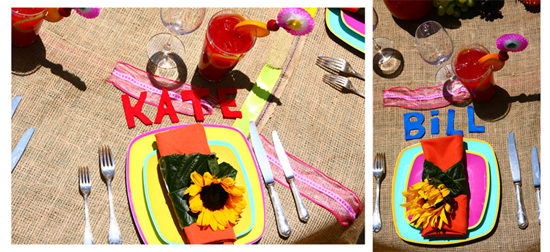 7. Construct Your Own Cabana

For a glamorous party in Malibu, Calhoun built several custom cabanas and adorned them with diaphanous white drapery. Since the outdoor space is an expansive backyard, the concept was to create a few intimate gathering spots where guests could gather. For smaller parties, one cabana can be used as the focal point of the space, with the dining or main seating area inside the cabana walls. For those of you feeling extremely ambitious, SPI suggests creating your own version of this cabana with the 10' x 10' Garden Gazebo from Home Depot for $199. For a fuller effect, wrap additional fabric around the posts of the gazebo and allow several inches to puddle on the floor. Purchase inexpensive tulle for $.33 per yard or $13 for a bolt of 40 yards at Gifts Int'l Inc.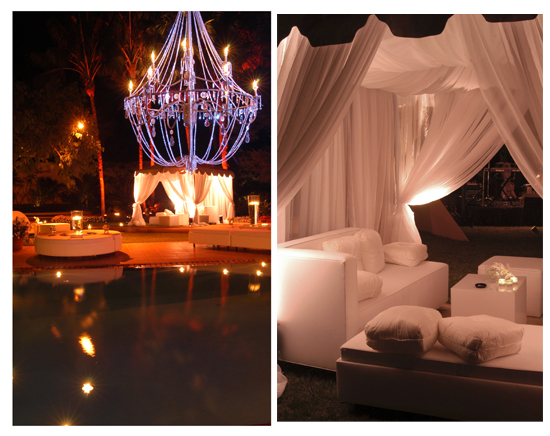 We hope that you will be as inspired by Calhoun's tips as we are. Of course, the most important ingredient of a great party is enjoying time with your guests, having fun, and rejoicing in the summer weather. We hope a few of these ideas will create the right environment to do just that!
FOLLOW HUFFPOST