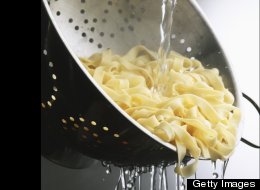 In my amateur experiments in the kitchen, trying to teach myself to cook, I often find myself straying from recipes. My kitchen is too small, I don't have the right appliances, or I just don't have enough time.
Last month I was thrilled to read Adam Roberts' "10 Food Rules Worth Breaking," which relieved me from the guilt I harbor every time I roast a chicken without trussing it or use cooking spray instead of butter to ready a cake pan.
Roberts' rule-breaking advice also got me thinking, however, about all the rules I've tried to break that have resulted in some major mishaps. On my self-guided quest to become a better cook, I've learned a few rules that are really worth following. And in my regrettably but perpetually hurried state, I've discovered -- the hard way -- a few shortcuts that are best left unexplored.
Even if you're short on time, don't skip these six cooking steps. While they may seem simple and good options to omit in a time crunch, they can make all the difference.
Cooking Steps You Shouldn't Skip
Sifting flour makes a big difference in baking. It removes clumps and fluffs up flour, which is crucial for certain baked goods, like cakes. For denser desserts, like cookies, it may not be as essential, but it takes very little time and from what I've found, is worth the extra minute.

Searing meat, chicken or fish before cooking it is absolutely worth the time. Whether you're slow-cooking, roasting or baking, searing browns the exterior, creating a crispy, caramelized shell and locking in flavor. Once you taste the difference a quick sear can make, you'll never skip it again.

Whether it's beans, noodles or quinoa, if the recipe calls for rinsing, you better follow orders. Running quinoa under the faucet takes one second, but it's vital for removing residue that might otherwise leave a soapy flavor in your mouth. Certain noodles - like soba - will turn out unpleasantly gummy if not rinsed, and unless you want the liquid in a can of beans for a soup, simply draining the can won't suffice. Rinse, and repeat if necessary.

Fresh ground pepper? Everyone knows this is worth your time. Use a mortar and pestle if you want; I stick to a regular grinder. Whatever you do, however, just don't use that pre-ground stuff. It's utterly flavorless and doesn't bring out other flavors like freshly ground pepper does.

While New York Governor Andrew Cuomo may be able to churn out perfect chicken "solid, from the freezer, on the grill, in an hour, on the table, perfect every time," I've found that letting food defrost before cooking it is important. Food cooks more evenly when fully thawed, and I think it retains more moisture.

What's the secret to great cookies? Freezing the dough -- ideally for a whole 36 hours -- before baking. Why? I don't know, but Maury Rubin of City Bakery and Jacque Torres do it. Enough said.
Follow Alison Spiegel on Twitter: www.twitter.com/alisonspiegel