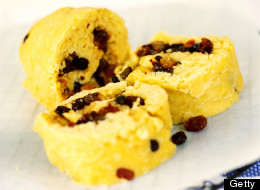 While American cuisine may be in a perpetual state of finding itself, one thing all Americans can agree on is that we love food. And with Independence Day upon us, it seems as good a time as ever to recognize and celebrate the American food that makes us proud -- both food that originated on our own soil -- like fried chicken and the BLT -- as well as food that we've adopted and made our own -- like apple pie and corn on the cob.

While we've welcomed all kinds of imports with open arms, and mouths, certain international food still hasn't gained a footing on our shores. A whole slew of British food, for example, just hasn't caught on in the U.S. While we're grateful for fish and chips, pub food and Sunday suppers, we Americans haven't been able to wrap our heads around some other, important British specialties. Perhaps we're still resistant to our former colonizers. More likely, however, these foods simply got lost in translation. Here's a list of the most misunderstood British food names.
Misunderstood British Food Names
A traditional English dish of sausages enveloped in a Yorkshire pudding batter -- or a batter made with eggs, milk and flour. Adding batter to the meat originated as a way to conserve and stretch out a smaller quantity of meat.

A Cornish pie made with fish heads that poke through the pie crust, as if the fish were staring at the stars. With the fish heads positioned this way, the fish oil is supposed to seep back into the crust. Traditionally the pie is made with sardines, or pilchards.

A clever word play on "souls" in coffins, this dish consists of fillets of sole layered into the skin of a potato, or served on top of potatoes.

Perhaps the most notoriously misunderstood British food, Spotted Dick is a pudding made with dried fruit (the spots) and suet, or mutton fat, which is then formed into a pastry dough that is steamed or boiled.

Creamy, scrambled eggs over toast, with an anchovy paste. "Where's the woodcock?" you might ask. (And what's a woodcock?) Just like there's no cream in an egg cream, there's no woodcock in Scotch Woodcock.

A thick, anchovy spread also known as Patnum Peperium. This flavorful condiment is the topping for Scotch Woodcock, but is also meant for simply livening up a sandwich or piece of toast.

A sandwich made with very thick slices of bread.

A classic British comfort food made with leftover vegetables, traditionally from the prior evening's Sunday Roast. Typically the dish is made of cabbage and root vegetables.

An ice cream sundae served in a tall glass, which, incidentally, made an appearance in Harry Potter.
Thanks Jessica and Tom for all the great tips!
Follow Alison Spiegel on Twitter: www.twitter.com/alisonspiegel