I visited Zimmer Children's Museum of Los Angeles the other day. However, I was not there to play with my kids. I was invited for a private tour with Esther Netter, CEO of the Museum. Esther lovingly explained the big ideas behind various installations. She shared with me: "You know that an exhibit is successful when the roles are reversed." Here, the kids are the ones who take charge; they drive an ambulance, fly a plane, operate a fire truck, cook and serve dinner. Adults' responsibility is to let them take control.
That it is a brilliant approach. Creating places where kids are empowered and given a chance to make their own decisions is instrumental in raising independent thinkers. This visit brought back the memories of a "Children's Museum by Kids" I proposed a long time ago. The idea stemmed from my experience of facilitating Children's Architecture Workshops.
Children are perfectly capable of making important decisions for themselves if their investigative spirit is nurtured on a regular basis and if they are consistently listened to. In my opinion, paying attention to expressions of a child's creativity is a starting point. We talked about this with Esther Netter. When a kid is banging on a hard surface with a stick, one parent might be disturbed and bothered by the noise, another might hire a music teacher. It's about acknowledgment and encouragement.

Children's Architecture Workshops have been filled with kids ages six to thirteen who have worked on envisioning and creating their own communities including museums, libraries, schools, and fire stations. With practice of presentation skills built into every exercise, even painfully shy and reserved children have been opening up to share their ideas without hesitation.
Through block play, drawings and model making -- in both solo and group activities -- children have become familiar with architectural ideas and have gained greater appreciation for their own world as well as the world they can create.
I have tremendous respect for children's innate imagination and have focused on fostering it beginning at my own pregnancy. Since I doubted myself as a good parent (not as an architect), a place of departure was to learn what kids want in their ideal environments. I went to the source and invited children to participate in a drawing exhibition called "Create a Fantasy World of Your Own."
Fanciful entries pouring in clearly illustrated that children can be very eloquent about what they need and enjoy. With disarming sensitivity, insight, and humor kids (regardless of age and background) consistently referred to three main elements in a "dream" bedroom:
1. Autonomy (button to secret entrance, clubhouse, for members only)
2. Connection with the outside world (chair that takes me to another country, my bedroom is like being outdoors)
3. Safety (intercom to call my mother, platform to jump onto a soft thing)
Please refer to a diagram below based on more than a hundred drawings that were analyzed: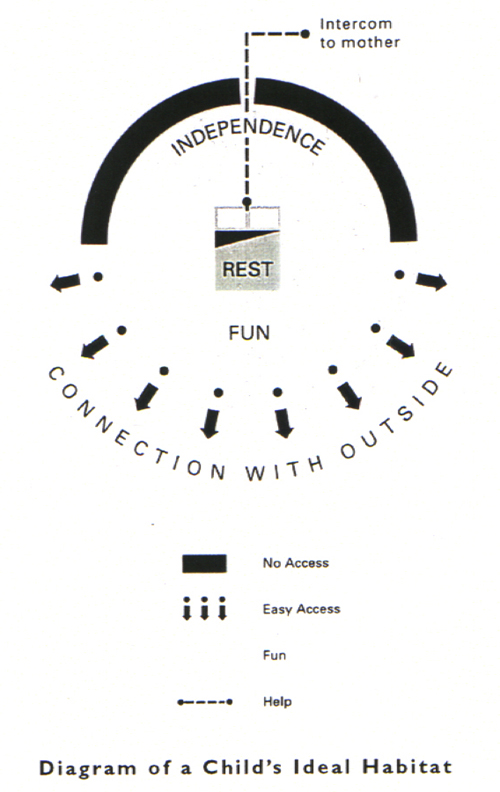 With the goal to guide and nurture, not control, it is critical to provide tools for growth as much as room for growth. By that I mean plenty of space to make it their own, an enclave, a portal for exploration and discovery.
Kids want freedom and independence. However, it's essential to give them a sense of security at the same time. They can explore and dig a tunnel to China as long as there is an intercom to mom right there, at their fingertips.
It's tricky to design children's spaces that allow for constant change. Although, it can be accomplished with furniture that adapts to different uses, "grows" and morphs. Perhaps the way to do it is to treat everything as a blank canvas, providing opportunity to express individual personality.
I've implemented this approach in my own "laboratory." I am not ashamed to admit that I've experimented on my own two daughters. Very often, by design, our roles reversed and I let them guide me. I encouraged their independence by seeking their opinion and involvement. As a result, they are never passive within environments they inhabit. They pursue beauty and harmony in all aspects of their lives. They "live-by-design."
SUBSCRIBE TO & FOLLOW CULTURE SHIFT
Every Friday, HuffPost's Culture Shift newsletter helps you figure out which books you should read, art you should check out, movies you should watch and music should listen to. Learn more