For two years, AIA NY and city officials have studied and discussed how design can encourage physical activity and good health. They have asked, "Can architecture prevent obesity?" Their findings are presented in the new book, Active Design Guidelines, which serves up practical advice to architects in NYC and beyond. The book is $35 for a hard copy or free online.
Though the guidelines are only advisory, they could still "really help us become healthier, to make sure that our cities are more livable, beautiful and sustainable," said New York-based architect George Miller, president of the American Institute of Architects (AIA).
The question is: "How can our environment support healthy lifestyle?" These guidelines suggest that buildings and public spaces can encourage exercise. On the other hand, no one can be forced to take the stairs while there is an elevator option available. It's always a choice.
So, how about using architecture for inspiration to make the choice? The main idea, in my opinion, is for architecture to uplift human spirit and, consequently -- heal. Just like we are surrounded by ads from food companies that entice us to consume high-calorie, high-fat snacks and sugary drinks, we can be surrounded and protected by our own thoughts that inspire us.
Emotional factors, such as boredom, anger, or stress can lead to overeating and may cause obesity. I wonder if it is possible to turn to architecture in an effort to deal with negative emotions constructively.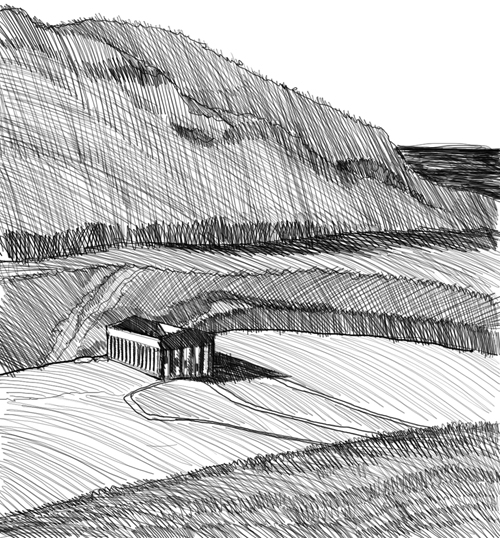 "Greek Temple in the Landscape" sketch by Miller Yee Fong, Architect
The Greeks found a way to make sense of ever-changing context; they deliberately codified and organized their environment by attributing properties of the terrain to particular deities. Before any temple was built, open-air altars were erected "in the ideal position from which the whole sacred and "meaningful" landscape could be grasped.
Thus, places where nature is dominant are dedicated to chthonic or earthy deities Demeter and Hera, and places where man's intellect and discipline complement and oppose the chthonic forces are dedicated to Apollo. The places where life is experienced as harmonious whole are dedicated to Zeus. And places where men had come together to form a community are dedicated to Athena.
The Greeks turned the landscape into a dramatic stage for their sacred buildings meant to augment, enhance, and complete the composition.
Greek temple is inseparable from its landscape. What defines and completes you?
A couple of years ago you were invited to a holiday party at a house of your son's friend's parents. It was a "sweets and strangers" extravaganza. Enormous trays of cookies, brownies, and everything in between were on every coffee table, counter, console, and piano imaginable.
There was so much to choose from, you felt intimidated. You told your son that you would wait in the car and escaped. As soon as you left, you felt like a failure. Who else would abandon a perfectly civilized gathering to sit in the dark? You felt disconnected, unworthy, and lonely.
Fast-forward to another experience and a completely different attitude. It is a book exchange and you get a glimpse of everyone's personality as the guests take turn describing their literary offering. Almost every single person tears-up while sharing with the group.
You devour something colorfully ethnic and join in on the conversation. You wonder if there is anything you can do to be noticed? Yes! You decide to host a similar gathering and to invite everyone present. You'll feel most comfortable on your own turf. Your home is a place that speaks about you and your kids can even lead "the tour".
Your teenage children who usually have their own plans and do not participate in your social life will clear their calendar for the evening. They are the ones who will end-up talking about their favorite books. Your wife will take care of the bulk of the preparations.
You realize how immersed you are with your family.
Finally, something is clear. That existential question: "What do I hunger for?" has been answered. If you are the landscape -- your family is the temple. They complete and define you. You can honestly say: "I allow myself space to get it just right."
SUBSCRIBE TO & FOLLOW CULTURE SHIFT
Every Friday, HuffPost's Culture Shift newsletter helps you figure out which books you should read, art you should check out, movies you should watch and music should listen to. Learn more