Week nine & ten of the Saturday High Architecture class at Art Center College of Design: we are finishing up and presenting, summarizing what we have learned together. One of the insightful "rules" I came across recently, postulates: "Every now and then take something that you see everyday and try to see it in a different light. Renew its existence." That's what this experience has been for everyone involved!
Irene enjoyed building the model because she could put her dream house "into reality in 3D." She reveals: "I am happy that I finished my project by pushing myself and I got unexpected result that I did in my first day of my class."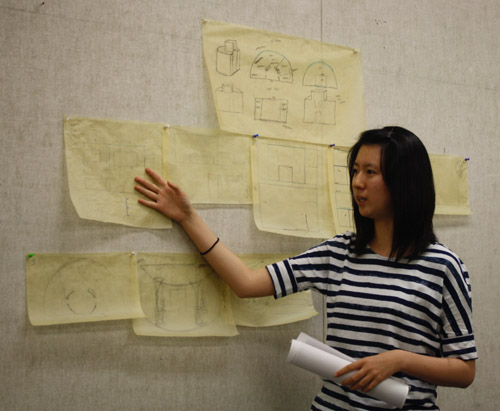 Irene's parti is SIMPLICITY. She says: "I tried to limit unnecessary decorations by using every part of the house multi-functionally. ...Additionally, I located my house in nature to have view and emphasize the simplicity in wilderness. I learned to carefully plan the project but at the same time I just need to draw or make model for better adjustment. Also, if you are making adjustments, you are not failing, but improving."
"From this class I improved my knowledge of scaled drawings and models as well as learning the concept of parti. What I enjoyed the most was learning how to carry out one theme throughout the entire design and referring back to the theme at each step along the way," says Mack.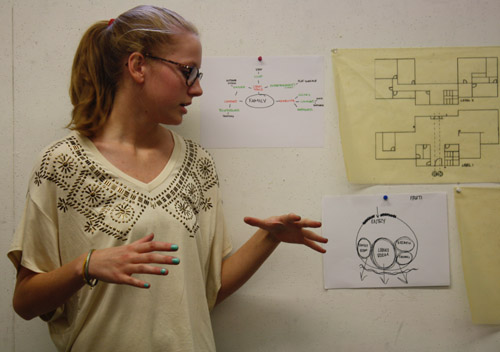 Mack's "ranch by the beach" interprets comfort, warmth, and a sense of security. In her own words: "The parti that I selected for this project is FAMILY. In order to develop my design around this parti, I created a mind map from which many of the concepts that I used in my design were derived. Next, I developed the concept of having a protective barrier in the front of the home that guarded the openness of the rear."
Sam enjoyed both drawing and building, but she liked building more. She liked being able to see her progress; it was like seeing her dream come to life. She articulates: "I learned how to draw floorplans and elevations and how to design keeping the scale in mind. I also learned that once you come up with an overall theme it's a lot easier to start designing. Once you draw something you should switch back and forth between that and model-building because it's easier to see what you can improve and what you want to change."
Sam's parti is FLOW. When coming up with this concept she thought about how she would want to feel in a house. "I would want to be comfortable and feel welcome," she says, "so I decided that a house that was open and easy to move through would be the best choice. I also decided to have big bookcases that went from wall to wall so that you would get the feeling that it was never ending." I ask her if she feels that her project is done, and she confirms my suspicion--she'll continue working on her plan.
"During the class, I mostly learned about the thinking process. (mind maps, sketches, etc...) and I enjoyed discussion the most," says Shawn.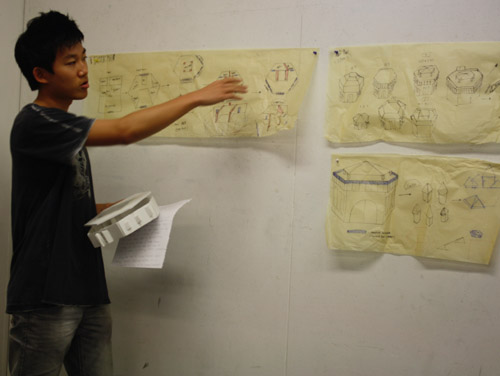 Shawn's parti is PLAYGROUND. Before he made this decision, he thought about his childhood memories, playing with others and spending time together. He explains: "When I was making the model, I removed unnecessary walls that separate people from one another. In the middle of the building I have main space where most of the activities will be done."
Colin talks about his house for a young family emphasizing "spatial awareness." He incorporated a home office and an artist studio. He has used steel and concrete and has remembered about saving electricity. He's taken the time to design a balcony railing and to show it in the model.
In Martin's opinion, the oral presentations every week were very insightful and exposed him to other people's ideas and unique thoughts. He asserts: "Building a house or a building is more than just a shape with rooms, and I learned that throughout the course of this class."
Tyler chose CONTRAST as his parti because, in his opinion, "the interaction of opposites poses unique challenges and it promises many rewards." He says: "I really enjoyed the class discussions and I feel I have learned a lot from the analysis of the famous landmarks."
That's all music to my ears. Mission accomplished. I really enjoyed seeing their progress, their discoveries, their receptiveness to seeing things in a new light. I really enjoyed provoking them, pushing them to keep an open mind and to pay attention. In conclusion, I recite another quote, this one is by John Muir: "When one tugs at a single thing in nature, he finds it attached to the rest of the world."

SUBSCRIBE TO & FOLLOW CULTURE SHIFT
Every Friday, HuffPost's Culture Shift newsletter helps you figure out which books you should read, art you should check out, movies you should watch and music should listen to. Learn more