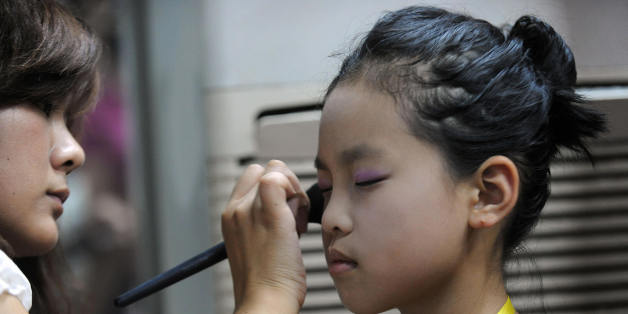 You may have spent years studiously ignoring your mother's advice (and she was right about that guy in high school, admit it), but eventually all that bossing and nagging adds up to something truly useful. Here, Allure staffers share their mothers' wisest words about beauty.
"Though my mother is not the kind of person to make beauty pronouncements, her example can be boiled down to this: If you have great hair, you can keep the rest simple. She never wore much makeup, but she always had a beautiful haircut and regularly went in for highlights. I have always followed her example, and when I worry that it may not be wise to spend a small fortune on my hair, I remember how great she looked. If you can buy yourself a little self-assurance, it is always money well spent."
--Elizabeth Angell, articles editor
"My mother's most important piece of advice: 'Take care of your neck. You never think of your neck until it's too late.' So now I always moisturize it."
--Alexandra Tunell, beauty assistant
"My mom's word of advice with diet: 'Everything in moderation.' At 61, she's still thin, which is in part thanks to good genes, and also because of her eating habits. She's not a health nut by a long stretch. Actually, by any stretch. She loves ice cream, potato chips, and the occasional apple-tini or Guinness stout. She doesn't deny herself sweets or snacks--she just doesn't overdo them. Definitely something I've stuck to over the years."
--Sophia Panych, digital beauty editor
"When I was growing up, my mom would always tell me, 'Keep your hands off your face! Do you know how many germs you have encountered today? Get them away from that beautiful face!' I finally started listening to her advice, and my skin is thanking me for it."
--Lindsay Colameo, assistant digital editor
"While most children try to wiggle away from their parents as they slather them with sunscreen at the beach, I never did. My mother has survived malignant melanoma twice, and the best beauty advice she ever gave me was to stay out of the sun (which was hard as a child in South Florida!), never even think of using tanning oil, and to wear sunscreen every single day. I now make sure almost all of my products have SPF--my morning moisturizer, my BB cream, and even my lip balm."
--Jenna Rosenstein, beauty writer
"Use a good body lotion every single time you shower, no excuses. Do it as soon as you get out, especially in the winter."
--Grace Clarke, assistant editor
"My favorite beauty advice my mother ever gave me--and that I believe she lifted from Jackie O.--was to dedicate one night a week at home to take care of yourself. Paint your nails, whiten your teeth, use a face mask, deep-condition your hair, whatever it is you do, while listening to music or watching TV or anything else you enjoy. Whenever I tell her about my hectic schedule, she likes to remind me of this one."
--Alexandra Owens, assistant editor
"My mom always taught me not to overtweeze or wax my eyebrows. She has always liked the look of fuller brows, and I went through much of my teen years with too-far-apart, too thin brows. She (thankfully) wouldn't let me tweeze them quite as much as I wanted to. I'm so glad that she helped me realize how much better it looks not to have pencil-thin brows and that I was able to bounce back from the sparse ones I had in my teen years. Yikes."
--Stephanie Saltzman, associate digital editor
"'Buy a good bra that fits properly, a sexy bra,' my mom says. And she's right. I always get properly measured and fitted, and everything just seems to fall into its proper place. And adding a little lace here or some lift there does wonders in the confidence department, too."
--Lexi Novak, associate editor
"Less is more. My mom has always worn minimal makeup (although she was--and still is--a Clinique devotee) and sticks to neutral shades. I've learned to keep my makeup simple and natural-looking...for the most part."
--Fiona Gibb, Web editor
SUBSCRIBE AND FOLLOW
Get top stories and blog posts emailed to me each day. Newsletters may offer personalized content or advertisements.
Learn more