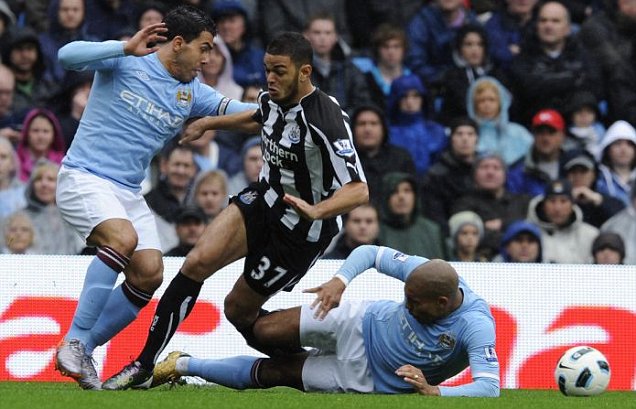 Last Sunday, the French international Hatem Ben Arfa suffered a double break of his leg in the Premier League game between Manchester City and Newcastle United and this injury brought back some bad memories for soccer fans worldwide. But maybe it was time to face the truth, what makes this game beautiful was growing uglier than ever under the competitive environment of the soccer industry. I mean, we all know that 3 points mean a lot on the soccer pitch and it's essential to have ambitious and fearless players on your side in order to get what everybody fights for. However, the pressure to win can't make the brutal tackles acceptable and the sadistic actions on the pitch must be sanctioned very severely. I'm talking about some really long expulsions from the game, and I can't see another way to kick sadism out of soccer. But hey, from now on there might be another way to kick it out, let's have a look...
It was the Dutch international Nigel de Jong who injured Ben Arfa, and although some of the fans have thought that he didn't behave maliciously in the sad incident, the Manchester City player had been punished by a surprise decision. Bert van Marwijk, the coach of Netherlands national soccer team, has stated that he left the defensive midfielder out of the national team squad for the upcoming international games just because of his brutal tackle. Besides, he has reported that he has a problem with the way de Jong needlessly looks to push the limit and described the situation as good as possible, in my opinion.
Well, maybe it really might have been just a clumsy tackle, but when you remember the midfielder's other infamous tackle in the last World Cup final, you're going to find out that it's getting harder to believe in his innocence. Despite the fact that the referee didn't even stop the game in this incident, the tackle was really horrible and de Jong was one of those bad soccer figures again. Actually, he is a great player with a considerably high work rate and a rare stamina and if you ask anyone watching Premier League, he's certainly going to accept that the Dutchman is one of the best holding midfielders in Europe but nobody can deny that he has started to look like he represents the sadistic side of this beautiful game and that's why van Marvijk's huge decision must be regarded as a touchstone for soccer world. Though we don't know if De Jong and the others feeling dangerously free to use their tackles as a weapon on the pitch have started to think about their style after this omission, they must have learned that the referees are not the only judges in the game for sure.
In conclusion, the tough guys' reputations are in real danger as everybody's getting sick of those brutal tackles. No player should forget that it's the beauty of soccer that makes us a fan, not the brave guys daring to do anything to win a game.
SUBSCRIBE TO & FOLLOW THE MORNING EMAIL
The Morning Email helps you start your workday with everything you need to know: breaking news, entertainment and a dash of fun. Learn more