Dana Cowin, Food & Wine magazine's editor-in-chief since 1995, has been covering the world of food, wine, style and design for more than 25 years. But no matter where she goes or which acclaimed Food & Wine event she is presiding over, she always wears a signature colorful jacket...and that, ladies and gentlemen, is her logo.
ACM: How did you arrive at your logo?
Dana: I used to work at Vogue, many years ago, and I wore vintage everything. But it was sort of sloppy vintage and as time went on I realized I needed a more professional look. When I came to Food & Wine in 1994, I thought I needed to look the part of the job. I wore lots of power suits and then I started falling in love with jackets. The great thing about jackets is that you can wear, essentially, a uniform underneath. I wear black pants and a black top and all the personality comes out in the jacket.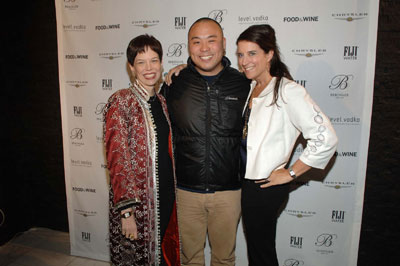 ACM: Was it a conscious decision to keep repeating that look?
Dana: The conscious decision was to keep it stylish and simple; and I have one advantage that many people don't have which is that I have a mother who loves to shop. I can honestly say that the jackets began with my mother because jackets are something you can buy without the person with you. And for each Food & Wine signature event, I get a new fabulous jacket. I've been doing this job for fourteen years, three new jackets a year, and so I have quite a closet now. Jackets are not really cut to the trend, so I can still wear a lot of the jackets that I got 10 years ago.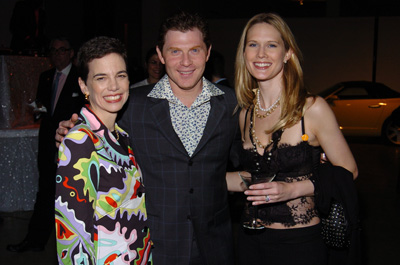 ACM: What statement do you think this logo makes about you?
Dana: I hope that it communicates a certain amount of simplicity and practicality which is the black part and a certain amount of fun which is the colorful jacket.
ACM: Is this like a uniform?
Dana: In a way uniforms can be freeing because you don't have to think too hard if you know exactly what you've got to choose from.
ACM: Do you think that personal style is a professional asset?
Dana: I absolutely do. We have a joke that there are certain people who hire by the shoes. I think you can tell a lot about a person by the way they dress. The notion of being stylish but not sacrificing practicality comes through in other parts of what I do, not just what I wear. I think it comes through the pages of the magazine.
ACM: So, in essence, you're a physical representation of your publication.
ACM: What can you tell about a person from their shoes?
Dana: You can tell everything. Someone who came in here in high stilettos with very pointy toes, I'd be very careful about what type of job I'd put them in. You work very hard here and I wouldn't want to hire someone who implied that they basically got picked up by a limo every morning. That wouldn't work well with this culture. On the other hand, if they came into an interview wearing sneakers which would be the exact opposite, depending on their job, I would think, "You're not going to be presentable to go to press lunches." I think it says a lot about the way that somebody thinks about themselves.
ACM: What advice do you have for professionals just starting who are creating their own logos?
Dana: Be sure it's something that you love because the worst thing would be to be stuck with something that you didn't like. For a long time I wore only one earring and that was not a good look. Now I have a tray full of single earrings that there is nothing that I can do with them. I thought it was interesting and had personality. Instead, I think it was a little silly. A lot of people came up to me when I was wearing one earring and said: I hate to tell you this, but you lost an earring. A trademark has to be something that can last, and can be identified with you and no one else.

SUBSCRIBE TO & FOLLOW LIFESTYLE
HuffPost Lifestyle is a daily newsletter that will make you happier and healthier — one email at a time. Learn more