Amanda Miller: Your logo is a feminine blouse or sweater. How did that look start?
Arianna Huffington: When I started doing television, all the women on television used to wear suits with shirts underneath - but I thought, "Why do we all have to look like men?" So that's when I started wearing a blouse or sweater - something that wasn't a suit and a shirt.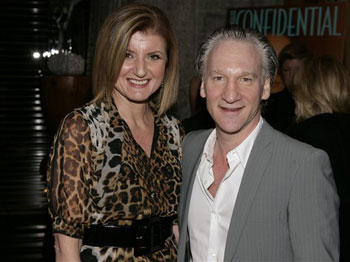 Arianna in leopard print blouse with Bill Maher, Photo credit: AP
AM: What statement does that make?
AH: That you can be feminine and be strong at the same time, and be age appropriate. I also have a limited color palette: black, gray, brown and white. Maybe a splash of color here and there, but this way who you are and what you say can be the focus rather than your red suit or green jacket.
AM: How has your look evolved?
AH: I was freakishly tall for a Greek girl, and when I was in my 20s I found myself wearing flats all the time because I was uncomfortable with my height. I'm 5'10'' and I grew up in a culture where my class mates were 5' nothing; it took me a while to update my self image. Now I wear heels.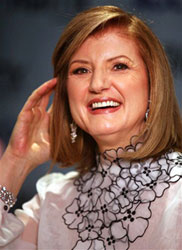 AM: Did your mother have great style?
AH: My mother didn't have great style, but she was very authentic so that's what she taught me. She would wear caftans and go barefoot - she let her hair go gray and never wore makeup but she was a great role model of authenticity because she felt great about herself. That was her style - her own style.
AM: Is personal style a professional asset?
AH: Absolutely. Because its part of who you are - as the French say "etre bien dans son peau," or to feel comfortable in one's own skin. Your clothes are an extra skin, and if you feel good in them, you radiate confidence and then the clothes are just the background. If you go out and wear the most beautiful thing but you don't feel good in it, you are not 100% present. You are worrying about the collar or the fit - the key thing for me is to be present in what I'm doing rather than worrying about my clothes.
AM: Has anyone ever made a negative comment about your style?
AH: No, because it is so basic.
AM: Did your style change when you ran for Governor?
AH: I wore a lot of t-shirts, Petit Bateau t-shirts, and cotton suits and flat shoes. They could carry me through the day. My wardrobe became much more practical, but always the same simple color palette.
AM: Who are your style icons?
AH: I am always drawn to women who wear separates - like Katharine Hepburn in the 40's. Women who go to black tie events in a beaded sweater and slacks or a long skirt.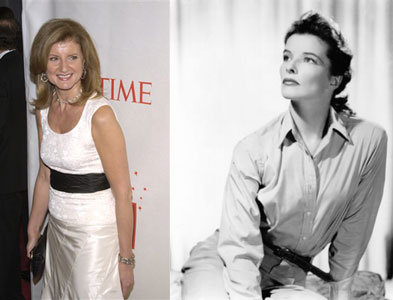 Arianna in separates at the 2006 Time 100 dinner (credit: AP) and style icon
Katharine Hepburn in her signature separates (credit: imdb.com)
AM: What are some of your other signature style traits?
AH: I drive a Prius, which I've done since 2001, because it's important to me to drive a fuel-efficient car. I love fountain pens and I write in dark blue. My toes are painted burgundy red, and my nails are pale - because I travel so much and I can't stand them being chipped.
AM: What advice do you have for professionals just starting to create their own logos?
AH: The first thing is to figure out what they feel good in, what they look good in, and what is comfortable; wearing something that you're not comfortable in is the ultimate sin. It's important for each person to discover their own style, and find something that is not trendy or too revealing or anything that would get in the way of working.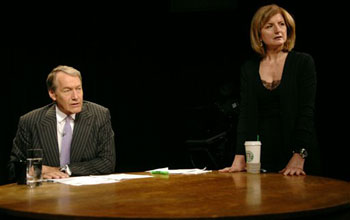 Arianna in all black on the set of Charlie Rose, Photo credit: AP
AM: You have talked about feeling like an outsider. How did that influence your sense of style?
AH: For me it was more coming to terms with my accent, which was a big part of feeling like an outsider. And I got comfortable with it as I got older, realizing that it's who I am. But not everyone gets older and feels good about themselves. I would not want to have plastic surgery. I don't want to go under the knife.
And people are starting younger. The worst is preemptive plastic surgery - it's like preemptive war: it's just not a good thing.