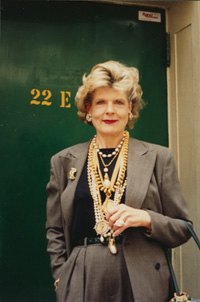 This month, artist and socialite Brigid Berlin is auctioning off her collection of prized costume jewelry at Doyle Gallery. Over 200 pieces will hit the block, most having at least tripled in value over the last few decades. It seems that nothing is a safe investment these days ... except jewelry (and solid gold bricks, which some may consider jewelry). Coco Chanel was the first to make wearing fake jewelry acceptable; and, in recent years designers ranging from Lanvin to Balenciaga and Vera Wang have rediscovered and reinvigorated statement costume jewelry, mixing it with haute couture, and jeans and sneakers. New costume jewelry can cost thousands of dollars; Alexander McQueen's cut glass and crystal Mahrajah necklace is already sold out on net-a-porter.com at $4,315 a pop. But how do you know what to buy, where to buy it and what's a good investment?
Berlin's passion for costume jewelry began around the same time that she started hanging out with Andy Warhol at the Factory. Berlin, arguably Warhol's best friend, used to "prop shop" for artwork subjects with the artist, who once suggested she wear wire Brillo pads as pins. To establish herself as a serious collector, she got to know all of the dealers, learned about workmanship and craft. She suggests consumers haunt flea markets ranging from the indoor garage on 26th and 6th in Manhattan to the Marche aux Puces in Paris. "Buy items that you respond to, not intellectually, but because you can't live without them," she told me. "Whether it's because you're going to wear it or simply sleep better knowing that you own it."
Berlin lists the following classic costume jewelry designers as collectibles:
• Coro
• Trifari
• Boucher
• Jomaz
• Haskell
• Erwin Pearl
• Iradj Moini
• Kenneth Jay Lane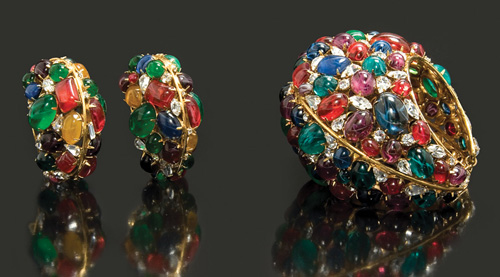 Caroline Rennolds Milbank, a fashion historian, suggests investing in under-the-radar and status brands early, before they become very popular. Milbank emphasizes that the most important element of buying vintage costume jewelry is condition. Are the stones original? Are any stones missing? Has the metal lost its patina? Check for stamping too, which is often hidden near the clasp or on a small hanging charm indicating the designer or design house.
Designers from the '70's and '80's to collect include:
• Lanvin
• Yves Saint Laurent
• Christian Lacroix
• Chanel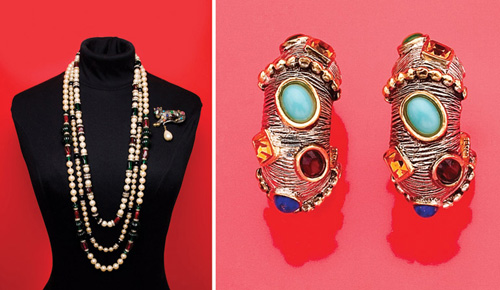 Berlin once bragged, "I would stop at Tiffany's, buy some sapphire cuff links, and toss them from the seaplane into the swimming pool at Cherry Grove." Short of going on an archaeological dive at Cherry Grove, great items can be found by haunting:
• Estate sales (listed in local newspapers)
• Consignment stores
• Thrift shops
• eBay
As Kenneth Jay Lane said, "Every woman wants to be Cinderella when she puts on jewels. Faux jewelry is like wearing glass slippers. A woman can feel like she's going to the ball, even if she's not." So wear your new-found treasures early and often!

FOLLOW HUFFPOST