To look totally unique, vintage clothing is the way to go and some of the best vintage pieces can be found online at sites run by expert curators who pick through the trash to find real treasure. Wearing vintage clothing sets you apart from the crowd and it's fun to play with pieces from different eras, mixing a Victorian day dress with a hippie fur vest. When you wear vintage, you can be sure you won't look like anyone else. Here is a roundup of some of the best sites.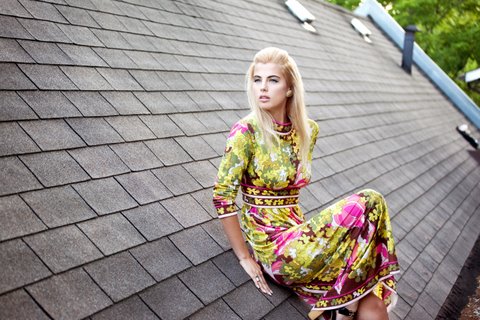 1960's Long Pucci Dress from Shrimptoncouture.com
www.shrimptoncouture.com is to vintage clothing as net-a-porter.com is to designer duds; and is a well-designed site featuring vintage clothes, "reworked vintage clothes," modern collectibles, and a LookBook highlighting perfect party dresses from all eras. Not only does Shrimpton Couture accept returns (minus a 10% stocking fee or a full store credit), but also generously has a layaway service; the perfect vintage dress only comes around once while a paycheck only comes around once every two weeks. Cherie Federau, who runs the site as an extension of her own closet filled with items she has collected or would purchase, has very high standards. Each item is in flawless condition, the gold standard in a community overrun with moth holes and stains. Federau says 1970's maxi dresses, one shoulder dresses and 1950's "cupcake" silhouettes have been flying out the door. "There is an appeal to girls to have a dress that no one else has, whether it is for daytime or for special events. I try to find dresses that have a very special look and feel to them; that makes them stand out." Clients include Rebecca Romijn, Courtney Love and The Boston Museum. Federau's site is truly unique: you can find a 1960's Geoffrey Beene coat ($975) or a 2006 Alexander McQueen dress ($1,800), believed to be highly collectible in the future.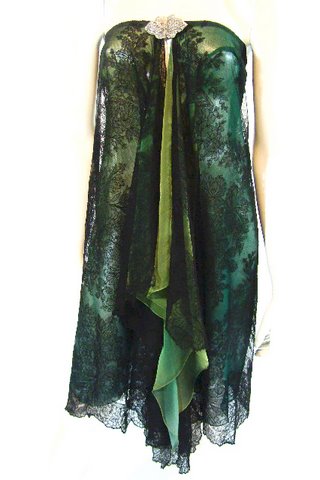 RSVP Dress made from Civil War era lace lined with ombre silk mousseline and deco era buckle from Shrimptoncouture.com
She also sells reworked vintage by designers such as The Glamourai, RSVP, Lousie Black and Reverie NYC who take period clothes and jewelry that are damaged or otherwise unwearable, and modifies them in a contemporary way. "This is an exciting direction that becomes more relevant as we look at ways to recycle and use resources more efficiently," says Federau. "These designers are committed to either restoring or reworking only pieces that are damaged." The results range from a 1930's beaded dress ($698) by RSVP, who reworks beautiful antique textiles, to a Summer Bouquet Bib ($325) by The Glamourai, whose necklaces capture the eclectic, chunky styles that have been seen on runways from Lanvin to Marni. In early August, Shrimptoncouture will add one more designer's capsule collection to her site, Norwegian Wood, who also designs for Topshop and whose work centers around fringe necklaces and body harnesses.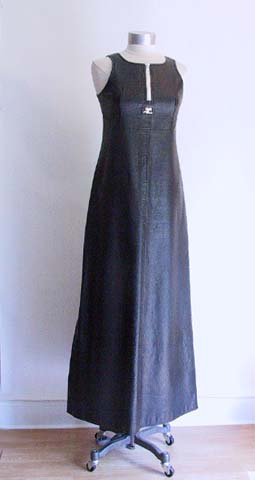 1970's Black Vinyl Courreges Evening Dress from Enokiworld.com
www.enokiworld.com has been selling vintage clothing and accessories since 1999, the dark ages of online shopping. Madeline Meyerowitz, who owns and runs the site, moved to the Midwest from the East Coast, where she was a professional cook, and started attending garage sales with the intention of collecting mid-century dinnerware. But rather than finding items by Eva Zeisel, she found Hattie Carnegie, Mollie Parnis and Rudi Gernreich. The rest, as they say, is history. Her inventory is now global, coming in from Paris, Spain and Israel, and is expertly curated, ranging from a 1970's black vinyl Courreges evening dress ($1150) to a 1980's monogram Louis Vuitton diaper bag ($795). While most online sales are final, Meyerowitz has a unique return policy that distinguishes her site from the competition, "We have a generous return policy because we completely understand that no matter what the item looks like on paper, it is never final until you get to try it on and see yourself from all angles." Enokiworld's prices are reasonable and her best sellers are designer handbags because, "they're not contingent on how small your waist and hips are."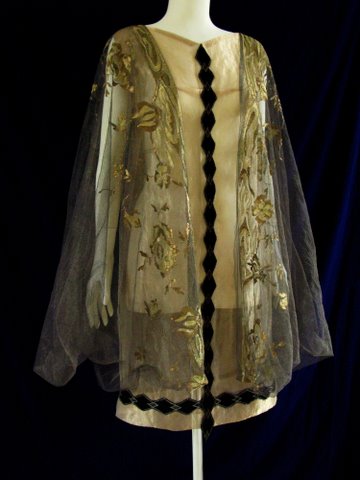 Gold Deco Dress and Lame Lace Cape from Victorianbedouin1
One of the best places for vintage is www.eBay.com, which can be hard to navigate owing to massive volume. A great seller is Christine Davis, also known by her screen name as "Victorianbedouin1." Davis has been collecting clothing and textiles for twenty-five years and considers her eBay business as a "karmic loop of old things." She specializes in clothes that are both wearable and collectible ranging from 1910 - 1970 and claims, "Everyone looks fantastic in a '50's New Look dress; and always invest in a '50's era coat which never goes out of style." Current items for sale include a 1920's Liberty of London gold lame cocoon coat ($2,200) and a 1960's fuchsia pink lace mini dress ($225). Although all sales are final some of her prices are negotiable. She says the trick to knowing what to buy is to heed the "need it/don't need it balance scales that all women possess." Davis can also be reached at victorianbedouin@gmail.com.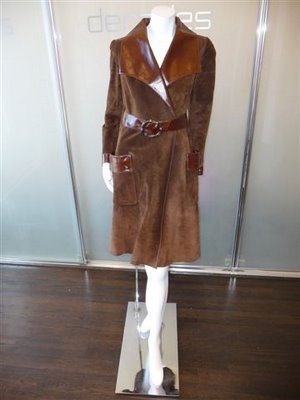 1970's Suede and Leather Gucci Coat from Decades
Gwyneth, J. Lo and Rhianna get their vintage from www.decadesinc.blogspot.com. Items for sale include a 1958 Christian Dior white tulle evening dress to a 1970's suede and leather Gucci coat. Prices are not listed because, explains owner Cameron Silver, "The goal is to create an interactive relationship with each client for a one-on-one shopping experience not dissimilar to shopping in our Decades flagship store in Los Angeles." Silver's collection, often seen at awards shows and movie premieres around the world, come from the closets of some of the chicest women around the world and includes Hermes Birkin bags. Sigh.
All sales are final with both Decades and Victorianbedouin1 on eBay, but the joy of working with renowned dealers and sellers is that they are honest and fair and always have the best stock. They are patient and understand that whether you are purchasing a $3,000 coat or a $125 dress, it's an investment in a rare work of art.

SUBSCRIBE TO & FOLLOW LIFESTYLE
HuffPost Lifestyle is a daily newsletter that will make you happier and healthier — one email at a time. Learn more