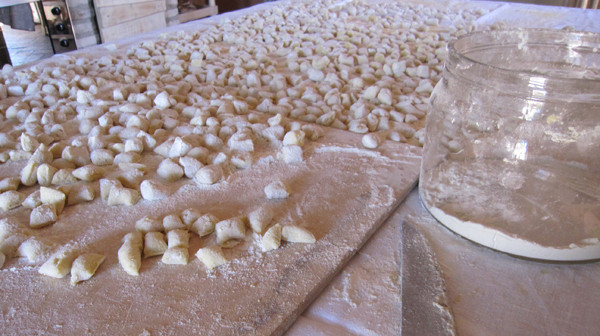 Imagine our surprise when on a family vacation in the Val D'Orcia region of Tuscany we discovered restaurateur and cookbook author, Ruth Rogers on her own family vacation just up the (unpaved) road. And imagine how quickly we said 'yes' when she invited us to join her family for Sunday lunch.
Ruth, with her co-founder Rose Gray, who passed away earlier this year, brought simple, vibrant, Italian home cooking to London when they opened the River Café in 1987. Together they've also written 7 books including the most recent The River Café: Classic Italian Cookbook.
Ruthie, her husband, the award winning architect Richard Rogers, their five children, grandchildren and family friends have been spending summers here for the past 13 years.

We had the chance to speak with Ruthie about Tuscany, Italian cooking and keeping things fresh at the River Café.
Why do you come back to Tuscany each summer?
I think that for us it's the culture, it's the landscape, it's the food. We started the River Café in 1987 -- Rose and myself. Neither of us had ever really worked in a restaurant. Both of us were women who had a lot of children in our lives and both of us had been influenced by Italian food. When I lived in Paris was when I became interested in the markets and food, but it was when I came to Italy that I realized that this was the food that I wanted to cook. When we decided to open the River Cafe we both knew that what we wanted to do was eat and cook the kind of food that you could get in Italian homes particularly. We thought, well let's bring the food that we've been so impressed by - the pappa pomodoros, the bread soups, the pastas, the bruschettas -- that kind of food. The image of Italian food is very heavy, very saucy, a lot of baked cheese, spaghetti and meatballs. But to go to Italy and have a grilled piece of fish or a piece of bread with just olive oil and tomato, rubbed with garlic, that was it. To have a piece of steak with a piece of lemon, or a sauce that wasn't made of butter but was made of herbs -- it was a revelation. We opened the River Café with the idea that it would be not only seasonal but every day. We started with 12 tables and maybe 25 covers and now we have 200 covers and it's a huge restaurant. We still look in the fridge every morning and see what's there -- that's the way these women cook in Italy. You don't go to the market thinking I want to cook this today. You go to the market, you see what's there, and then you decide what to cook.
It seems that in Italy cooking is predominantly passed down rather than written down. How much of your craft was learned through observation rather than formal training?
Probably 100%. I was taught some skills and I did learn to cook a bit, but I think that for us, what we would do is we would just come to Italy, and you just learn every time you come. I remember I was in Richard's cousin's house when I first came to Italy. I didn't speak Italian. I was kind of bored and I remember thinking, this is a bit rough. And then I could smell the tomatoes, and I went down to the kitchen and these two sisters were arguing and arguing about whether to put water in the pappa pomodoro. And I just stayed in the kitchen and I learned how to make this soup and I realized that actually being in the kitchen is the best place to be.
You mentioned being struck by the pride with which Italians prepare everything.
The regionality is very exciting. It was taken to the extreme when we were doing a pig in the wood oven a few summers ago. I went to the butcher in Montepulciano and said that I wanted to make it with fennel seed and salt because I was showing off what a good regional Italian chef I was. And he said, 'oh no, that's what they do in Siena.' We're talking about 40 miles away. So it's village to village, family to family, sister to sister. That's what's interesting.
The River Café has been open for more than 20 years. How do you keep your patrons interested?
I think one of the things is that Rose and I were there every day. I think the kind of passion that we had and have is translated to our chefs first of all. Everybody at the River Café is involved in the food. The kitchen porters who wash the dishes prep the squid and the scallops. We're all thinking and cooking and we're all very excited about what's happening that morning. I've been talking to my chefs and they are telling me we have things coming in today that we didn't have two weeks ago -- there's grouse, pumpkins, more squash. Porcini are starting to come in. Just when you are saying goodbye to something that you were so happy to have, like melons or asparagus, something else arrives, like peppers. We're especially excited right now because we have wild game which usually happens around August 12th. First we get grouse then we'll have partridge and pheasant. Autumn is a wonderful time. Every October we take some staff -- chefs and a waiter and manager -- and do a tour of Tuscany where we buy our olive oil. It's a way to expose our staff to Italy. Here in Tuscany we go to the vineyards. We have a very strong relationship after 23 years with the people who make the wine. They cook for us and talk to us, and then we taste the oil.
Do you use the same suppliers?
We sometimes discover new ones as we did with one from Sicily. We tend to use three. We know they grow their own olives. You can taste the vats. One pressed Monday, Tuesday, Wednesday, Thursday. We taste them all and make a big fuss even though there's really not that much difference. We'll say 'we want the one from Tuesday but not Thursday that was a bit too grassy.' Then they bottle it for us with the River Cafe. That is a very exciting time.
Tell us about your plans for a gelateria.
Last year I went to the Vinitaly, a wine fair in Italy. I had a day in Milan with my two chefs and we went to this gelateria called Grom. We were all agreeing that ice cream is the best dessert. And in the River Cafe, we were talking about how we should do more ice creams. Now we have 5 ice creams on the menu.
I thought it would be nice to use part of our stainless steel bar and put in ice cream tubs. And I wanted to put one outside. You're always thinking of ways to expand and energize the restaurant.
So I said, let's put in a gelateria, it will bring people to the bar. It's that interactive thing.
When will it be finished?
Hopefully the fall. Depends on that last phone call!
A lot of impressive chefs have started in your kitchen. How does it feel to watch these fledgling chefs move forward to build highly successful careers?
I have a hard time speaking of my own success, but Jamie Oliver, for instance, came in for his birthday lunch. After lunch he went into the kitchen, pulled all the chefs together and said, "Do you know how lucky you are to be here? Do you know what it means to be here? Do you know how much I learned here?" He said, "You might not think it when you are here and you might be annoyed by it, but it stays with you when you leave here." And April Bloomfield, of the Spotted Pig, and Arthur Potts Dawson -- when they leave you are so proud. I feel incredibly lucky and pleased to see them succeed. It's that thing that if you love them let them go. I've gotten to the point where I always say the same thing "As long as you keep cooking, as long as you carry on, then go!"