"Where are you sitting today at lunch? Do me a favor, stand up and move. Sit with someone you don't know, introduce yourself, eat your lunch!"
Coach Burns' voice bellowed across the crowded high school cafeteria. There wasn't anyone who didn't admire and respect Coach Burns. He was 6'4" tall, the football and track coach, the gym teacher, a father, a large and kind man and we were all used to his directives -- authoritative, but not preachy.
I bring Coach Burns up in light of the articles like this one that continue to rear their ugly heads. Bullying, unlike its perpetrators, is inclusive of all communities and runs rampant in our schools: public, private, small, large, urban and rural.
Schools have made their bland attempts at assuaging the issue. Anti-bullying posters line the hallways. Parents have futile meetings with administrators, hopeful the school will step in and stop the name-calling and hate.
Bullying is a natural tendency among children. An interesting blog post by Hogan Sherrow, "The Origins of Bullying", in Scientific American points up how prevalent this behavior is across cultures in numerous countries. He explains, "The tendency to bully, or coerce, others is natural and deeply rooted in our evolutionary history, and emerges in any group of toddlers playing freely." There is an important, "but," here, he goes on, "However, when cultures condone and in some cases celebrate violence and aggression, while suppressing or demonizing aspects of humanity that are equally natural such as homosexuality, they unwittingly give license to and encourage bullies."
I had only recently moved to East Hampton, N.Y. and begun high school there when I met Coach Burns. Still new to the community, I was taking in the factions within the school. This is not the East Hampton you might envision of movie stars and the uber wealthy. This was 1990 and the school was primarily filled with kids from working class families and a sprinkling of wealth and a larger sprinkling of poverty. There were the star athletes and the girls who hid out in the bathroom and smoked, the kids in A.P. classes, the kids in shop classes, the artists, the jocks, the students who would go on to top colleges and those who spent most of their time at in-school detention. The place we all came together, of course, was gym class. Therefore, Coach Burns knew us all.
I joined the track team as a freshman and was glad to see that Coach Burns was the head coach. He had an energy and positivity that enveloped the entire team and I knew I was lucky to be around him. Coach Burns would bound out to the track on cold March days when it was raining and announce, "What a beautiful day! BEAUTIFUL DAY!" We would listen, but appear to ignore him (as teenagers do so well) since he didn't entirely make sense to us. Cold. Raining. We are running circles on a snowy track. What is beautiful about this day? "We are out here, we are together. We are working hard. It's a great day!" It literally took a couple of years for me to understand what was beautiful about those dreary days. I am forever grateful to Coach Burns for pointing out that to be alive, to be with people you like and admire, to have the good health to be able to run in circles. That is a beautiful day.
I found my niche in running and discovered I was pretty good at running in circles. This allowed me extra time with Coach Burns at invitational track meets, at Saturday morning practices, and he was never anything but kind and encouraging to me and tough when he needed to be. What I always noticed though, and never quite understood at the time, was how he was equally invested in every single student in that school. The girls who smoked in the bathroom, the kids who never ran track, the students who did drama, the boys in auto shop classes, the kids with straight "A"s -- Coach Burns knew every single student's name and he used everyone's name (loudly, in the hallways).
Coach Burns was never afraid to walk up to a table in the cafeteria and tell us that we should all get up and move and sit with new people. He announced one day at track practice that if we ever, ever, EVER saw someone sitting alone in the cafeteria at lunch we were "punks" if we didn't go over and say, "Hey, can I sit with you?" Punks!
Coach Burns' approach to students has stayed in my mind since I graduated from high school. I stopped by the school this summer and was thrilled when I saw him up on the track running a pre-season football practice. I watched from the side for a bit. He hadn't changed. You could tell that every single player on that field was important to him. Without exception.
I trotted onto the field as practice wrapped up and got a bear hug and a hello. Coach Burns even stood for a quick photo.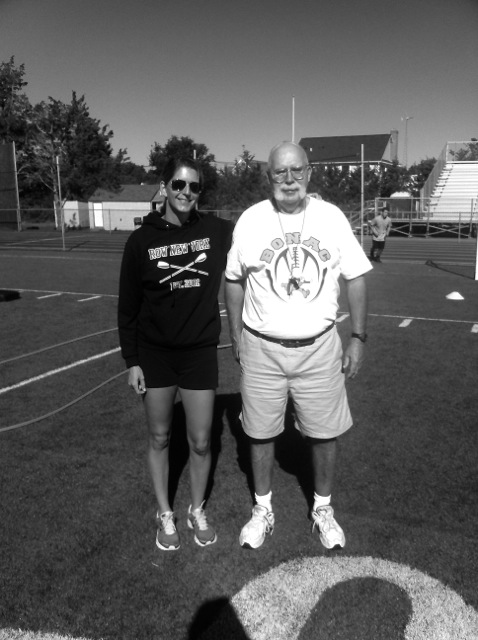 I didn't have the words to tell him how much he taught me, not about running, but about our responsibility to one another, not just to our closest friends, but to strangers in our communities. And later on as adults, a larger responsibility to create the antithesis of the culture Sherrow warns of.
Surely Coach Burns' attention meant a lot to me, but he was generous with that attention and shared it with all the kids in that school, regardless of who they were, where they came from or where they were going. His affection for everyone was contagious. He used his popularity and the weight of his words to make an imprint on the whole school and created a culture of acceptance and inclusivity. I am not suggesting East Hampton High School was without cliques or any sort of bullying, but I do think there are lessons to be learned from Mike Burns. We as adults, as teachers, administrators, coaches, as parents, we should all take a page from Coach Burns' book, and lead by example around the kids in our lives and create our own expectations of them to sit at new tables, to not be punks. I guarantee it will do more than some posters on the walls.